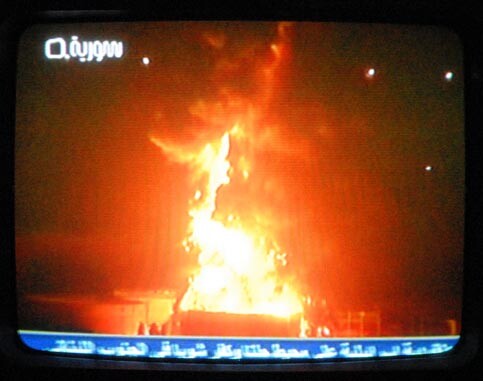 Saturday July 15 — It is not me they should be worrying about, my friends from countries around the world who have been calling since Wednesday; after all I live in one of the safest areas of this country, next to embassies and prime ministers. I have water and electricity and, above all, the Internet. If they are to worry, they are to think of the tens of people I am calling everyday. People in the south of Lebanon who are under the shelling, and isolated from the rest of the country. If I am to share a diary I will not share mine, but that of my friend Mohammed and his family.
There have been forty people in Mohammed's two bedroom house since Thursday. Along with his wife and his twin boys are his brothers and sisters, their children and their 70-year-old mother. Their village has been attacked and is relatively unsafe.
Unfortunately, the place they are staying at now is not any safer. They are in Al-Hosh, a suburb of the city of Tyre. Yesterday night a gas station, hundreds of meters away, was bombed and they have been hearing the shelling all day today. They have no electricity. The generators, already present in most regions of the country, are running out of fuel as the roads to the south are all destroyed now. Water, which should reach the houses through electric pumps, is now scarce due to the electrical blackout.
The family feels isolated. The road back to their village was already destroyed, as were the roads to other regions of the country.
"It is like we are living on the margins of life. Things might happen here and nobody would know," Mohammed tells me. We talk about Naim, a kid we both knew from a Zibqine, a lovely village shouth of Tyre. He died on Thursday along with 11 other members of his family when their home was bombed. Some of the bodies might still be under the rubble.
"Basseeta", he says, literally meaning "it is simple" or "not a problem", and I ask how can he say something like this, while his family is under siege and threat. He says it to continue, expecting that if anything happens to him and his family, the world — as with Naim — would also see it as a minimal event.
"We know the story too well, we lived it so many times" he tells me, "but this time I feel it differently. Yesterday, watching my children in their sleep, I was overwhelmed by the feeling of helplessness. How can I protect them? They are three-and-a-half years old, and I thought they were saved from the life we lived."
"I am scared of the possibility of running out of supplies, of gas, water and food for them. They are agitated, trapped in the house with 38 other people for three days. What scares me too is that they are acquiring, too early, knowledge I wanted to shield them from."
"Yesterday, on the phone with their uncle in Germany, they asked for a tank, like the one the Israelis have, as a present on his next trip to Lebanon. It chokes me up."
"When I was kid I asked for plastic guns as a gift. We played 'war' in the living room, with cushions as our sandbags. This was a game they never played and I was hoping they would never learn. Yet, unfortunately, it seems I am not their only tutor."
Muzna Al-Masri is a human rights education activist in Beirut with an MA in Conflict transformation and peacebuilding. For over 10 years Muzna has been working on development and human rights projects in the MENA region, of which four years were spent working in youth and community development in South Lebanon.
Related Links