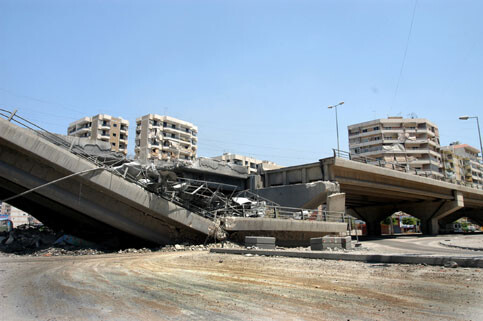 General situation
Lebanese Red Cross ambulances suffer new security incidents
Heavy bombing has continued in the south of the country over the past three days. Medical staff from the Lebanese Red Cross Society continue evacuating the wounded and sick under very difficult and dangerous conditions. The Society reported five security incidents in recent days affecting ambulances, events that highlight the obligation to spare those engaged in medical work.
The latest of these incidents occurred on 23 July, at 11.15 pm in Cana, a village in southern Lebanon. According to Lebanese Red Cross reports, two of its ambulances were struck by munitions, although both vehicles were clearly marked by the red cross emblem and flashing lights that were visible at a great distance. The incident happened while first-aid workers were transferring wounded patients from one ambulance to another. As a result, nine people including six Red Cross volunteers were wounded. "The ICRC is gravely concerned about the safety of medical staff ", said Balthasar Staehelin, the organization's delegate-general for the Middle East and North Africa. "We have raised this issue with the Israeli authorities and urged them to take the measures needed to avoid such incidents in the future."
Among other incidents of this type, on 19 July the Society's first-aid station in Insarieh was damaged, as were two ambulances. A first-aid worker suffered minor injuries. On 18 July, an ambulance received a direct hit while on a first-aid and evacuation mission.
The Lebanese Red Cross has been constantly active since the beginning of the crisis, meeting the most pressing needs of the civilian population with its 2,400 volunteers, 42 ambulance stations and over 50 clinics and other medical facilities across the country. It remains one of the few organizations able to evacuate war wounded and civilians under fire. The Society works in full cooperation with the ICRC.
Food stocks and medical supplies running low, water shortages reported in several villages in south
Food stocks in many parts of Lebanon are running low. Water shortages are already affecting several villages in southern Lebanon owing to a lack of electricity and fuel. In certain areas, shortages of medical supplies in health-care facilities are feared in the near future.
In the Tyre district, an estimated 110,000 people (20,000 families), both displaced people and residents, may soon run out of water and food. In many southern villages, dead bodies remain buried under rubble.
In the city of Tyre, the number of internally displaced people is fluctuating greatly as people flee northwards. Displaced people are receiving limited aid from the municipality of Tyre and other organizations. However, water shortages have been reported and hygiene conditions are poor. The main hospitals in the town are functioning satisfactorily well and for the time being have enough medicines.
Apart from emergency care for the wounded, access to medical services in southern Lebanon has been severely restricted.
Humanitarian response
ICRC aid reaches Tyre and Marjayoun
On 24 July, two ICRC trucks reached Tyre. Marjayoun was also reached, for the first time, by several ICRC vehicles. The aid delivered consisted of two truckloads of family-sized food rations for distribution south of Tyre, and one truckload of emergency medical supplies for Marjayoun.
The organization also provided the Ministry of Health with dialysis equipment.
The ICRC now has two operational offices in Tyre and Marjayoun, in addition to its Beirut delegation.
Surgical specialist tours southern Lebanon
On 22 and 23 July, an ICRC war surgeon visited hospitals and other medical facilities - including those run by the Lebanese Red Cross in Tyre, Bent Jbeil, Cana and Tebnine - to provide ad hoc support for the treatment of the wounded and to assess needs.
Red Cross/Red Crescent action
Since the beginning of the crisis, Lebanese Red Cross ambulances have taken 333 wounded people to hospital and removed 75 dead. Red Cross vehicles have also evacuated 1,754 civilians in cases of serious need. The Society is also providing medical care for internally displaced persons all over the country.
Working closely with the Lebanese Red Cross, the ICRC continues to coordinate action by the Red Cross/Red Crescent Movement in Lebanon. Numerous National Societies are sending staff and relief and medical supplies.
Following requests from the Palestine Red Crescent branch in Lebanon, the ICRC is providing medical supplies for the ongoing operations of its hospital there.
The Syrian Arab Red Crescent has so far sent water and mobile telephone equipment. Meanwhile, Syrian Red Crescent volunteers and first-aid posts at four border posts are assisting refugees arriving in Syria from Lebanon.
Related Links