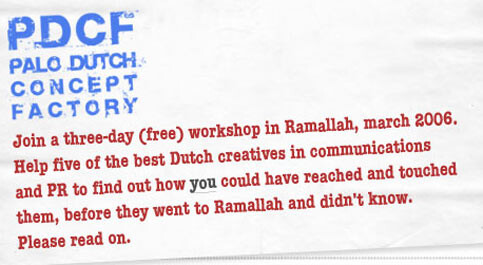 Let's face it. So far, Palestinian PR and communications were not entirely successful. Just ask any person in the streets of Amsterdam, London or New York what he or she knows and thinks of Palestinians and Palestine. Palestinians who have never travelled outside Palestine will be shocked. On the other hand, almost every visitor to Palestine will start crying after three or four days. Based on these thoughts, The Palo Dutch Concept Factory is looking for creative talents.
The Palo Dutch Concept Factory is established by Dutch columnist Justus van Oel. He was part of the comedy group "Zak en As". He wrote scripts and performed in theatres in the Netherlands. He also wrote plays for other comedians in the 1990s. Between 1986 until 1989 he worked for Dutch radio programmes and television. He has also translated books "Kunt u Breukelen" / "The Meaning of Liff", "The Undutchables" and "Haal Meer Uit Uw Neus" / "Nosepicking For Pleasure".
In February 2005 he visited Palestine. He has been deeply touched and moved by what he saw and became motivated to contribute to advocate for Palestine. When he came back home, he wrote a number of columns on the situation in Palestine for the free daily newspaper Metro and he established the Palo-Dutch Concept Factory, boarded by some very good and well known Dutch PR professionals. Now he wants to go back to Palestine, with these people, while looking for creative young Palestinian talents to build advocacy campaigns
together.
Justus van Oel once said, aloud, in a pretty decent official meeting, to the honorable doctor Naim from Ramallah: "Dear doctor Naim, if you mention the word resolution once again, I will throw you through that window". They still are friends.
In early March, the Palo Dutch Concept Factory will organise a three-day workshop in Ramallah. "This will not be a standard workshop, and not suitable for everyone. That was a choice. We are not presenting the one and only solution for communication-problems between 'the Palestinians' and 'the Dutch'. We have come to do what we are good at."
This non-conformist workshop will be organised by Dutch advertising people. They know more about the Dutch than about other Europeans. That is why they limit themselves to "Palo Dutch" communications. The workshop will tell participants something about the Dutch (of the non-NGO-type).
"The Dutch teachers themselves are perfect examples of the problems the Dutch have communicating with Palestinians, and vice versa. The hard evidence will be right in front of you."
They do not know a lot about the history of Palestine. Participants can expect them to come up with surprising solutions to bridge communication-gaps. "That is their daily job, and special talent. They also are quite capable of selling cars, insurances, consumergoods or enhance the acceptance of speedlimits."
The Palo Dutch Concept Factory brings Dutch PR professionals who want to know. They are curious about Palestinians and the situation in Palestine. They are not being paid. They are convinced there are ways for Palestinians to reach a broader Dutch audience, even if a lot of people might not believe that anymore. They refuse to accept that. They will never accept there are no solutions to problems, any problem, otherwise their agencies would have fired them years ago.
Some Palestinians might be tempted to prove them wrong. They might say: "This is Palestine. You don't know our history. Your silly ideas won't work for us." But they will reply that perhaps most of the ideas from the three-day workshop won't work, but surely some will. Participants will be asked to find the one. The Palo Dutch Concept Factory is asking creative young Palestinian talents to apply for this workshop if they believe this too. "Fantasy and creativity alone will not liberate the Palestinians, of course not. But fantasy and creativity happen to be our business."
Related Links