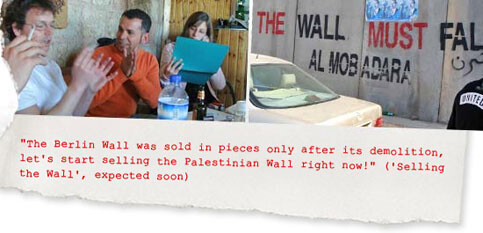 The Palo-Dutch Concept Factory has a clear core business: generating ideas, for campaigning in the broadest sense. These ideas are born in Ramallah, Palestine. Young Palestinians coaching (and are being coached by) Dutch experienced advertising and

PR

experts.

Generating ideas such as "Send a Friend" (connecting schoolkids in Palestine and the Netherlands), "Sell the Wall" (how to create awareness and involvement of mainstream Dutch with the Wall) and "Palovision", the Palestinian entry for the Eurovision Song Competition in 2008, a mix of humor, irony, implicit politics and smart use of Dutch media, the Palo Dutch Concept Factory organizes its next workshop in Ramallah on May 4, 5 and 6, 2007.

"If you want to win sympathy and support for Palestine, as we do, Holland is a relatively tough country for campaigning. But we, the PDCF, know Holland well. It's our home market and test ground. And the good thing is: if a campaigning strategy works in Holland, it might work anywhere," says PDCF founder Justus van Oel.
For its next workshop PDCF is looking for thirty smart, educated, mentally independent creative Palestinians. An above average score in the CREAX Creativity Self-Assessment Test is a good indication you might fit in.
Together PDCF and participants of the workshop will produce tools and concepts for campaigning, to take home or give away. Surprising campaigning ideas come about when Dutch advertising and PR people (working or having worked for large commercial companies) discover Palestine and Palestinian reality. Fresh ideas pop up when Palestinians meet the kind of people used to brainstorming, looking for and finding 'the other approach'.
"Impossible is nothing, anyway, from there we start," says PDCF founder Justus van Oel. "We don't protect our ideas, on the contrary. Take them, copy them. But don't forget, first give us a call." The results of the first (2006) and second (2007) workshop (ideas, tools, or broader concepts in various stages of development) will be published on The Electronic Intifada.
Participants will work with three teams of teachers, each representing one of the three projects that came out of the previous workshop. They will work on the 'Palestinization' of the three concepts and test their own campaigning-ideas, developing them with the group. Interested Palestinian creative minds are encouraged to visit PDCF's website and subscribe.
Related Links

Modern Activism: Palo Dutch Concept Factory, Arjan El Fassed (10 January 2006)