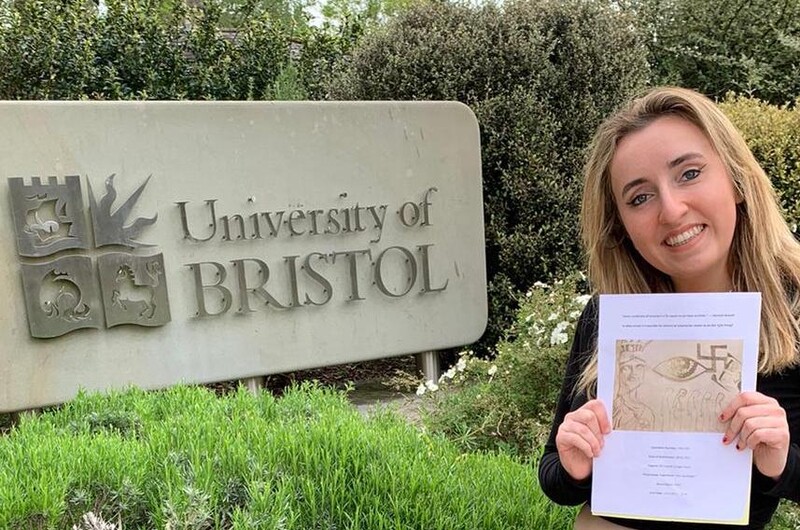 On 1 October, the University of Bristol fired David Miller, a sociology professor.
The official statement on his dismissal from the college was highly contradictory and left the questions of precisely what the academic had done wrong, and why he was fired, very much open.
Last week The Electronic Intifada revealed that even the lawyer instructed to investigate allegations of anti-Semitism at the university found the professor had "no case to answer."
But there seems little doubt that David Miller's opposition to Zionism – Israel's racist official ideology – was the real cause.
For years, pro-Israel activist and former Bristol student turned journalist Sabrina Miller (no relation to David Miller) waged an all-out war on the professor via online petitions, social media and stories for mainstream news outlets.
Despite attempts to purge her online footprint of incriminating information, publicly available records make her agenda and that of the Zionist forces influencing her actions very clear.
Sabrina Miller declined to comment to The Electronic Intifada.
Indoctrinating British school children
During her final years of high school, Sabrina Miller was awarded a fellowship with the United Jewish Israel Appeal under its elite Israel Fast Track Program.
The UK-based pro-Israel lobby group says it aims to create a "lifetime of connection" between British Jews and the state of Israel, starting in primary schools.
The group pushes initiatives that make "Israel inspiring, relevant and accessible to young people" as well as encouraging children to "explore" Zionism and "experience the wonders and challenges of the Jewish state."
Under its Israel Fast Track Program, every year 20 British students aged between 16 and 18 are offered the opportunity to spend three months going "deeper into [their] understanding of Israel than ever before," the program's brochure explains.
Fellows are "challenged to develop their own Zionist narrative" in order to make them "empowered to be leaders in the Israel conversation in the community, online and on campus."
Along the way pupils are granted access to "Israeli politicians, activists, journalists and thought leaders," the brochure says.
In March 2019, as her first year at Bristol University neared its end, Sabrina Miller was nominated for the Union of Jewish Students' "Emerging Student Leader of the Year" award.
The UJS is an Israel lobby group that says it is committed to "inspiring Jewish students to making an enduring commitment" to Israel. In 2017 an undercover investigation by Al Jazeera revealed that the group is directly funded by the Israeli embassy in London.
Sabrina Miller also took part in a leadership program run by Solutions Not Sides, a British government-backed, Israeli state-linked initiative supported by Israel lobby groups including the Board of Deputies of British Jews and the Community Security Trust.
The organization seeks to indoctrinate schoolchildren, often in areas of the UK with Muslim majorities, in the myth that "both sides have suffered" in the Israel-Palestine "conflict," framing it as a struggle between "moderate majorities" and "extremists." Discussion of Israel's role as an overwhelmingly powerful aggressor brutally and illegally occupying Palestinian land is – suffice to say – not on the syllabus.
Not coincidentally, in October 2019, Sabrina Miller wrote an article titled "Being a Zionist on campus" as she started her second year at Bristol.
It outlined how, "before I started university, I thought everyone on campus hated Israel," and had assumed student life as a Zionist would consist of "running through the streets of Bristol, Israeli flag clutched firmly in hand, heroically defending the Jewish nation-state."
Nonetheless, she quickly learned "how wrong I was," and had grown to "love having conversations about Israel, constantly," in the context of student politics – precisely what the UJIA Israel Fast Track Fellowship would have trained her to do.
The article said nothing about David Miller whatsoever.
Smearing Palestine solidarity
She shared the article on Facebook, and in an ensuing argument in the comment section with avowed far-right Zionist Harry Markham, Sabrina Miller alleged that she believed in a "two-state solution" and felt Palestinians had a right to self-determination.

Her article also claimed that there is such a thing as a "Jewish right to self-determination" in historic Palestine.

Yet as The Electronic Intifada's Ali Abunimah has long explained, "Zionism's claim for 'Jewish self-determination' amid an intermixed population, is in effect a demand to preserve and legitimize a status quo in which Israeli Jews exercise power in perpetuity."

In other words, "Jewish self-determination" is rejected by Palestinians for the same reasons that "white self-determination" was rejected by the African National Congress in South Africa.

Again, her time with Solutions Not Sides would have tutored her in how to propagandize for Zionism, while feigning sympathy for the Palestinian cause, through positions masquerading as conciliatory.

It is surely extremely suspect, then, that she founded and led Bristol university's Middle East Forum, which ostensibly sought to create "a space for respectful debate" about the region.

But all traces of "respectful debate" had vanished a few short months later.

In February 2020 she tweeted that it was "genuinely disgusting" to see attendees of an event organized by the university's Friends of Palestine Society chanting "from the river to the sea Palestine will be free," smearing a freedom slogan as a "call for the genocide of Israeli people."

By that time, she had also made her Facebook profile private, making it harder to find a copy of her October 2019 article about "Being a Zionist on campus." This may have been a wider clean-up operation– a piece in which Sabrina Miller forcefully argued for the legalization of bestiality has been deleted entirely.

Whatever the truth of the matter, her campaign against David Miller was about to gear up.
"Sick of worrying"
In May 2020, Sabrina Miller joined student newspaper The Tab as features editor, quickly gaining a public profile. This probably contributed to her securing a one-month internship with hard-right outlet The Spectator in September that year.
The magazine hardly seems a natural fit for her. In November 2018, it published a column by Scottish editor Alex Massie which asked whether French Nazi collaborator Philippe Pétain – who was Vichy France's leader during World War II and was later convicted of treason – should be honored today.
The Spectator has also published several other articles praising Nazis and neo-Nazis, even advocating a "fascist takeover" of Greece by neo-Nazi party Golden Dawn.
Once Sabrina's Miller's Spectator stint was complete, she promptly used her position at The Tab to pen an article stating that she was "sick of worrying about Professor David Miller," and that he had "taken up far too much of my attention" over the previous 18 months.
This would date the start of her alleged concern to about half a year before she published that article about her unexpectedly cheery campus life as a flag-waving Zionist.
Yet in The Tab, she claimed that David Miller's teaching had made Jewish students "feel increasingly uncomfortable and unwelcome in his classroom."
The only evidence she offered was a quote from a single, unnamed source. Yet there is good reason to suspect this may have been fabricated by Sabrina Miller herself.
An internal report by a lawyer instructed to investigate allegations of anti-Semitism on David Miller's part, obtained by The Electronic Intifada, reveals that not a single one of his students made a complaint about his conduct, despite being "encouraged" to do so and offered anonymity, contrary to standard complaints procedure.
The report also notes that the only student who made complaints against David Miller had not attended his lectures or even spoken to anyone who had. Furthermore, all of the talks and articles complained of occurred before they were a student at Bristol.
In any event, the student only lodged their complaint on the prompting of the Mossad-connected Israel lobby group Community Security Trust – whose prior complaint was rejected by the university as it was not made by a student.
Infiltration
In her attack piece, Sabrina Miller also included photos of slides from one of David Miller's talks, seemingly taken by the anonymous "scared" Jewish student, which she branded as "grimly reminiscent of anti-Semitic tropes."
But Sabrina Miller may have taken the photos herself.
As The Electronic Intifada reported in February, she personally infiltrated one of the professor's lectures around this time – despite not being signed up for any of his courses.
The photo of a slide in her article was deeply misleading. The diagram shown is in fact a chart David Miller had been openly using in public talks for many years, as well as publishing since at least 2013 – not some sort of illicit extremism he was hoping to get away with.
In any case – beyond the bizarre claim that the existence of the Zionist movement is "invented" – Sabrina Miller did not challenge any of the facts in the diagram, which details the relationship between different Zionist and pro-Israel groups in the UK.
The following month, Sabrina Miller appeared in a panel discussion livestreamed by the Israel Advocacy Movement.
During the talk, she declared forcefully "I am a Zionist" and that she "loves Israel," having visited the country "many times." Her trips included visits to illegally-constructed Jewish settlements in the occupied West Bank.
She said she was "concerned with the moral fiber of Israel" and sees herself as "a critical friend of Israel."
The previous June, the Israel Advocacy Movement hosted a similar livestream chat with unrepentant neo-Nazi and former British National Party luminary Mark Collett.
The "debate" was titled "Should Zionists support a white ethno-state?"
Sabrina Miller's Tab hatchet job concluded with an impassioned plea for Bristol to "get David Miller off of my campus," a call to arms she converted into a Change.org petition in February this year.
Her story was promoted via highly misleading articles she wrote for The Daily Telegraph, The Jewish Chronicle and in a blog post on the Times of Israel's website.
Around this time, the Union of Jewish Students noted in its annual fundraising brochure that she had been nominated for its 2020 "Israel Engagement Initiative of the Year" award.
Fresh targets
Sabrina Miller benefited immensely from her campaign against David Miller. By the time she graduated earlier this year, her career was already taking off.
She had been given bylines in numerous corporate media outlets and by June 2021, even before graduation, she was hired by Guido Fawkes, a far-right politics blog with a history of publishing blatantly anti-Semitic articles.
The United Jewish Israel Appeal's Israel Fast Track Program pledges that it helps participants "stand out from the crowd, both in the Jewish community, in your university applications and your future career."
Clearly, this is no mere marketing puff.
Only 20 places are awarded in the program each year and the initiative is only one of many by which Israel cultivates potential future operatives abroad.
David Miller's fears about Israel's global influence campaign, then, were very well-founded.
Indeed, university campuses across the UK clearly have scores of students who are effectively Israeli agents, awaiting the word to swing into action should any other academic dare speak the truth about Israel and Zionism.
This reality is rendered all the more sinister when one considers that The Jewish Chronicle published an article less than a week after David Miller's sacking claiming he was only the "tip of the iceberg." It noted that academics in 74 UK institutions had signed a letter supporting the professor.
The article listed the universities at which they were employed and named several of them. That was clear incitement to Zionist activists to start the push to fire the next anti-Zionist professor.
Unless the Zionist campaign to silence and smear David Miller is fought tooth-and-nail, they will surely be next in the firing line.
Kit Klarenberg is an investigative journalist exploring the role of intelligence services in shaping politics and perceptions. Twitter: @KitKlarenberg.
Tags