Earlier in March, the UK's University of Bristol announced it had launched an investigation into Professor David Miller, an expert on political lobbies.
The Support David Miller campaign responded that it was "appalled" and asked for an urgent meeting with the university's president.
Miller has been under sustained attack for more than a month by Israel and its lobby, due to his opposition to Zionism, Israel's racist ideology.
The university stated on 16 March that "this matter has caused deep concern for some members of our community," but "also that people hold very different views on the issues raised."
The university added that it had "already initiated an investigation into this matter" but did not specify when or why.
A Bristol university spokesperson told The Electronic Intifada that the institution was "unable to comment further at this stage."
Israel lobby groups and pro-Zionist students on campus have targeted Miller for the last two years.
The campaign went into overdrive in February when Sabrina Miller – a pro-Israel activist and student journalist at Bristol – set up a petition calling for the professor to be fired.
Israel itself soon waded into the campaign, issuing a "mission" to one of its online troll armies to attack David Miller.
But who else has been driving the campaign against the professor?
Support and opposition
For the last decade, David Miller has published meticulously researched studies on the Israel lobby's activities.
This made him the target of a persistent smear campaign, falsely alleging anti-Semitism. Now, lawmakers, pro-Israel academics and even the government have all lined up to condemn him.
Many of the usual-suspect anti-Palestinian activists and Israel lobbyists have been the vanguard of this campaign.
But Miller also has a lot of public support.
More than 400 educators and researchers have signed an open letter calling for Bristol university to defend free speech and protect Miller's job.
Left-wing group Jewish Voice for Labour warned if the campaign to get David Miller fired succeeds, "the shock waves would resonate through Britain's academic community."
Another open letter signed by more than 200 Jewish people condemns the "vicious personal, professional and political attacks" and urges the university to "make an unequivocal public statement in support of Professor Miller's right to academic freedom."
As these statements make clear, what is at stake is more than one person's job, but the right of anyone to criticize Israel at all.
So who is calling for Miller's head?
Trade envoy to Israel
The trigger for the university's announcement of its investigation of David Miller appears to have been a government statement in the House of Lords, the British Parliament's unelected upper chamber.
On 16 March, Conservative government whip Stephen Parkinson told the House of Lords that "the government considers Professor Miller's views to be ill-founded and wholly reprehensible, and wholeheartedly rejects them."
Parkinson did not specify which of Miller's views the government rejects, but made intimations about "anti-Semitism."
The statement came in answer to a question from Ian Austin – one of the UK's most consistently anti-Palestinian lawmakers.
A former Labour MP, Austin spent years aggressively undermining the leadership of left-wing pro-Palestinian Labour leader Jeremy Corbyn.
Having quit Labour in 2019, and with no chance of winning an election as an independent, Austin was soon appointed to the Lords by the Conservative government. He was also appointed as Britain's trade envoy to Israel.
Right-wing and anonymous harassment
Another right-wing anti-Palestinian figure who has Miller in his crosshairs is Jonathan Hoffman.
In 2019, Hoffman and an accomplice were convicted of harassing a Palestinian activist at a demonstration in London.
In a plea agreement, prosecutors dropped a related assault charge.

Hoffman is no marginal figure: He is a former vice-chair of the Zionist Federation. He too spent years smearing Corbyn as an anti-Semite.

Emboldened by the success of that campaign, Hoffman is now taking aim at David Miller. He has been bombarding academics who signed the letter supporting the professor with emails calling on them to remove their names.

On Twitter, Hoffman boasted that he contacted members of two university alumni associations, claiming that several told him they "are withholding donations" as a result. Hoffman claimed this financial pressure "was crucial" in the university's announcement of an investigation.

A Bristol university spokesperson declined to comment on Hoffman's claims.

Anonymous, largely new, Twitter accounts have also been popping up to harass, attack and urge the firing of anyone signing the letter supporting David Miller.

One account, called "Tony Benn University" in apparent mockery of the late Labour leftist politician, has been tweeting hundreds of times a day at academics who signed the letter supporting Miller.

In every tweet, the anonymous harasser copies in the accounts of their employers.
At one point, Twitter "temporarily restricted" the account due to "unusual activity."
Tory activists and Zionists
The anonymous account's tweets claim that David Miller stated that "Jewish students are agents of a foreign power." But the Support David Miller campaign calls this "a deliberate distortion."
What Miller had done, according to the campaign, was to raise the question of "serious potential harm if the UJS dominates Jewish student life while it is engaged in extremely partisan campaigning for Israel and its state ideology, Zionism, which is responsible for the dispossession of the Palestinian people both historically and today."
The Union of Jewish Students is one of the organizations leading the charge against Miller.
The group's constitution commits it to fostering an "enduring commitment" to Israel among Jewish students.
It has also received money from the Israeli government, as an undercover investigation by Al Jazeera revealed in 2017.
At Bristol university, the campaign against Miller is being led by the Jewish Society, or JSoc – effectively the UJS branch on campus.
Pro-Israel activist Sabrina Miller – no relation to David Miller – is a former officer of Bristol JSoc.

But more recently, the campaign has been led by her successors.

During a recent interview with right-wing Israel lobby group StandWithUs (which has close ties to the Israeli prime minister himself) – Sabrina Miller publicly credited those who had "led this campaign far more than I have" – Edward Isaacs, AJ Solomon and Nina Freedman.

Isaacs and Solomon are respectively president and vice-president of Bristol JSoc. Nina Freedman is a past president of the JSoc and is now president-elect of the Union of Jewish Students.

At a recent online UJS "rally" calling for David Miller's dismissal, Isaacs claimed he was being "viewed as the enemy" simply "because I was born a Jew."

But there is no evidence that Miller has ever called Jewish people "the enemy." What he has said was different: that "the Zionist movement and the Israeli government are the enemy of the left, the enemy of world peace."

Isaacs is a right-wing, pro-Israel campaigner.

On social media, he encouraged a vote for the Conservative Party during the 2019 election.

And a recent Facebook post by Israel lobby group United Jewish Israel Appeal stated that Isaacs had participated in its Israel Fast Track Fellowship – a program in which participants are "challenged to develop their own Zionist narrative."

At a recent event Isaacs and Bristol JSoc hosted Neil Wigan, the British ambassador to Israel.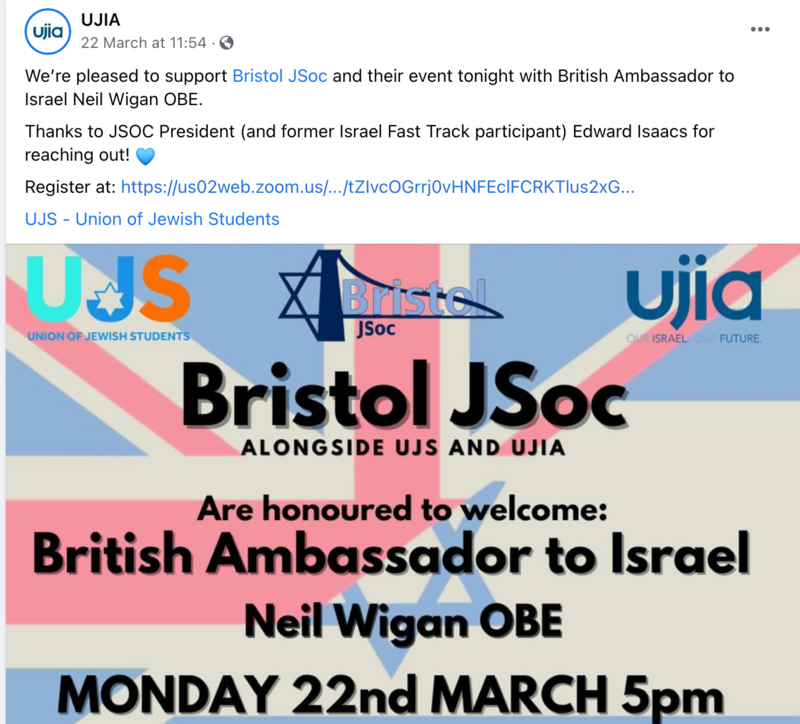 Pro-Israel "infiltrators" on campus
Also speaking at the rally was current UJS president James Harris. He said that "David Miller must be held to account," implicating the professor in inspiring "abuse online" of Jewish students by unnamed parties.
But far from Harris' persona of being an apolitical student who is the victim of harassment motivated by his Jewish identity, his LinkedIn profile reveals that he too is a right-wing, pro-Israel activist.
His profile shows he spent more than four years volunteering for the Conservative Party.
It also shows he spent a summer in Jerusalem working as an intern for Sharren Haskel, then a lawmaker with Prime Minister Benjamin Netanyahu's hard-right Likud Party.
Haskel once served in Israel's particularly brutal Border Police military unit, which is notorious for human rights abuses against Palestinians.
In a 2015 interview with Israeli newspaper Haaretz, Haskel bemoaned media criticism of abuses by Israeli soldiers, claiming it was akin to being "beat up."
"You stand at checkpoints, detain people, catch suspects, attend demolitions of terrorist houses, police demonstrations, and you just keep getting beat up," Haskel said.
Harris' LinkedIn also reveals that between 2018 and 2020 he worked for the Pinsker Centre, a right-wing Israel lobby group set up in 2016 with money from Israel to advance pro-Israel narratives on campus.
His profile states that this position involved Harris representing the group "at AIPAC in Washington, DC." AIPAC is the leading Israel lobby group in the US.
The Pinsker Centre's co-founder Elliott Miller was caught on camera in 2016 acting violently towards Palestine solidarity demonstrators at University College London.
The following year a pro-Israel journalist intimated that Elliott Miller was one of a number of "infiltrators" on British campuses who he said were "interfering" in student affairs "to make sure they can justify the funding they get from Israel."
James Harris' platform when he ran for UJS president was to lobby British universities to adopt the highly politicized and contested IHRA definition of anti-Semitism and push for universities to pay the security costs of Israeli speakers on campus.
Israel lobby donors
Zionist activists have been able to marshal wider support for their campaign in the corridors of power.

More than 100 British lawmakers sent a letter to Bristol university this month.

Without offering evidence, it accuses Miller of "inciting hatred against Jewish students" and "anti-Semitic conspiracy fantasy." It is signed by prominent figures from lobby groups Conservative Friends of Israel and Labour Friends of Israel.

According to an analysis by the Support David Miller campaign, seen by The Electronic Intifada, some two dozen of the lawmakers signing the letter have been on expenses-paid propaganda trips to Israel and the occupied West Bank organized by either Conservative or Labour Friends of Israel.

Several have also received political donations from wealthy Israel lobby funders, including Trevor Chinn and David Garrard.
Academic friends of Israel
There is also a petition against David Miller signed by academics and pro-Israel campaigners.

It appeared in March on an anonymous blog. Its creators recently updated it to deny that it was organized by pro-Israel groups, claiming it was "written by three academics."

But an email obtained by The Electronic Intifada shows that John Levy, the director of the so-called Academic Study Group on Israel, was circulating the text of the petition at least one day before it was published online. It first appeared on 2 March, but Levy's email was dated 1 March.

Levy's group organizes "study tours" and arranges travel scholarships to Israel.

Levy's email – which you can read in full below along with its attachment – also reveals the names of the "three academics" who wrote the petition: David Ellis, a pro-Israel mathematics lecturer at Bristol, researcher Matthew Feldman and Dave Rich of the Community Security Trust – a pro-Israel lobby group with close ties to the British government that habitually makes false accusations of anti-Semitism against Palestinians and their supporters.

Almost 800 people have signed the petition.

A number of the signatories, including Jonathan Hoffman, are anti-Palestinian activists, many with a long record of using false allegations of anti-Semitism to attack Palestinians and solidarity activists.
Anti-Palestinian racists
These include Ronnie Fraser, leader of Academic Friends of Israel.
Fraser was the front man for a failed 2013 legal case against the University and College Union for supposed "institutional anti-Semitism."
The judge dismissed the case on all counts, calling it "an impermissible attempt to achieve a political end by litigious means."
Judge Anthony Snelson ruled that "a belief in the Zionist project or an attachment to Israel" is not a "protected characteristic" under the UK's Equality Act.
This was an acknowledgement that Zionism is a political ideology, not an identity – like ethnicity or religion – protected by hate-speech laws.
Other Israel supporters involved in that case who are now backing the campaign against David Miller include Fraser's lawyer Anthony Julius, pro-Israel lecturer David Hirsh and Alan Johnson, who works for the Israel lobby group BICOM.
Hirsh founded Engage, a group that campaigns against the academic boycott of Israel. His group allegedly received undeclared initial funding from Israel lobby group the Board of Deputies of British Jews.
Also among those who signed the petition against David Miller is Richard Landes, a historian at an Israeli university, and the man who coined the racist concept of "Pallywood" – the idea that Palestinians habitually lie and create fake videos to incriminate Israel.
There is also Asaf Romirowsky, director of pro-Israel group Scholars for Peace in the Middle East, and Cary Nelson, the US academic who led the successful campaign to have Palestinian American academic Steven Salaita fired by the University of Illinois.
Salaita told The Electronic Intifada the appearance of Nelson's name on the petition against David Miller "shows that Nelson's support of my firing had everything to do with a fanatical Zionist ideology that can't tolerate the mere idea of Palestinian freedom."
A transcript of undercover footage shot by Al Jazeera for its suppressed series The Lobby – USA shows Romirowsky admitting that lobbyists like himself use Jewish student groups as a front for pro-Israel activism.
The transcript obtained by The Electronic Intifada shows Romirowsky telling an undercover reporter posing as a pro-Israel activist that he should talk to "the Jewish student union in Europe" – likely a reference to the European Union of Jewish Students in order to help with pro-Israel advocacy.
The footage was not included in the final cut of the series which was obtained and released by The Electronic Intifada in 2018.
"Spurious" police investigation
On 24 March, a statement from Avon and Somerset Police appeared in The Tab, a student publication whose features editor is none other than pro-Israel activist Sabrina Miller.

It said that the force, which covers Bristol, had "recently been made aware of a number of incidents that may constitute a hate crime or hate incident taking place during lectures at the University of Bristol."

The police did not name Miller, but said an "investigation is at an early stage and inquiries are ongoing to establish if any offenses have been committed."

The Support David Miller campaign responded that a "vexatious police complaint" against David Miller "appears to have been made by Jonathan Hoffman." The campaign detailed Hoffman's history of harassment and his 2019 conviction.

A post on Hoffman's Twitter account suggests he was aware of the police report even before The Tab published its "exclusive" story.

And in Facebook comments posted as early as 24 February, Hoffman claimed that police were "investigating Miller."
Bristol university told The Tab that it was "seeking clarification" from the police – perhaps an indication that the university had not yet been contacted by the force.
The Support David Miller campaign told The Electronic Intifada: "Far-right Zionist hate groups around the country are known to use spurious police complaints to intimidate pro-Palestine activists."
"Professor Miller enjoys widespread support from academics and students at Bristol and beyond," the group added. "Any vexatious complaint that has been made against him should be treated with contempt."
Avon and Somerset Police did not respond substantively to a list of questions put to it by The Electronic Intifada. Instead the force emailed a copy of the same statement reported by The Tab.
The police spokesperson asked that particular "stress" be put on the part of the statement that reads: "Our investigation is at an early stage and inquiries are ongoing to establish if any offenses have been committed."
Tags