A groundbreaking new report says that one of the most influential groups in Britain's Israel lobby has abandoned the battle for public opinion.
The Britain Israel Communications and Research Centre (BICOM) now focuses on influencing elites behind closed doors, the report says.
"BICOM: Giving peace a chance?" is the first detailed report into the influential, but little-known, organization.
BICOM was chosen for the report because it is "certainly the most sophisticated of the pro-Israel advocacy groups in the UK."
Reproducing a 2003 version of the group's website, the report notes that:
BICOM's original mission was: "to bring about a significant shift in opinion in favor of Israel amongst the general public, opinion-formers and the Jewish community." However the ambitious objective to shift public opinion appears to have been quietly abandoned … its website now makes no mention of public opinion, whilst referring twice to "opinion formers."
This "strategy of engagement with elites appears to have enjoyed considerable success," the report notes.
But it is also a tacit admission of defeat; that the British public at large cannot be won over to the cause of Israeli war crimes.
A 2011 conference organized by BICOM was originally titled "Winning Britain Back for Israel" – an admission it has lost the public.
Media influence
Launched in the House of Commons earlier this month, "Giving peace a chance?" is the work of Spinwatch, a research body which investigates the public relations industry.
(Disclosures: I write a weekly column for the Middle East Monitor, which also funded this report. I am working for Spinwatch on a forthcoming report about the Israel lobby.)
The report situates BICOM in the wider context of Britain's pro-Israel lobby. It contrasts its "ostensibly reasonable" approach with that of more aggressively anti-Palestinian outfits, such as the Zionist Federation.
While there certainly are anti-Palestinian groups that send flak at journalists deemed to be insufficiently supportive of Israel, they are more marginal than BICOM, whose Israel director Jonathan Cummings has argued that "Harassing the media is a counter-productive tactic, which limits dialogue."
One of the ways BICOM works is to privately persuade, rather than intimidate journalists:
BICOM's media strategy appears to have mirrored that of conventional PR firms: seeking to develop reciprocal working relationships with journalists
The media constitutes one of Britain's most important elites. BICOM's influence on it is not always apparent on the surface, but seems to be real:
a BICOM spokesperson told the Jewish Chronicle that the organization "had worked with broadcasters including those from the BBC's Hardtalk, Newsround [a children's program] and Newsnight, as well as placing articles and offering background briefings to journalists, editors and spokespeople."
"Correct information"
BICOM also offers journalists trips to occupied Palestine, giving guided tours and taking them to Israeli institutions:
In January 2008 the Jewish Chronicle reported that BICOM was organizing the "largest-ever group of senior UK journalists" to visit Israel for a major "security" conference. The article stated that representatives from The Times, The Independent, The Sun, Sky and the BBC would be part of a group that would attend the Herzliya conference that year
In 2011 an accidentally-leaked email showed that BICOM's tours were sufficiently well known among mainstream journalists that one BBC presenter would ask to participate. Then-CEO Lorna Fitzsimons claimed in the email:
BICOM has one of BBC News' key anchors on a bespoke delegation. When planning her very first trip to the region, Sophie Long got in touch with BICOM to see if we could help her out with meetings in the region. Sophie is now spending three days of her trip with BICOM Israel
The email also stated its goal contacting journalists was to ensure:
the most objectively favorable line was taken, and offering talking heads, relevant to the stories unfolding.
It further claimed Sky News had "changed their narrative" after being contacted by BICOM and that Fitzsimons briefed Jonathan Ford on a Financial Times leader for the next day.
This has been BICOM's modus operandi stretching right back to its forerunner group, which was established in the early weeks of the second Palestinian intifada:
One public relations professional who joined the group told PR Week: "We have developed a war room to ensure correct information and solidarity with Israel is maintained [in the press]."
Funded by billionaires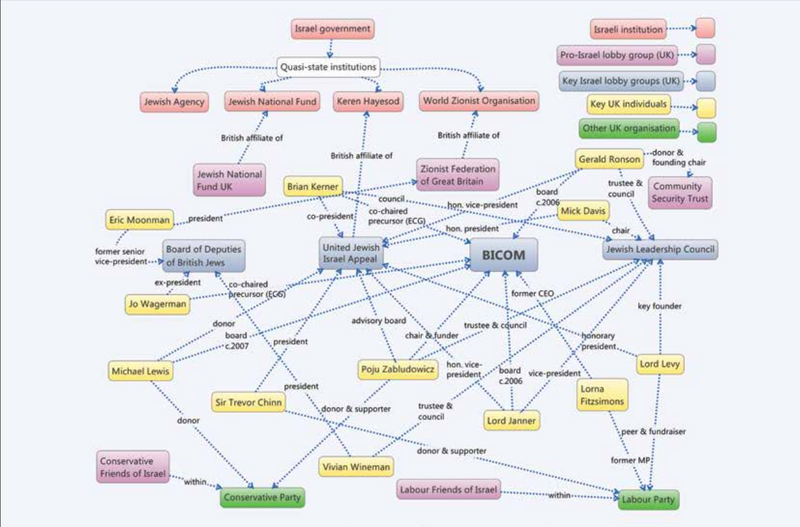 BICOM is bankrolled by Poju Zabludowicz, a Finnish billionaire with important links to Israel. Zabludowicz is BICOM's chairperson and main funder.
(At the launch event, Spinwatch's David Miller said that since this report went to press, BICOM has stated it is funded by the Jewish Leadership Council – another group Zabludowicz is involved with.)
As the report explains in some detail, Zabludowicz's father Shlomo was an Israeli arms dealer, who "made his millions through the state-led internationalization of the Israeli arms industry."
The son's businesses are of a different character, yet still highly linked to Israel:
Poju Zabludowicz himself made billions from the state-led property booms, privatizations, mergers and tech-bubbles of the neoliberal period
BICOM, the report explains, is a way for Zabludowicz and his allies to promote the Israeli state, and retain the stability benefits to his businesses of a "peace process" – while at the same time impeding any genuine moves towards peace with the Palestinians.
BICOM's self-promoted image that it favors some sort of compromise in occupied Palestine "is a façade," states the report.
Democracy is circumvented
The report's ultimate conclusions are interesting and worth reading in detail:
It is clear that what worries BICOM's backers most are campaigns for the boycott of settlement goods, Israeli academia or wider measures.
It also places BICOM and the Israel lobby generally in the wider context of Britain's undemocratic and opaque public relations and lobbying industries:
We regard the lobbying and PR activities we describe here as symptoms of the tenuous nature of democracy in the UK, as well as a means by which democracy is circumvented … the existence and activities of BICOM cannot be separated from issues of undemocratic governance in the UK and elsewhere, and any solution to the problems we highlight here must necessarily entail significant political reforms
In its final acknowledgments section, the authors note that they hope this is the first in a planned series of reports on the Israel lobby.
Tags