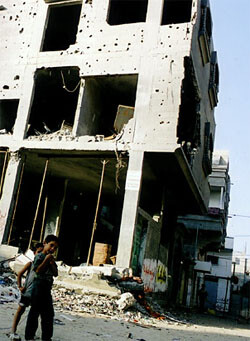 In this prison it matters less every day whether or not Israel drops another bomb on Rafah or Khan Younis. Israel has military control of 42% of the Gaza Strip in order to "protect" its 6,000 illegal Israeli settlers. Many of the settlers are armed. 1.25 million Palestinians are dying on less than 60% of the land. Many Palestinians are without water, are not allowed to dig to new wells, are without jobs, and without money to obtain medical service or food. Much of the transportation is by donkey and cart. Cars are crushed or unaffordable. Palestinians are not allowed in. There is no way out.

In Namsawi, an area of Khan Younis refugee camp directly in the line of Israeli fire, displaced families live in buildings with holes the size of Volkswagen bugs. Apache missle fire and tank shelling have destroyed many areas of the camp made up of soccer fields and cement apartment buildings. There are children playing in the sandy dirt who scatter when shots are fired. Half the population is under 15.

The refugees in the camp commonly take in refugees from areas that Israel has bulldozed and taken over.

Two brothers, both engineers with Master Degrees yet jobless, now live in densely populated Namsawi. Both had homes near Abu Holi checkpoint where Israel illegally built a settler bypass bridge. The brothers and their families were in their respective homes, the Israeli soldiers came with guns. The soldiers said leave. The Palestinians tell me that they had no choice. One brother told me, "It only took 10 minutes to demolish my house." The other brother said, "Really it was only 10 seconds." Both are wide eyed and laughing. They say it is hopeless, there is no future. Over 81% of the population of Khan Younis live well under the poverty level. There are flies everywhere and no garbage collection.

At an NGO in the south of Gaza, the director shows me the bullet holes in his windows. He says, "When the Israelis are shooting at night they are shooting everywhere for 10 minutes, for a half hour. They just shoot everywhere. Many people are injured inside their houses. And this is daily."

At another NGO in south Gaza I am told that there are "no places to play for children because many of the fields are near settlements and the families try to keep them from going because it's very dangerous." In 1999, Palestinians created a new garden in Namsawi, but the director of the Palestinian Center for Human Rights tells me, "No one can go there because the Israelis are shooting." In his office there is a small school photo of a little boy, maybe 8 or 9 years old. I pick it up and ask if this is his son. He says, "No, he is a martyr." A martyr is any Palestinian that the Israeli occupation kills.

The director of Medical Relief for the villages outside of Khan Younis scoffs at the hypocrisy of peace at the hands of the United States and Israel. He says, "The Israeli way of peace is by klling children in Khan Younis and Rafah." He also tells the story of his 50 year old cousin, martyred in Khan Younis camp. She shut the door of her house when she saw Israeli soldiers trying to enter. "They are killing her in front of her children and her husband and they get her money and gold, like thieves. Her husband is a nurse and was trying to help her. The soldiers said, 'leave her, let her die,' and they arrested him. And they say sorry, it was a mistake. They always say it was a mistake."

In Rafah a 14 year old boy was shot by Israeli soldiers. He lasted into the night before he died.

A teenage girl tells me that she does not know why the Israeli soldiers demolished her house. "Any house they want they take." She makes a collapsing motion with her hand. "It was a tall house so I guess they wanted to take it."

This does not get reported. According to the PCHR, more than 500 Palestinian journalists are suffering from Israeli imprisonment or harrassment.

Israeli soldiers were shooting from Abu Holi checkpoint before allowing Palestinian cars to go through today. After dark, the checkpoint was silent save for the cars nervously passing. One can see the sniper posts, but often not the soldiers holding the guns.

Meanwhile in the West Bank, 25 tanks rolled back into Jenin and Israeli soldiers and settlers continue to attack Palestian olive harvesters with impunity. A 22 year old from Nablus killed 3 Israeli soldiers at an illegal Israeli settlement just outside of Nablus. The 4th Geneva Convention, Article 49, paragraph 6, reads: "The occupying power shall not deprt or transfer parts of its own civilian population into territories it occupies." The Palestinian city of Nablus has been suffering from Israeli curfew for more than 100 days.

Kristen Ess is a political activist and freelance journalist from New York City, who has lived in the West Bank and Gaza since March 2002, where she does solidarity work and reports for Free Speech Radio news and Left Turn magazine.