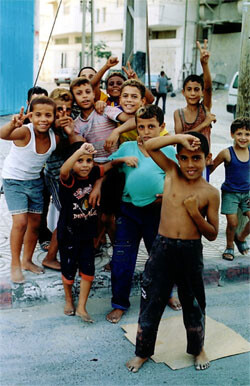 Ramadan with Arafat's Kids
(6 November 2002) On this night, the first of Ramadan, eight OEbrothers and sisters, sit round a white plastic table in a Gaza City living room breaking their fast. They are orphans of Sabra and Shatila. In 1982 when now Israeli Prime Minister Ariel Sharon orchestrated a massacre on the southern Lebanon refugee camps, hundreds of infants and children watched their parents die. Most were OEadopted, by now Palestinian president Arafat, then running the PLO from exile in Tunisia. Most were spread throughout the mid-east. Sixty were sent to Gaza. They grew up in a cinder block building, now destroyed by Israeli missile fire, just a few dusty meters from the Mediterranean. The PA continues to provide them with food and shelter. Now in their twenties, they are still referred to as Arafat's Kids. One young woman of 24 shows me her leg, the skin twisted and burned. After being injured at four years old she did not grow properly. She does not remember the fires, the gunshots, the death of her parents, the massacre. Arafat's Kids share the breakfast feast with five of those exiled to Gaza from Bethlehem's Church of Nativity. All have become friends, in part, because they feel like strangers here in Gaza.
Ramadan, mid-Gaza Strip
(10 November 2002) In Rafah today the sewage is ankle deep in parts of the houses on the Egypt/Gaza border. Israeli soldiers sit in armored tanks behind the houses. The separation wall is growing longer everyday, as Israeli heavy machinery digs and traps families in their homes. An elderly woman I know shows me the room that we plan i will sleep in tomorrow. It is small and made of cinder block, with two mats lining a wall. She falls twice as we walk through. She makes her way through the sewage and peers out the back door. There are two tanks, the high wall, and her son's recently demolished home. She wears a flowing white hajib and her eyes are bright. She tells me not to photograph the tanks or to let them see me. She says they will shoot.
A tall woman takes me next door to see her home. Sewage is coming through the walls. Her daughter sits on the cement floor, reading, looking up only to smile at me and shake my hand. One wall is half gone, the size of a bulldozer. She takes me through the hole in wall, showing me how I can dig out the rubble to let the sewage drain. She tried yesterday, but the Israeli soldiers shot at her. Flies swarm her small children, and she looks at me pleading.
The elderly woman holds my hand as I pass by her house. She sits with her friends in between two cement walls, away from the smell of sewage and away from the brutal glare of Israeli tanks. I leave in order to make it through Abu Holi checkpoint, which divides the south of the Gaza Strip from the north, before sunset, promising to return in the morning. The streets are sewage and rubble. It is ethnic cleansing, a slow massacre.
The elderly woman's son calls me one hour later. The Israeli soldiers are demolishing her home. The bulldozers are tearing through the walls. She is crying on the phone, having just fallen trying to run away. Her son is so worried for his mother that he cannot drive, so I do, and we speed back toward Rafah along the Mediterranean coastal road. But between Gaza City and Deir El-Balah, a single Israeli tank comes from the illegal Israeli Netzarim settlement and blocks the road. Nearby the Israeli military is flattening an area to dirt and installing outhouses. This is what they do before rounding up Palestinian men between the ages of 15 and 50. Many people here expect to be taken this night.
Only one road is passable from the north of the Gaza Strip to the south and this is it. We stop the car, along with hundreds of others, and wait. We all begin getting out of our cars, walking along the beach trying to pass through. Many are trying to reach their homes in Rafah, Khan Younis, Deir El-Balah, and the surrounding villages. The man trying to reach his injured mother whose home has just been demolished is falling apart. The Israeli soldiers begin shooting at the Palestinians who are struggling through the sand. Three girls with schoolbooks come with us and get into the car. They will stay at their university tonight instead of trying to reach home. The Israeli soldiers shoot and kill a girl walking on the beach, one of their friends from school. We drive half an inch at a time, trying just to return to Gaza City. Many get out of their cars again, this time to pray. It is almost sunset, the 5th night of Ramadan, and time to eat and drink water. People begin buying vegetables from the roadside stand and the driver of a van sized taxi sells biscuits from his window. As the call to prayer rings out, the son hands me part of a tomato. He smiles and welcomes me. Israeli gunshots are banging through the air as the Palestinians, trapped in the prison of Gaza, share their food, having lived to see the break of another days fast.
As I write this, now at home, I am watching the news on television. An Israeli tank is shooting at little boys who throw stones at it in Nablus. George Bush struts across a green grass lawn in a clean suit, talking about UN Resolutions.
He does not mention that Israel is second only to the US in violating them.
Kristen Ess is a political activist and freelance journalist from New York City, who has lived in the West Bank and Gaza since March 2002, where she does solidarity work and reports for Free Speech Radio news and Left Turn magazine.