The Palestinian Authority and the Israeli military government have agreed to a 'cease-fire.' The terminology is, of course, misleading. It suggests that there are two equal sides at war. The Israeli government, receiving more than $12 million a day from the

US

to supplement its arsenal of 'weapons of mass destruction,' has not ended its illegal military occupation of the West Bank and Gaza Strip. Nor has it ceased imposing curfew on West Bank towns, building settlements and checkpoints, or using

APC

s, Apache helicopters, tanks, jeeps, and ground soldiers throughout the West Bank and Gaza.

Yesterday Israeli Occupation Forces assassinated five Palestinians in the West Bank town of Attiel near Tulkurem.

On Tuesday the Israeli military government released 100 out of over 8,000 Palestinian political prisoners. Most of those released were being help without charge or trial in 'administrative detention' — a six month sentence passed without charge or trial that the Israelis renew for years if they want to. Many of those released had just a few days left of their 'sentence.' A Palestinian journalist, working for a US outlet, has just told me that amongst the released he spoke with in Ramallah, "most only had six or seven days left."

Information disseminated by the Israeli government has passed the release off as a mark of 'goodwill.'

Out of the 100 released, 13 are from Bethlehem. One of them is a 23 year-old man arrested out of his sleep at 2:00AM six months ago. He was given six months 'administrative detention'. The six months is up in a few days, so he was released. This is not good will. He served his illegal sentence and now he is home.

The release of Abu Sukar, a hero to many who was imprisoned by the Israelis for 27 years, was a political gesture. He told the press, "I am happy to see my children who are grown now, my grandchildren, and all of my family, but this is not complete. This is not peace. There will never be peace until the children I raised inside the prison are also released."

The Israeli military government began this 'goodwill gesture' release of Palestinian political prisoners two weeks ago. Over the course of two days, they released eight West Bank Palestinians from completed 'administrative detention sentences' and deported them directly from Israeli prison to Gaza.

For most of last month, the Gaza Strip was closed to everyone: foreigners, journalists (including CNN), diplomats. During the complete closure, Palestinians trapped inside reported intense Israeli attacks by sea, air and land, killing with impunity.

This week a few foreigners were allowed in, some working with the European Commission. Israeli soldiers opened fire on their diplomatic car as they passed through Beit Hanoun on their way to Eretz Checkpoint.

For the past several months the IOF has been destroying the northern Gaza Strip area bit by bit~demolishing the houses, displacing hundreds of Bedouins, ripping up orange groves, degrading the soil. One of the women working for the European Commission has just told me, "Beit Hanoun is gone."

The Israeli military government says that it will dismantle only ten of its roughly 267 illegal settlements. The 'Road Map,' in addition to long standing UN Resolutions 242 and 338 and international law, calls for ceasing building and dismantling all Israeli settlements. The ten the Israelis are discussing dismantling are not those creating the cantons that divide the West Bank from itself, but rather those that are considered, 'outposts' and illegal under Israeli law in addition to international law. Another empty gesture.

The Israeli military government told the international community last week that it would lift its complete closure of the West Bank and Gaza Strip so that low-wage Palestinian workers can work for the Israeli economy. A local human rights worker told me, "The Israelis have fired 20,000 imported foreign workers because they were too expensive." One strategy of the Occupation is to cripple the Palestinian economy by destroying infrastructure, agricultural land, and local industry, in addition to imposing closure and curfew, which make going to work within the West Bank impossible. All of these actions create a devastating dependence on Israeli products and jobs.

In the same breathe that the Israeli military government said it would ease the closure, it also said that Israeli soldiers would remain throughout the West Bank and Gaza Strip. The day after the announcement of the 'goodwill gesture' to ease the closure, the IOF imposed curfew on Ramallah, as they have done today as well. Soldiers were filmed beating residents in the streets. A man trapped at the Qalandia checkpoint reported to me via telephone that there were up to 200 Israeli soldiers, Apaches, APCs, and tanks. He said, "There's no where to go to get away." Residents of Jenin and Nablus are suffering under frequent curfews also. Reports from Nablus indicate that last night Israeli soldiers placed a bomb in the old city.

This is the Israeli 'cease fire,' the Israeli 'goodwill.'

For several days in a row, F-16s flew over Bethlehem and helicopters circled. Israeli tank shelling and shooting is still frequent. This week Israeli jeeps drove into the center of Manger Square in front of the Church of Nativity and shot a child in the eye and another in the leg. The children threw stones. Yesterday Israeli soldiers, with tanks and jeeps, forced Palestinians to crouch on the ground with their hands on their heads near Bethlehem University.

This is happening amidst 'Road Map' talks in the Sinai, Aqaba, and Jerusalem. The 'Road Map' itself is loaded with points that have been negotiated in the past, ones that the Israelis did not honor, and points that cannot be negotiated. UN Resolution 194 demands the Right of Return for all Palestinians as a collective and an individual right. As such, it cannot be negotiated.

The Israeli military government is openly reporting that it will not cease its illegal practice of targeted assassinations, as it demonstrated yesterday in the West Bank.

This is the Israeli 'cease fire,' as Occupation, humiliation, home-demolitions and killings, have been part and parcel to the Israeli idea of 'peace.'

Yesterday a Palestinian journalist working for an American television network spent five hours, from 11 am to 4 pm, traveling from Ramallah to Bethlehem, a short distance that without Israeli checkpoints and soldiers obstructing movement within the West Bank, would take only 40 minutes.

He says, "Now there are more checkpoints than before this week. I think at least three or four more now around Ramallah."

I ask him why the Israelis are building more checkpoints at a time when they should be dismantling them. He replies, "When they want to show the would that they are implementing the Road Map, they will show pictures of themselves on the news removing these new checkpoints and the regular ones will remain. They want to trick the world as usual."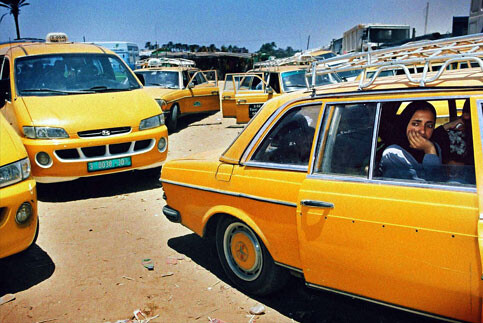 Kristen Ess is a political activist and freelance journalist from New York City, who has lived in the West Bank and Gaza since March 2002, where she does solidarity work and reports for Free Speech Radio news and Left Turn magazine.