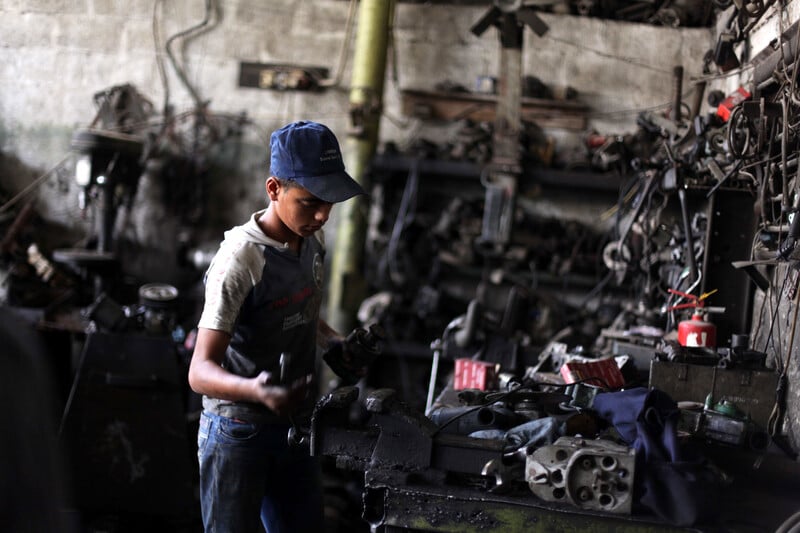 Muhammad is only 12 yet he already has to work. Each morning at 7am he takes to Gaza's streets, where he sells sandwiches from a little stall.
"I have no choice," he said. "Our house was completely destroyed in last year's war."
Because of that destruction, Muhammad had to help support his family. Consisting of five girls, four boys and their parents, the family now lives in a rented flat.
Muhammad earns approximately 30 shekels ($7.70) per day, all of which he hands over to his parents, who have no regular income.
After working for a few hours in the morning, Muhammad goes to school. His older brother takes over the stall until Muhammad's classes end.
"I like my school," said Muhammad. "I know that getting a good education is my surest way for a decent life. But this is life in Gaza. It's a kind of living hell."
Adult responsibilities
The siege and attacks that Israel has inflicted on Gaza in recent years has caused a marked increase in poverty and other social problems.
At 43 percent, the rate of unemployment in Gaza is the highest in the world, according to World Bank data.
One consequence of these problems is that children are being required to accept adult responsibilities.
Another boy, 9-year-old Samir, sells tea and coffee in Gaza's ports.
"My father suffers from bad asthma, and the doctor has told him not to work," said Samir. "I have to do this to get money to buy food for my family every day."
The Palestinian Central Bureau of Statistics has estimated that nearly 4 percent of all children in the occupied West Bank and Gaza held jobs in 2010.
A 2013 study by that bureau described figures indicating a significant rise in child labor and school dropout in Gaza as "worrying." According to the report, the proportion of children aged between 10 and 17 who work and do not attend school rose from 13 percent to 20 percent in the period between 2009 and 2012.
Palestinian laws on child protection and labor rights forbid employers from hiring children who are younger than 15 years old. Children between 15 and 17 may work under certain conditions such as a limit on their working hours and a ban on performing dangerous activities.
Dangerous
Yet some of the tasks performed by children in Gaza, such as repairing machinery in workshops, are dangerous in nature.
Zaher, an 11-year-old, has been working in a mechanic's workshop since he was 9.
He often works 12 hours per day. During the first year of his job, he was not paid. "My boss told me I had to go through a lot of training to do what is expected of me," he said. His job includes working on the gears and engines of cars.
Zaher and his elder brother, who works in a clothes shop, have had to support their family since their father died five years ago. Zaher is paid 10 shekels ($2.60) per day.
On average, child laborers in the West Bank and Gaza worked slightly more than 44 hours per week in 2013. Their average daily wage was less than 50 shekels ($13).
Poverty is the main factor that pushes children to work. The level of poverty in Gaza, as defined by the World Bank, climbed from 28 percent in 2013 to 39 percent in 2014. The increase has been directly attributed to Israel's 51-day bombardment of Gaza in July and August last year.
Issam Younis, director of Al Mezan, a Gaza-based human rights group, said that children are the "real victims" of the siege that Israel has enforced for the past eight years.
"You find children in Gaza who drop out of school to work to compensate what their families have lost due to the continual blockade," he said.
Isra Saleh el-Namey is a journalist from Gaza.
Tags