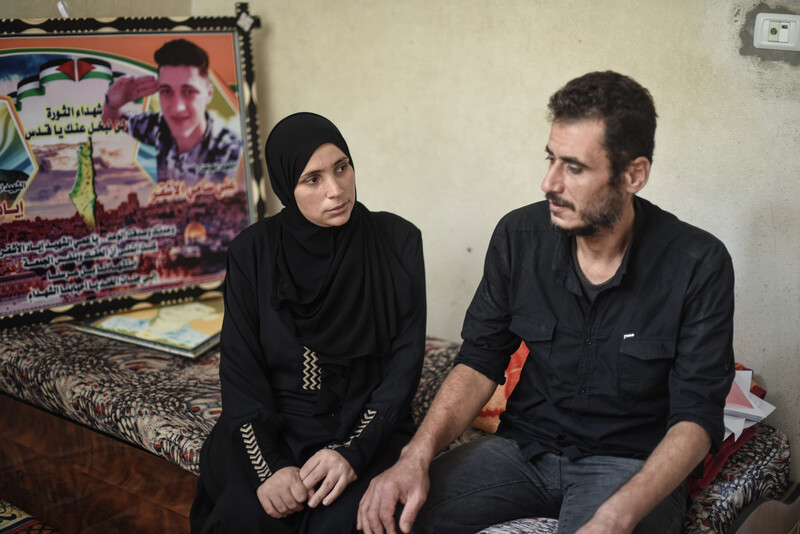 Ali al-Ashqar had just thrown one stone when he was shot. The 17-year-old immediately fell to the ground.
Nabil Masoud had been standing nearby. Along with two medics, he rushed to try and help Ali.
"But the Israeli sniper started shooting toward anyone who got close to the child," said Masoud. "For around 17 minutes, no one was able to reach Ali. It was clear that the Israeli soldier wanted the child to bleed until he died. And that is what actually happened."
Eventually, the medics gained access to Ali. But it was too late.
An autopsy confirmed that he had been struck by a bullet in the chest, which had existed his neck. He had also been hit by fragments of bullets fired in his direction.
Ali was killed during the Great March of Return on 6 September. He was approximately 80 meters from the fence separating Gaza and Israel.
"In pain all the time"
Nicknamed Guerilla, Ali had been an active participant in the Great March of Return, which demands that Palestinian refugees be allowed go back to homes from which they were expelled in 1948. He had previously been injured five times during these protests, which were launched in 2018.
In July this year, Ali had been shot in the leg during one such protest. He had been scheduled to undergo surgery for his leg injury in Indonesia Hospital, northern Gaza, on 7 September – the day after he was killed.
Indonesia Hospital turned out to be the place where his body was taken for an autopsy.
Since he was shot in the leg Ali was "in pain all the time," said his father Sami. "He could only sleep after taking painkillers."
With three brothers and one sister, Ali was the eldest boy in his family.
"My son had a strong heart," said Sami. "He was more like a young man than a child in the way he dealt with life. I always encouraged him to become a police officer; he had the right personality. He was more than a son, he was my friend."
Most members of the al-Ashqar family have been active in the Great March of Return. They fully identify with its goals; the family hails from Barbara, a village in historic Palestine, that was ethnically cleansed by the Israeli military during the last few months of 1948.
"It wasn't an accident"
Ali was very close to his grandmother Fatima and had visited her before he went to the Great March of Return on 6 September.
Fatima led the procession at Ali's funeral – just as she had done when her own son Iyad was killed by the Israeli military during the first intifada.
There are striking parallels between how both boys died.
Iyad was shot in the head by an Israeli soldier occupying Gaza during February 1988. He was among a group of children and young people who were throwing stones at Israel's troops.
By the time his mother could reach him, Iyad was already dead. Another child had been wounded and was lying on the ground beside him.
Fatima used her headscarf to staunch the injured child's bleeding.
"I will never forget what happened," said Fatima. "Ali was killed on a Friday. And I lost my son on a Friday, too."
Ali's mother Huda is still in deep shock. "When I heard what happened to Ali at the march, I knew Israel killed him deliberately," she said. "It wasn't an accident."
Huda is expecting a baby boy in the next two months. She plans to call her new child Ali – in honor of the brother he will never meet.
Almost 50 children have been killed by Israel during the Great March of Return.
The Israeli government has implicitly admitted that snipers shoot to kill Gaza's protesters, including children. During July 2018, Avigdor Lieberman, then Israel's defense minister, labeled as "terrorists" all those who had died in the Great March of Return until that point.
The admission – perhaps inadvertent – is at complete odds with Israel's boast that it has the world's "most moral army."
"They wanted him to die"
Ali al-Ashqar was one of two children killed by Israel on 6 September. The other child to die was Khalid al-Rabai, 14.
Khalid had gone to the protests in Malaka – an area east of Gaza City – accompanied by his friend Yahia Abu Shawaish. The two boys spent a couple of hours together but became separated later in the afternoon.
Shortly after 5pm that day, Israeli forces fired live bullets at a group of protesters, which included Khalid.
Mahmoud Musallam, a medic, heard one protester cry for help as a child had fallen to the ground.
"At the beginning, we were not able to reach the injured child because of the intensive gunfire," Musallam said. "We had to wait for around 13 minutes until we could reach him."
The medics hurriedly took Khalid away from the scene. He had been shot and had lost a considerable amount of blood. The medics checked to see if there were any signs of life but could not find any.
"A child that weighed around 35 kilograms was shot with three bullets," Musallam said. "And the shocking thing is that the Israelis prevented medics from reaching him. They wanted him to die."
Khalid was the second oldest boy in his family; he had three brothers and two sisters.
"He was wearing new clothes that I had bought him," said Khalid's mother Rania. "I refused to allow him to wear them at first because they would get dirty. But he insisted. When I bought him the clothes, I had no idea that he would be buried wearing them."
Khalid wanted to become a professional football player. He used to dream of sporting glory during kickabouts in his neighborhood.
"My son was killed in cold blood," said his father Iyad. "Israel let him bleed until he died. I don't know why."
Sarah Algherbawi is a freelance writer and translator from Gaza.
Tags