Nejoud al-Ashqar is a 30-year-old mother from the northern Gaza Strip town of Beit Lahiya. Two of her sons, Bilal, 5, and Mohammad, 6, were killed during Israel's invasion of Gaza last winter. Al-Ashqar also lost her right arm in the assault.

Surrounded by her neighbors and her youngest son and daughter she recounted her story. "I recall that as Israeli warplanes dropped leaflets in the area, ordering the residents to stay away, I felt scared for my children. By then we all left our home and headed for a nearby UNRWA (the UN agency for Palestine refugees) school for refuge," al-Ashqar explained.

The grieving mother added that "We spent the whole night in early January, at the school amidst Israeli bombardment and extreme fear that ripped through our hearts. I was only concerned with how I could protect my children, as some shrapnel flew around us. I recall that I started to cover their faces with blankets for fear that they would be hurt by the shrapnel."

The UNRWA school where the family was staying was hit in the morning. "I heard people near me screaming 'Ambulance! Ambulance!' I realized my face was covered with blood and I started screaming and calling the names of my children."

Her head and right arm were severely wounded by the Israeli shelling and she was taken immediately to a local hospital in Gaza. Due to her critical wounds, she was transferred to an Egyptian hospital.

"At the hospital in Cairo, I stayed in intensive care for 20 days, during which I was unaware of life around me. During my stay there, I was not told about the fate of my two sons as they were worried about my state of mind," she explains overcome by emotion.

Al-Ashqar added that "After I returned from Cairo, I was told about the death of my sons and since then I have had many sleepless nights. Every night my deaf husband and I look at their pictures on the shelf in the bed room and I read some verses from the Quran."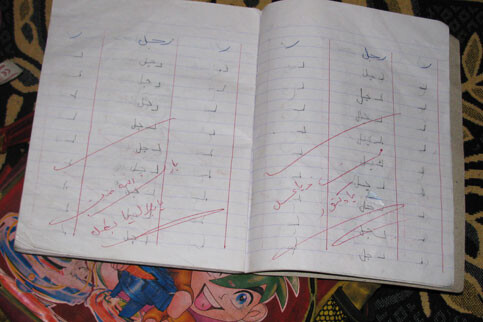 She says "I wish I knew that Bilal was about to leave me, I wish I knew! Bilal often used to ask me for a shekel ($.25) for school, but sometimes I could not afford to give him one due to our bad financial situation. The days when I couldn't afford to give him the shekel, I used to promise him that the following day I would. I wish I had given him all of the shekels in the world!"

Madline, Bilal and Mohammad's sister, asks "Who can I play with now?" She stood in the corner of her brothers' now abandoned bedroom and said "I used to play with Bilal and Mohammad in the garden and in this bedroom."

Madline's 15-year-old cousin, Mahmoud, explained that the family used to take trips to the beach. He added that "Bilal and Mohammad are my cousins, though I used to feel they are my younger brothers. They were so cute and active, and we enjoyed our trips to the beach. Since they were killed, I stopped going to the beach. Our family has lost the mood to enjoy things obviously."

Holding Mohammad's picture, al-Ashqar says "Every night, I hold their pictures to kiss them before I go to sleep, like I used to do when they were still alive."

All images by Rami Almeghari.

Rami Almeghari is a journalist and university lecturer based in the Gaza Strip.