Mahmoud Abu Namous has just become a father for the first time.
His daughter was born in September following an extremely stressful pregnancy. The worst stress was during the 11 days when Israel carried out a major attack against Gaza in May.
Mahmoud is deaf. His wife Fatma Dhaher had to remind him regularly that he should stay away from windows in their Gaza City home during those dangerous days.
He had to confine himself within those parts of their home where he would be less vulnerable as explosions occurred.
Mahmoud shared Fatma's fear each time she heard a blast. "I could sense it from her facial expressions," he said.
The attack brought back painful memories. Mahmoud and his family were uprooted from their home during a previous Israeli offensive in the summer of 2014.
Mahmoud was preparing for his high school exams at that time. He recalls being "so frustrated and tired" that his mother's warning to leave their home immediately barely registered with him.
The family's home was destroyed after they evacuated it.
Lacking adequate support, some deaf people went to considerable lengths to be properly informed about what was happening in May of this year. TV stations generally did not show sign language interpreters on screen during news programs.
"Afraid and anxious"
Mahmoud tried to fill the gap by gathering what information he could find and making sign language videos of his own. He posted those videos on Instagram, so that other deaf people in Gaza could watch them.
Both Saadia Miqdad and her husband Izz al-Den are deaf. During the May attack "I felt that I was in terrible danger whenever the house shook," Saadia said. "But I did not know where the bombs were landing."
Saadia lives in Gaza City but has family in the Khan Younis area of southern Gaza. "They understand sign language, so I could communicate with them by video during the attack," she said. "But the connection was unreliable because of electricity cuts and because we only had internet access some of the time."
Hiba Abu Jazar is a deaf community activist living in Rafah, near Gaza's border with Egypt. She recalled how members of her family were "constantly telling us to be careful" during the May attack.
"When there was shelling near my house, we were able to escape to my uncle's place because it was safer," she said. "I was very afraid because I could not hear what was happening."
In the early stages of the attack, she and her sisters viewed photos and videos of atrocities on the internet.
"That made us feel even more afraid and anxious," she said. "So we decided to stay away from the news. It was only a temporary solution, but it gave us a bit more courage to keep going."
Marginalized
The Atfaluna Society for Deaf Children in Gaza City conducted a survey of 102 people shortly after a ceasefire brought an end to Israel's bombardment in May. More than 84 percent of those surveyed had a disability.
More than 38 percent of respondents replied that their homes were slightly damaged. Another eight percent stated that the damage to their homes was severe.
Almost 19 percent replied that their movements were curtailed during the attack and they could not fulfill their basic needs as a result.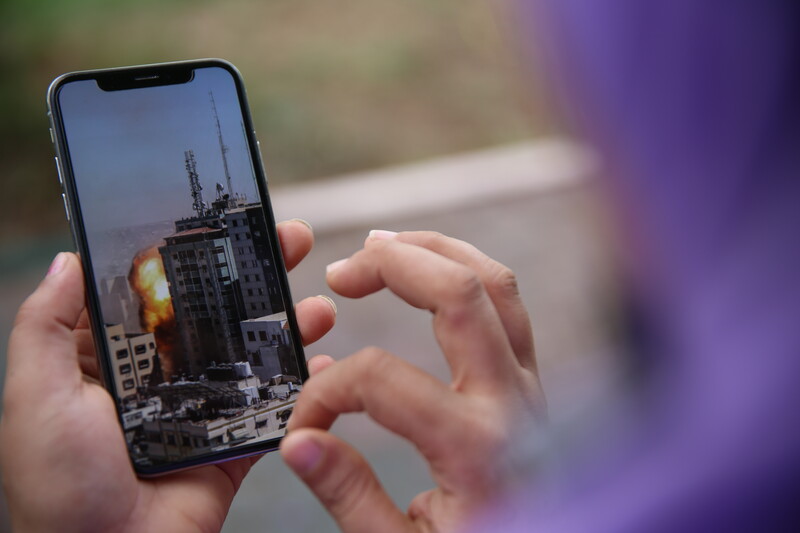 Umayma Helles, a sign language teacher, spent most of the 11 days during which Gaza was attacked trying to provide deaf people with emotional support.
Deaf people, she explained, "constantly feel that they are marginalized by society." That sense of marginalization exacerbated the fears of many deaf people in May.
"Most of the deaf people in Gaza are unemployed," Helles added. "There are many jobs they could do but because they are deaf, they are rarely accepted. This is not good. It makes them feel frustrated and lose hope."
An additional problem is that deaf people have in many cases not received counseling since the attack. "Psychologists and social workers must learn sign language so that they can run support sessions for people with hearing disabilities," Helles said.
Nagla Muhammad is a mother of six children living in Khan Younis. As Naglaa is deaf, she relied on her 11-year-old daughter Shams to explain in sign language what was happening during the May offensive.
"It was very difficult because my children were screaming from the sounds of the missiles," Nagla said. "I tried to stay beside them all the time, to hug and hold them. I often sat crying in fear. But my husband always reassured me that the attack would end and we would survive."
Ruwaida Amer is a journalist based in Gaza.
Tags