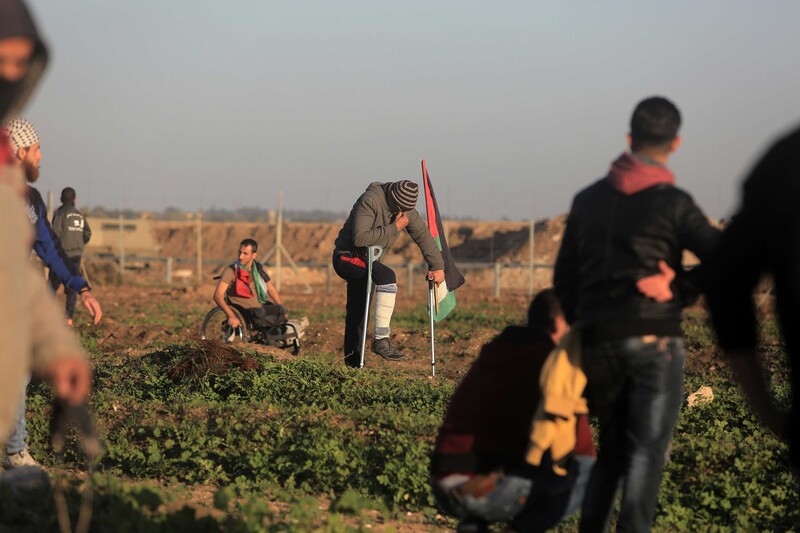 To mark International Day of Persons with Disabilities, the Israeli military tweeted a photo of its communications tower in Tel Aviv lit in purple on Friday.

The military claimed that the gesture was "in honor of people with disabilities in Israel and around the world."

Twitter users quickly seized on the irony and hypocrisy by highlighting Israel's myriad crimes against Palestinians with disabilities.

Earlier this week, an Israeli and a Palestinian human rights group published a report exposing Israel's sham investigations into the killing and maiming of protesters during Gaza's Great March of Return.

At least 223 Palestinians were killed during those protests, which began on 30 March 2018 and concluded in December 2019.

Seven persons with disabilities were killed during the protests, according to Al-Haq, a Palestinian human rights group.

A UN commission of inquiry found that Israeli snipers shot at persons with disabilities "knowing they were clearly recognizable as such" during the Great March of Return.

Additionally, more than 13,000 Palestinians were injured during the protests – "some 8,000 by live fire, about 2,400 by rubber-coated metal bullets, and almost 3,000 by tear gas canisters that hit them directly," B'Tselem and the Palestinian Center for Human Rights stated in their joint report this week.

Those figures do not reflect the thousands more people injured from tear gas inhalation during the protests.

"Of the persons wounded, 156 lost limbs," the rights groups state. "None of these cases were investigated."

B'Tselem and the Palestinian Center for Human Rights described Israel's self-investigation mechanism as a "smokescreen" intended to deter the scrutiny of the International Criminal Court.

The tribunal in The Hague only pursues war crimes cases when states are "unwilling or unable" to carry out meaningful domestic investigations.

Israel is unwilling to investigate abuses against Palestinians by its forces, and therefore "the responsibility to ensure accountability for these violations now lies with the ICC," B'Tselem stated.
Extrajudicial execution of Iyad Hallaq
Al-Haq, a Palestinian human rights group, has called for a war crimes investigation into the killing of Iyad Hallaq by Israeli police in Jerusalem last year.

Hallaq, 31, was walking to a school for persons with disabilities that he attended when he was gunned down.

Israel has withheld surveillance camera footage from the area where Hallaq was killed and imposed a gag order on the Hallaq family's lawyer to prevent information about court proceedings from being made public, according to Al-Haq.

Israel systemically resorts to excessive use of force, including against Palestinians with disabilities.

Ten Palestinians with disabilities were killed by occupation forces in the West Bank and Gaza in 2018 alone.

Six persons with disabilities were among the more than 250 Palestinians killed during Israel's 11-day attack on Gaza in May.

"The bombardment also affected several health and rehabilitation facilities, including 24 organizations working with people with disabilities," Medical Aid for Palestinians added.

Some 3,000 people with disabilities were displaced within Gaza during the bombardment.

Palestinians with disabilities experience "severe difficulty evacuating civilian buildings under attack, increasing their risk of injury and death," Medical Aid for Palestinians noted earlier this year.

Deaf people in Gaza had difficulty accessing information during those terrifying 11 days.

"I felt that I was in terrible danger whenever the house shook," Saadia Miqdad, who is deaf, told The Electronic Intifada earlier this year. "But I did not know where the bombs were landing."

Older people are also acutely vulnerable during Israel's attacks on Gaza, coordinated from the Tel Aviv military command tower illuminated in purple on Friday.

"Wars take a heavy toll on us," Ishaq al-Sayigh told The Electronic Intifada in July. "They deprive us of any sense of comfort or safety. I am still in a state of anxiety [following the May attack]."

The British Consulate in Jerusalem joined the Israeli military in bathing its building in purple on Friday:

The consulate said it was "proud to be working" with a Palestinian group to "enhance the rights and inclusion" of people with disabilities in the West Bank and Gaza Strip.

Meanwhile, however, the UK government has allied with Israel against accountability for all Palestinians – including those with disabilities – by opposing the investigation underway at the International Criminal Court.

Karim Khan, a British national, began his term as ICC chief prosecutor in June.

UK Prime Minister Boris Johnson said that he hoped that the election of Khan and another Briton as a judge would "help serve reform" at the court.

Human Rights Watch condemned Johnson's remarks as a "brazen assault on ICC independence."
EU sponsors "solidarity" film festival
The UK isn't alone in its empty gestures towards human rights while helping Israel consolidate the prevailing situation of impunity.

The European Union is sponsoring, along with various Israeli government agencies, the upcoming "Solidarity Film Festival" in Tel Aviv that it says "puts human rights at [the] forefront."

Sponsorship of the festival is a rejection of the Palestinian call for a cultural boycott of Israel.

The cultural boycott call is inspired by the global movement that helped end apartheid in South Africa.

Meanwhile, the EU has yet to reject and condemn the Israeli government's use of a draconian anti-terror law against six Palestinian human rights and social service organizations.

Three of the groups – Al-Haq, Addameer and Defense for Children International-Palestine – are assisting the International Criminal Court's war crimes investigation in the West Bank and Gaza Strip.

The cinematheque where the EU-sponsored festival is to be held is a convenient five-minute walk from the Israeli military headquarters in Tel Aviv.

Presumably, Palestinian film fans in the West Bank will not be allowed to pass through military checkpoints to attend the Tel Aviv festival.

That would be too much human rights and solidarity to expect from Israel and the EU.

An earlier version of this story mentioned the killing of Iyad Salha, who used a wheelchair, and his wife and 2-year-old daughter, during Israel's offensive in Gaza during May 2021. Initial investigations attributed their deaths to an Israeli airstrike but Defense for Children International-Palestine reported on 10 December that the family was likely killed by an unguided missile fired by Palestinian armed groups in Gaza.
Tags