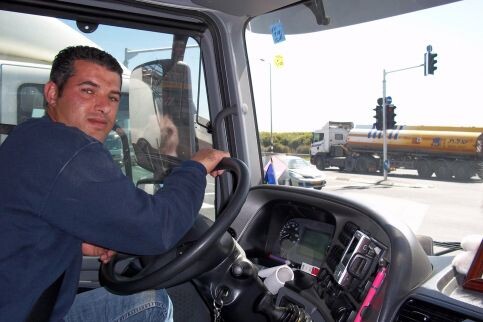 RAMALLAH

, occupied West Bank (

IRIN

) - Trucker Nazar Zarro hoists himself up into the cab of his articulated lorry loaded with emergency flour supplies bound for the

UN

agency for Palestine refugees (

UNRWA

) food distribution centers in the Gaza Strip.

Zarro makes the 100 kilometer trip from Israel's Ashdod port to Kerem Shalom crossing — where the boundaries of Gaza, Israel and Egypt meet — five days a week.

The emergency flour rations will be loaded and unloaded eight times — part of a complex system of Israeli security procedures — until they reach food-insecure families in Gaza.

UNRWA's food distribution to around 750,000 Palestinian refugees across Gaza is a massive operation, requiring more than 270 tons of flour daily to meet the needs.

More than half of Gaza's 1.5 million residents are food insecure, according to World Food Program estimates.

Kerem Shalom is the only crossing point where commercial goods and humanitarian supplies are allowed to enter Gaza, according to the UN Office for the Coordination of Humanitarian Affairs (OCHA), under a nearly four-year Israeli blockade of the territory.

"Kerem Shalom is a small crossing — entering 200 trucks per day pushes its capacity," says Zarro, as he parks in the seemingly endless line of trucks at the crossing. "Karni [crossing] is nearly five times the size of Kerem Shalom and we used to work until midnight to enter 700 trucks daily," he says. The last time Zorro drove to Karni was in 2006.

The trip from Ashdod to Kerem Shalom is twice as far, and Kerem Shalom closes just after midday.

Karni, controlled by Israel, is the only commercial crossing with the facilities to allow large numbers of trucks to enter Gaza. Closed to trucks since June 2007, the conveyor belt had been operating to transfer wheat grain — until the Israeli authorities announced its complete closure on 2 March.

Transferring wheat grain via Kerem Shalom will add an additional 20 percent to logistics and transportation costs, says UNRWA.

Convoluted process

Containers of humanitarian supplies from foreign countries are shipped from Ashdod port to nearby rented UNRWA warehouses, where workers transfer the goods onto pallets by forklift. A second tier of laborers then furiously wraps the goods — mostly food and medical supplies — in plastic by hand to secure them for the long, hot journey under the sun until they reach UNRWA's 12 distribution centers in Gaza.

UNRWA describes the lengthy process of bringing basic humanitarian supplies into Gaza as unduly complicated and costly.

Despite Israel's "adjustment" to the blockade in June 2010, which established a "prohibited items" list and technically permitted the entry of any item not on that list, the agency still struggles to import adequate amounts of flour and construction materials as a result of lack of capacity and insufficient operating hours at the crossings, UNRWA says.

UNRWA has received approval for 43 reconstruction projects requiring restricted construction materials, worth about 11 percent of the cost of its entire work plan for Gaza.

According to UNRWA spokesperson Chris Gunness in Jerusalem, containers of supplies bound for the occupied West Bank are loaded onto UNRWA trucks at Ashdod and unloaded at their final destination. Hence, West Bank supplies are unloaded twice. Gaza-bound supplies are loaded and unloaded eight times before they reach their final destination.

Costly procedures

Transporting goods via pallets costs UNRWA twice as much as bringing goods in via 38 cubic meter containers, and the risk of damage to the goods is higher. Additionally, high import fees, aside from taxation, are taken from private companies operating Kerem Shalom.

UNRWA estimates their additional costs for transporting palletized food and non-food items to Gaza, compared to transporting containerized food and non-food items, to be about $2.1 million in 2010, and $730,000 for January and February 2011.

"At a time when UNRWA faces a budget deficit of over $50 million, these costs are significant," said spokesperson Gunness, adding that the funds could be invested in development and job creation projects in Gaza.

UNRWA has paid about $80,000 to store goods at Ashdod Port since 2007 (such as X-ray equipment and tools for UNRWA's vehicle repair training centers) marked as potential "dual-use" items by Israeli authorities and still awaiting approval to enter Gaza.

Karni less safe?

Maj Guy Inbar, Israeli coordinator of government activities in the (Palestinian) territories (COGAT), told IRIN Kerem Shalom is the safer crossing to operate due to security threats near Karni crossing.

"Most of the rocket attacks launched in the last month were from the Shajaiyeh area [east of Gaza City] near Karni," said Inbar.

Israeli truckers (which UNRWA contracts) unload at Kerem Shalom on the Israeli side. COGAT coordinates the entrance of the goods, and Israeli border authorities, under the Defense Ministry, inspect the goods prior to entering Gaza, explained Inbar.

UNRWA trucker Zarro said three secured rooms are located at the crossing to transfer goods — two rooms can hold about 32 truckloads of goods, and the third about 12 truckloads.

"Pallets are unloaded into the rooms, which are closed from the Gaza side, and after inspection the doors open on the Gaza side for Palestinian truckers to receive the shipments," said Zorro.

"The three rooms allow for the goods to be safely transferred in one place and provide a sterile area," said Inbar.

Gaza's commercial traders liken the process to feeding a prisoner.

Israel tightened its blockade of Gaza after Hamas seized control of the territory in 2007. Through prolonged border closures Israel has restricted the import of fuel and commercial goods, as well as most construction and raw materials, and has largely restricted the movement of people, according to OCHA.

UNRWA inspection officers come to Kerem Shalom daily to facilitate the entrance of UNRWA trucks to Gaza.

Truck drivers crowd window

Scores of Israeli truckers crowd the trailer window, seeking approval to transfer their load from the Israeli border authorities. Trucker Zarro secured a stamp of approval for the flour shipment, although several truckers will be turned away after waiting outside for hours.

According to UNRWA, there is no cold storage at Kerem Shalom, damaging medical supplies and decreasing the shelf-life of food items exposed to the desert climate.

"If proper security equipment was present at Kerem Shalom, containers of goods could easily be transferred," said UNRWA spokesperson Gunness. "This equipment is available and from a logistical point of view it would be safer, easier and more cost effective to scan entire truckloads."

The Israeli Defense Ministry did not respond to IRIN's request for comment as to why palletizing goods at Kerem Shalom is a necessary procedure.

A recent survey conducted by the Association of International Development Agencies (AIDA), representing more than 80 nongovernmental organizations (NGOs) operating in the occupied West Bank and Gaza, found that the cost for international NGOs of dealing with movement restrictions on staff and goods is at least $4.5 million a year.

After ten consecutive days of violence between the Israeli army and Palestinian militant groups in Gaza, aid agencies in the region are preparing for emergency operations in case of another major Israeli offensive into Gaza.

The recent escalation of violence has claimed the lives of six Palestinian civilians, including four children, and injured 24 in Gaza. Three Israeli civilians have also been injured in mortar and rocket fire from Gaza. A bomb planted at a Jerusalem bus station on 24 March killed a woman tourist and caused injuries to more than thirty persons. To date, no one has claimed responsibility for the bombing.

Some 63 mortar shells and four rockets were fired from Gaza into southern Israel during the past week, reported the Israeli foreign affairs ministry, the largest number since the end of Israel's 2008-2009 invasion of Gaza in January 2009. Israeli Prime Minister Benjamin Netanyahu has vowed Israel will respond.

Senior Hamas political leaders in Gaza told IRIN the Gaza government, along with all major Palestinian factions in Gaza, does not want an escalation of violence with Israel.

This item comes to you via IRIN, a UN humanitarian news and information service, but may not necessarily reflect the views of the United Nations or its agencies. All IRIN material may be reposted or reprinted free-of-charge; refer to the copyright page for conditions of use. IRIN is a project of the UN Office for the Coordination of Humanitarian Affairs.