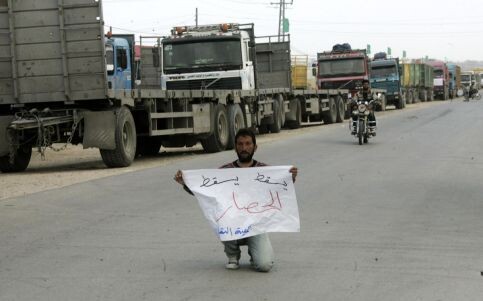 On 2 March Israel announced the complete closure of Karni, the principal commercial crossing into the Gaza Strip, prompting protests by Palestinian traders who rely on the crossing to bring goods into the territory.

Karni, known by Palestinians as al-Muntar, has functioned intermittently for the past 16 years, since Israel and the Palestine Liberation Organization signed the Oslo accords in 1993.

The Gaza Strip has four crossings through which vital supplies can be brought in from Israel — Sufa, Nahal Oz, Kerem Shalom and Karni. Only Kerem Shalom, a small crossing located right at the south of Gaza, is allowed by Israel to function to capacity.

Nahal Oz, east of Gaza City, and Sufa in the southeast, have been kept shut by Israel almost without exception since Israel tightened its siege of the territory almost five years ago, severely choking the commodities available to Gaza's 1.5 million residents. Sufa was briefly reopened this week to allow for the transfer of a small amount of construction materials for a UN crossing.

"The closure of Karni further tightens the blockade of Gaza and makes us lose hope that the siege will ever be eased," Dr. Maher al-Tabaa of Gaza's chamber of commerce told The Electronic Intifada. "Israel's makeshift crossing at Kerem Shalom does not handle large shipments of goods and Kerem Shalom's capacity amounts to only about 10 or 20 percent of Karni's," al-Tabaa added.

In 2006, after Hamas decisively won the Palestinian Legislative Council elections in the occupied Gaza Strip and West Bank, Israel began to close Karni from time to time, reducing the flow of goods into Gaza. In 2007, after Hamas ousted US-supported militias loyal to PA leader Mahmoud Abbas and his Fatah party, Israel tightened the siege even further.

According to al-Tabaa, Karni — which is best equipped to handle Gaza's once-thriving export and import trade — has received only essential goods like wheat and animal fodder.

"Karni crossing, Gaza's largest, has the capacity to handle 500 truckloads of imports and 250 truckloads of exports daily. It is close to Gaza City and controlled by Palestinian officials. Yet with [Israel's] imposition of the blockade on Gaza in 2007, Israel has directed many shipments to the makeshift Kerem Shalom crossing which is 30 kilometers from Gaza City," al-Tabaa said.

The extra distance that the few goods allowed in to Gaza must travel imposes major additional costs on local traders. Over the weekend, dozens of Gaza truck drivers protested the closure and the high customs fees they are charged, by parking their trucks at the Palestinian side of the crossing.

The Electronic Intifada attempted to interview some Gaza traders about the closure, yet none were willing to speak, apparently out of fear for their ability to do business with the Israeli firms on which Gaza must rely for many supplies.

Transactions between Palestinian traders and their Israeli counterparts have carried on for decades, but this trade has been severely affected by political developments. In order to travel to Israel to do business, for example, merchants from Gaza must obtain special Israeli permits which Israel can delay or refuse to issue at any time.

Traders will now be forced to pay higher costs and wait longer times for shipments to enter Gaza due to the closure of Karni, according to the chamber of commerce's al-Tabaa.

Truck drivers strike at Kerem Shalom

On 9 March scores of truck drivers gathered at Sufa crossing which Israel reopened to allow for the transfer of concrete for a housing project being built by UNRWA, the UN agency for Palestine refugees. But according to the Private Courier Companies Association, only ten truckloads were allowed in.

Nahed Shehaibar, a spokesperson for the association, told The Electronic Intifada that he and hundreds of other truck drivers have been on strike at Kerem Shalom crossing in the south since the previous weekend, but many drove up to Sufa to help transfer the cement which is in devastatingly short supply.

"We are heading back to Kerem Shalom to continue our protest at the closure of Karni and the skyrocketing customs imposed jointly by Israel and the Palestinian Authority [in Ramallah] for the transfer of shipments," Shehaiber said after having overseen the movement of the ten truckloads of cement.

"Customs fees at Karni were approximately $100 per truckload, but at Kerem Shalom they are approximately $500," Shehaiber said. "That's why we will keep striking."

The sudden reopening of Sufa crossing, after almost five years of closure, came on the heels of protests by hundreds of Palestinians outside UNRWA headquarters demanding the reconstruction of homes destroyed in Israel's winter 2008-09 assault on Gaza.

Shehaiber estimated that 72,000 tons of cement have been held up at Sufa during this closure.

"Sufa was not reopened normally today," Shehaiber observed. "We want all the crossing, including Karni, to be reopened permanently.

International agencies warn of humanitarian consequences

The UN agency for Palestine refugees (UNRWA) states that the closures will make the delivery of food more difficult to the 750,000 Palestinians in Gaza who receive food assistance.

According to the IRIN news service, UNRWA spokesperson Chris Gunness warned that "The closure of Karni will also add 20 percent to the cost of aid delivery … at a time when UNRWA is facing a budget deficit of $50 million" ("Gaza food situation tight as Karni crossing closed," 7 March 2011).

IRIN added "supplies to Gaza were still at about 40 percent of pre-June 2007 levels."

While imports to Gaza have been hit hard by the siege, exports have suffered badly as well. For almost five years, Israel has allowed almost no exports out of Gaza. According to a December 2009 report by several international agencies, including Oxfam and Save the Children, Gaza used to produce approximately 400,000 tons of agricultural goods annually, including tomatoes, strawberries and fresh flowers, about a third of which were exported.

According to the economic agreements that were part of the Oslo accords, as well as a 2005 American-brokered agreement on the crossings, Karni is supposed to remain open to allow normal commercial activities.

According to al-Tabaa, the chamber of commerce recently submitted an appeal to the Quartet, the self-appointed committee that has taken over the running of the moribund peace process (made up of representatives of the US, EU, Russia and the UN Secretary General), and the United Nations, to pressure Israel to reopen Karni.

"We believe that the closure is a violation of the signed agreements. Therefore, we appeal to all parties concerned to pressure Israel to lift the closure immediately due to the vital role Karni crossing plays in the economy of Gaza," al-Tabaa said.

Rami Almeghari is a journalist and university lecturer based in the Gaza Strip.