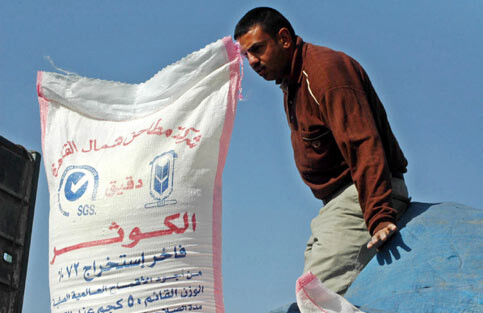 Karni and Kerem Shalom crossings have been open for nearly one week (21 - 27 March),1 although not at full capacity, allowing much needed basic food supplies to enter the Gaza Strip. Karni closed on 28 March because of heightened Israeli security concerns over the Knesset elections.
Over the course of the last week, over 1,650 truckloads of food and commercial supplies entered the Gaza Strip through Karni crossing from Israel. Exported goods from the Gaza Strip were permitted on 26 March for the first time since 12 March.
On 28 March, two Israeli Bedouins were killed in the nearby village of Nahal Oz when they reportedly handled an unexploded qassam rocket previously fired by Palestinian militants.
As of 29 March, Karni crossing has been closed 46 days in 2006 or 53% of the year by the Israeli authorities, citing specific security reasons.2 In comparison, Karni was closed for a total of 18% of the year of 2005 and 19% of the year in 2004. Successive closures since the start of the year had led to widespread shortages that reached a peak over the weekend of 17-19 March when the few bakeries that remained open introduced rationing to people waiting in long queues outside their premises.
Karni
Between 21 and 23 March there was a day-on-day increase in the number of truckloads entering the Gaza Strip, rising from eight units to 300 by the 23rd. This has enabled large quantities of basic food commodities to return to local Gaza warehouses and to replace depleted stocks. This however has to be set against the daily requirements of the local population:
Figure 1: Consumption needs/Imported quantities

Karni reopened for exports on Sunday 26 March with the processing of citrus fruits, cucumbers, cut flowers, cherry tomatoes and textiles. A total of 24 truckloads of produce left for Israeli and external markets on Sunday, a figure rising up to 35 trucks on 27 March and dropping to 25 truckloads on 29 March.
The export capacity available on 26, 27 and 29 March was limited with only one passageway and two conveyor belts in operation. The last time that exported goods were processed under "normal operations" in the week up to 20 February, approximately 80 truckloads were leaving daily. The figure also still falls well short of the 150 trucks per day designated for export (by the end of 2005) under the Agreement on Movement and Access of 15 November 2005, brokered by U.S Secretary of State Condoleeza Rice.
Total export losses in 2006 for the Palestine Economic Development Company (PED), responsible for the cultivation of agricultural produce in the former settlement areas, now stands at more than $6 million.
Total export losses for both agricultural and non perishable items are estimated at more than $23 million in 2006.
Kerem Shalom
Kerem Shalom crossing on the Gaza-Israel-Egyptian border has been open for limited amounts of humanitarian assistance originating from Egypt since Wednesday, 22 March. In the course of the last week, more than 550 tons of humanitarian supplies, primarily flour, sugar and rice have entered the Gaza Strip from Kerem Shalom along the former Israeli Philadelphi corridor.
Concerns over the capacity of Kerem Shalom crossing to deal with the large quantities and volumes of relief supplies appear justified on the basis of last week. The maximum number of daily trucks received by the Palestinians over the course of the working week was 14 truckloads on 26 March.
This more limited status of Kerem Shalom was confirmed by Yoram Shapira, the Israeli General Director of the Gaza terminals who stated that Kerem Shalom crossing cannot replace Karni as the main commercial crossing point into the Gaza Strip.5 He noted that it could be at best a supplementary crossing point for the processing of small shipments as it does not possess the necessary equipment nor operational capacity. He also said that the Israeli Airport and Land Crossing Authority intends to invest in 2006 and 2007 an NIS 120 million at Karni crossing to enlarge the capacity and the security arrangements of the crossing.
All trucks arriving at Kerem Shalom crosssing from Egypt undertake a back-to-back transfer - one truck unloading on to another. Humanitarian supplies enter on Egyptian trucks and are downloaded. The Egyptian vehicles return across the border with Palestinian vehicles then permitted to enter in order to upload the supplies and continue to Gaza.
Figure 2: Imported goods - Daily flow 2006
Figure 3: Exported goods – Daily flow 2006
Figure 4: Timeline
5 January: The IDF requests the Palestinian Authority (PA) to dig a trench west of the Karni crossing to intercept a possible tunnel leading to the crossing. The PA starts this work the same day, digging a 6 metre trench approximately 1km in length.
20 January: The PA completes the trench. According to the IDF, one tunnel was discovered, while according to the PA, a small hole, possibly the start of a tunnel, connecting to a water pipeline was discovered.
23 January: The IDF notifies the PA that it has information of another tunnel and requests the PA to dig a deeper trench, this time 10m in depth.
30 January: Completion by PA of trench. No tunnel located. The IDF requests the PA to dig another trench, 10m in depth, 300m long, 100m northwest of Karni crossing.
31 January: PA begins third trench.
14 February: Sufa Crossing closed for security reasons.
21 February: Karni is closed in the evening amid Israeli reports of an explosion in the vicinity of the crossing.
27 February: The IDF requests the PA to dig a trench, 20m long and 4m deep on a specific location near Karni crossing. The PA complies but no tunnels are found. Digging continues.
1 March: Israeli Defense Minister Mofaz indicates that Karni will re-open on 2 March. However this did not take place.
9 March: Karni opens again operating on a partial basis.
14 March: IDF closes Karni again. 20 March: Karni crossing opens for imported goods before being closed again less than one hour later. The IDF states security reasons for the sudden closure. Approximately eight truckloads were imported.
21 March: Karni crossing opens at 11:00am for imported goods 26 March: Karni crossing opens also for exported goods. Sufa crossing, closed since 14 February, also re-opens for construction materials. 28 March: Karni crossing closes due to the Israeli elections.
29 March: Karni partially reopens for both imported and exported (limited) goods.
Endnotes
[1] Karni crossing opened for less than one hour on 20 March 2006.
[2] As of 28 March. Not counting 20 March as a closure day despite only operating less than one hour. Also not taken in consideration is that the crossing was on several days operating for imports only. Four of the closure days (10-13 January - 'Eid al Adha) were due to Palestinian decision making.
[3] World Food Programme/Vulnerability Analysis and Mapping (VAM/ME), 9 March 2006.
[4] Palestine Trade Company (PalTrade)
[5] Israeli Channel 1, 26 March 2006.
Related Links
Agreement on movement and access (15 November 2005)