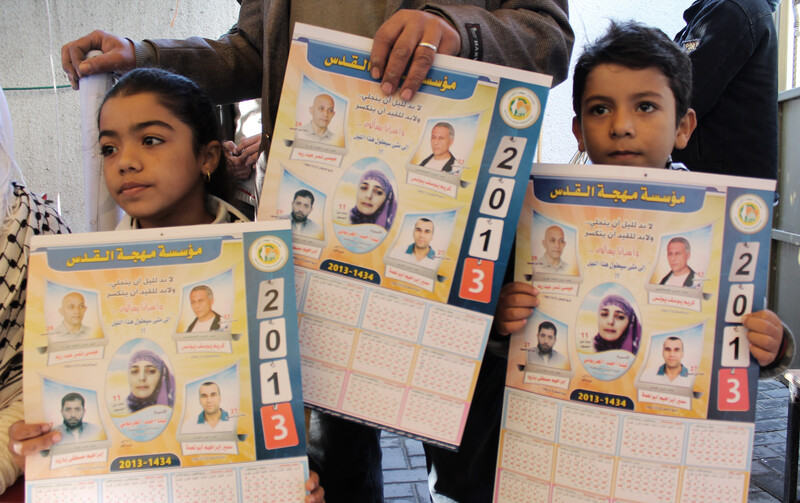 On 20 May, Obeida Shamali visited his father, Ahmad Abd Alraheem Shamali, in Israel's Nafha prison. It was the first time they had seen each other since Israeli forces captured Ahmad in August 2008.
"I was very happy," the seven-year-old said. He was sitting under a picture of his father in his family's house in Gaza City's al-Shajaiyeh neighborhood. "Before it, I imagined how his face would look when I met him, because I hadn't seen him for such a long time."
A fighter with Fatah's al-Aqsa Martyrs' Brigades, Ahmad has been sentenced to 18 years in prison by an Israeli military court.
Like hundreds of local children, Obeida had been unable to visit his father for years. In June 2007, a year before capturing his father, Israel banned all visits to Palestinian detainees by families from the Gaza Strip. To end a mass hunger strike in its prisons, it eased this restriction in May last year. Israel promised to allow visits by parents and spouses, starting two months later.
Promise broken
But children of detainees remained unable to visit their incarcerated parents for almost another year. Only last month, on 6 May, did Israel allow seven children — all younger than eight years old — to accompany 54 other members of prisoners' families through the Erez checkpoint, which separates Gaza from present-day Israel. Some 33 children have now joined four prison visits, according to Dibeh Fakhr, a spokeswoman for the International Committee of the Red Cross, which coordinates family visits to detainees with the Israeli authorities.
A recent report on the policy by the Israeli human rights organization B'Tselem described the current visitation regime. "Visits are permitted very infrequently, only once a week on Mondays, and then only at one prison facility at a time: Nafha, Ramon and Eshel (Dekel)," according to the group. "As a result, each eligible inmate receives a visit once every three or four months. In contrast, inmates from Israel or from the West Bank who are held on criminal or security grounds may receive visits once every two weeks" ("Israel prohibits Gazan children from visiting imprisoned fathers," 23 May 2013).
"We were all flying with happiness," Najah Shamali, Ahmad's mother and Obeida's grandmother, said about the news that their entire family would be able to visit Ahmad for the first time. "The whole family celebrated. Everyone obsessed about the visit and could hardly wait for it to come."
"No justification"
But the visit might have been Obeida's last. Israel's new policy still bars Gaza Strip children aged eight or older from visiting their detained parents. And Obeida's eighth birthday — on 10 July — will almost certainly come before his family's next visit.
"These policies show that the main aim of the Israeli prison system is to destroy the well-being of prisoners," Rifat Kassis, the director of Defence for Children International — Palestine Section, said. "There is no justification for imposing these restrictions on Palestinian children from communicating and visiting their fathers in Israeli prisons. Even the security justification Israel uses to justify its policies are not in line with its human rights obligations and cannot stand."
According to Kassis, Israel's restrictions on family visits violate not only its responsibilities under international law, but also its own written regulations. "Denying political prisoners, especially those who are from the Gaza Strip, from their visitation rights for prolonged periods of time and imposing restrictions on them when they enjoy this right, including putting limitations and restrictions on who is eligible to visit them, is a form of collective punishment," he said.
"The right of prisoners to receive visitors, especially near relatives, at regular intervals and as frequently as possible is recognized by the Fourth Geneva Convention.
"These practices are not in conformity with the Israeli Prison Service instructions related to the right of visitation of prisoners. The IPS instructions reads that the prisoners have the right to receive family visits after three months of imprisonment, once every two weeks."
At the end of April, Israel held 511 Palestinians from the Gaza Strip, according to B'Tselem. Many are detained for lengthy sentences. "Most of their children are [older than] eight years," said Osama Wahidi, a spokesman for the Hussam Association, a Gaza-based group for current and former detainees. "Very few are younger."
The Hussam Association campaigns around issues of family visitation, issuing statements and holding rallies at the ICRC. Many of its activities, Wahidi said, aim to draw the attention of international media and human rights organizations.
"Their positions are very bad," he said. "When [Israeli soldier] Gilad Shalit was detained by the Palestinian resistance here in Gaza, every human rights organization talked about him. At the same time, most of them, and the international media, never mentioned Palestinian detainees. But they demanded that Shalit should be released. He was a soldier; he was holding a weapon; he was targeting Palestinian civilians."
"We don't have a magic wand to release all the detainees. That's why we are trying to find ways to talk about the suffering of detainees, their families, and their children. We don't have any other way."
"Above the law"
At a weekly sit-in by detainees' families and supporters at the International Committee of the Red Cross (ICRC), several detainees' children shared their experiences of the visitation policy.
"I send him voice messages through a radio station, and written messages through the ICRC," said Nisma al-Aqraa, the 15-year-old daughter of Mahed Faraj al-Aqraa. She has not seen her father, a fighter for the Popular Resistance Committees' al-Nasser Salah al-Deen Brigades, since his capture by Israeli forces in July 2007. Categorized as a "permanent sick detainee" in the Ramleh prison hospital, where he is serving three life sentences, both of his legs have been amputated.
"I saw him behind a glass barrier," Hamze Helles complained. "I couldn't go inside." Hamze, who had just turned eight when Israel's policy shifted on 6 May, was able to visit his father Majed Khalil Helles, a fighter for Fatah's al-Aqsa Martyrs' Brigades sentenced to five years, in Nafha prison on 20 May, through an apparent administrative oversight. It was Hamze's first visit since his father's capture by Israeli forces in August 2008.
"It doesn't make any sense to deprive a small child who will never cause any harm to Israel," Wahidi said. "It's not logical. But Israel doesn't care about its reputation. It feels like it is a state above the law, that no one can hold it accountable for its crimes. Nobody in the international community has shown otherwise."
Joe Catron is a US activist in Gaza, Palestine. He co-edited The Prisoners' Diaries: Palestinian Voices from the Israeli Gulag, an anthology of accounts by detainees freed in the 2011 prisoner exchange, blogs at joecatron.wordpress.com and can be followed on Twitter @jncatron.
Tags