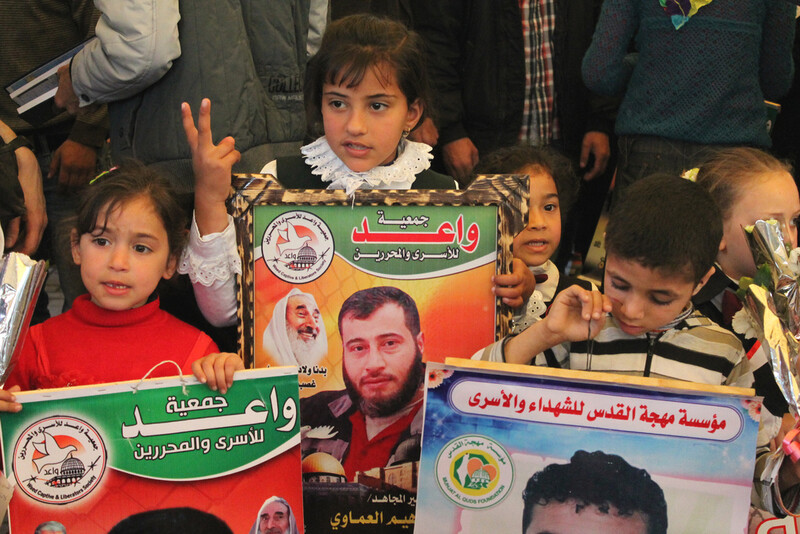 "I dream of my father," eight-year-old Hamze Helles said in his family's house in Gaza City's al-Shajaiyeh neighborhood. "I miss him a lot, and am very eager to visit him. For five years, I have never seen him."
Hamze is one of two young sons of Majed Khalil Helles, a fighter in Fatah's al-Aqsa Martyrs' Brigades who was captured by Israeli forces on 8 August 2008 and sentenced by an Israeli military court to five years' detention in Nafha prison.
Fourteen months before its military detained Helles, Israel imposed a comprehensive ban on family visits to Palestinian political prisoners from the Gaza Strip. Addameer, the prisoner advocacy organization, called the measure "part of [Israel's] policy of treating the Gaza Strip as an enemy entity following the 2006 Palestinian legislative elections and the capture of Israeli soldier Gilad Shalit one year prior."
The ban met wide criticism as an illegal act of collective punishment, Addameer said. "Israel's policy has been condemned, among others, by Palestinian and Israeli human rights organizations, the International Committee of the Red Cross and the UN Fact-Finding Mission on the Gaza Conflict in its report on the 2008–2009 Israeli offensive."
Detainees launched a 28-day mass hunger strike on 17 April 2012, Palestinian Political Prisoners' Day, with visits by families living in Gaza among their key demands. It ended on 14 May last year with an agreement that "family visits for first degree relatives to prisoners from the Gaza Strip and for families from the West Bank who have been denied visit based on vague 'security reasons' will be reinstated within one month" by Israel, among other provisions.
But although family visits from the Gaza Strip resumed a month later than agreed — on 16 July 2012 — Israel counted only spouses and parents as "first degree relatives" and continued to ban children from visting their detained parents ("Trial Gaza family visits begins," Al-Akhbar English, 16 July 2012).
"Journey of death"
"The Israeli army treats us badly during the trip," Narmine Baker Helles, the wife of Majed Khalil Helles, said. "Families of detainees call it 'the journey of death.' But the worst thing, and the most harmful thing, is that our sons have never visited their father. They are always demanding to see him, but I can't do anything about it. It's up to the Israelis."
Israel currently holds 437 detainees from the Gaza Strip, according to Addameer. The Hussam Association, a local organization of current and former prisoners, estimates that 60 percent are married, with hundreds of children between them.
"The continuation of depriving children from visiting their parents in Israeli prisons would cause serious repercussions on the overall psychological situation of children, and it may cause negative impact and harmful psychological implications on the prisoners themselves," Hussam said in a statement earlier this year.
The group called on children's rights organizations "to exert pressure on [the] Israeli occupation to allow children of Gaza prisoners to visit their parents inside the Israeli jails" ("Hussam calls on associations to exert pressure on Israel to allow children visit their detained parents," Palestine News Network, 29 January 2013).
"The new visitation program has has a number of conditions imposed by the Israelis," said Reem Yousef Mikdad, whose husband is in prison. "One is that only the detainees' spouse and parents are allowed. But many of them have parents have been dead for years. The prisoners who are unmarried have nobody who can come and see them."
Reem's husband Yousef Mustafa Mikdad, an al-Aqsa Martyrs' Brigades leader, was captured by Israeli forces during a November 2002 raid on his house in Gaza City's Tal al-Hawa neighborhood.
"The mission was only to capture him," his brother Ghazi Mikdad said. "The Israelis cheered and applauded once they had him."
"They started destroying everything"
Like his four siblings, Yousef and Reem's son Mustafa, a small 12-year-old with spiky hair, has not seen his father, sentenced to 21 years in Nafha prison, since the June 2007 ban on family visits.
"I used to visit my father along with my mother," Mustafa said. "We would go every two weeks."
"I don't remember much about my father. But I remember how they captured him. They invaded the area, blew up the main gate of the house, and rappelled down from helicopters. They came inside the house and started destroying everything."
During the raid, Israeli military dogs attacked his father, he recalled. "This scene is still stuck in my mind. We've never forgotten it."
"Before, when we would visit the jails, our children didn't want to go because of the long time and the many obstacles," Reem said. "Now they wish they could."
Gaza residents allowed by Israel to visit their detained relatives face regular obstacles and delays. A three-week moratorium imposed during Jewish religious holidays just ended, while a one-month ban on visits to all detainees in Ramon prison, imposed in retaliation for a mass hunger strike protesting Israel's violations of the 14 May 2012 agreement, is ongoing according to the Palestinian Prisoners Center for Studies, cited by the Ezzedeen al-Qassam Brigades, the armed wing of Hamas ("Occupation deprives prisoners from visits for a whole month," 21 March 2013).
Every Monday, many detainees' families protest in the courtyard of the International Committee of the Red Cross's Gaza Strip headquarters. Nasser Farrah, an event organizer, said in 2011 that the gathering "could enter the Guinness book of records for the longest running weekly sit-ins in the world."
"For four and a half years, I have gone to the Red Cross every Monday," said Nihaya Hassanat.
Her husband Jaber Hassan Hassanat, a fighter for the Democratic Front for the Liberation of Palestine's National Resistance Brigades, was captured by Israeli forces on 21 December 2008 and sentenced by a military court to eight years' detention in Ramon prison.
"I don't feel there is any result from these protests," she said. "But I hope that my husband can can sometimes see me through the media, because they often cover it."
"We usually participate," Reem Yousef Mikdad said. "I work, so am not always free. But his brothers and sons usually go, and participate in any other activities. But there is no escalation of the protests in solidarity with the prisoners. It is humble. We aren't doing what we are expected to do."
"I miss him a lot"
Many detainees' children are eager to describe their activities in support of their parents.
"I can't go on most Mondays because of school," Mustafa said. "But I participate in all the national activities for detainees, like Prisoners Day, and programs for the prisoners in school."
"I am always praying for God to free my father very soon, because I miss him a lot," Jaber Hassan Hassanat's five-year-old son Wiam, one of six children, said in his house in Gaza City's al-Zaytoun neighborhood. "We are happy and well. We just need to see him. We don't need anything else in life."
"When I am allowed to visit my husband, I get up very early in the morning to escape from my children, because I know they will demand to accompany me," Nihaya Hassanat said.
"When I tell Wiam there is a visit to his father, he doesn't want to allow me to go alone. He begs me to take him. He doesn't understand that he isn't allowed to come because of the Israeli policy. I have nothing to do with it."
Joe Catron is a US activist in Gaza, Palestine. He works with Palestinian groups and international solidarity networks, particularly in support of the boycott, divestment and sanctions (BDS) and prisoners' movements. He blogs at joecatron.wordpress.com and can be followed on Twitter @jncatron.
Tags