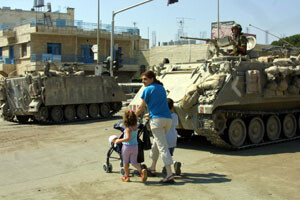 When Israelis are killed and injured by a Palestinian attack, the TV news networks are quick to cut to "breaking news" reports. Harrowing footage from the scene and interviews with outraged Israeli government officials are swiftly broadcast, and harsh statements are quickly issued by government and UN officials to appear in tomorrow's front page newspaper stories.
Meanwhile, the steady killing of Palestinian civilians, many of them children, by the Israeli occupation army goes largely unnoticed and unreported.
By consistently emphasizing the suffering of Israelis, and downplaying or ignoring the killings of Palestinians, the media convey a false impression that Palestinian "attacks" are the principal feature of the conflict.
Statistics unambiguously clarify that this impression is the exact opposite of the reality on the ground. A total of 1,926 Palestinians have been killed from 29 September 2000 up to 8 December 2002, and more than 21,000 injured. 669 of these killings occurred since Israel's total reoccupation of the West Bank began last March, according to the Palestinian Red Crescent Society.
EI looked at the one-month period from 31 October to 2 December 2002 in detail.
According to our research, forty-three Palestinian civilians were killed during this period and dozens wounded or permanently maimed.
Fifteen of those killed and several dozen of those injured were children. A summary of the circumstances of the killing and injury of this group appears below.
Details and circumstances of Palestinian children killed by Israeli occupation forces, 31 October to 2 December 2002
December 2:
Jenin: Mutaz Odeh, 18, died of a gunshot wound to the heart when Israeli occupation forces opened fire on a group of civilians who were stoning Israeli tanks and armored vehicles. 21 others injured, two seriously. (PCHR, LAW)
November 30:
Gaza City: Hatem al-Ajla, 16, shot dead by Israeli occupation forces, with gunshot wounds to the back, according to hospital sources. (AFP)
November 28:
Hebron: Abbas al-Atrash, 3, was in his house, when he was killed by bullets fired by Israeli occupation forces. Doctors said that he was hit by a bullet in the abdomen as he stood at the window. The occupation army claimed the toddler was killed by shrapnel from an explosive device thrown at its forces. No occupation forces were injured by the alleged bomb. (Agencies)
November 25:
Nablus: Jihad Al-Faqih, 8, was shot and killed by Israeli occupation forces with a bullet to the heart. The killing occurred as many Palestinians decided to ignore the permanent curfew imposed on the city and go to school or work. Some unarmed Palestinians confronted the occupation forces who were in tanks and armored vehicles, and some people stoned them. The occupation forces opened fire on the civilians, killing Jihad, who was not among the stone throwers. 13 others were injured by the soldiers, including 7 other children and two women. (LAW, Agencies)
November 22:
Jenin: Muhammad Bilalweh, 12, was shot dead by Israeli occupation forces with a bullet to the left eye. The occupation forces opened fire on a group of children who began stoning them after an Israeli armored bulldozer had demolished a building that was home to six families. Earlier the army had entered the camp in force, firing indiscriminately. Three other children suffered serious injuries from gunshots and shrapnel. (LAW, Agencies)
November 19:
Tulkarm: Ehab Alam al-Zalqa, 16, was shot and killed by a member of an Israeli death squad disguised as a Palestinian. The killing occurred when the death squad, who had been spotted by civilians, was stoned. After killing Alam, the death squad caught and executed on the spot the person they were hunting after confirming his identity. Two other civilians were killed by the death squad, and ten others, including five children injured. (PCHR, LAW)
November 20:
Tulkarm: Amr al-Qudsi, 14, was shot dead by an Israeli soldier with a gunshot to the back. Following an earlier incident, in which an Israeli death squad killed four people in the town, a group of children gathered and stoned an Israeli jeep. The jeep stopped, a soldier got out, took aim at Amr, and killed him. (LAW, Agencies)
November 16:
Jenin Refugee Camp: Ibrahim al-Sadi, 17, was shot and killed by Israeli occupation forces. Israel surrounded a number of houses in the center of the refugee camp, including the house of Sheikh Bassam Ragheb al-Sa'di, wanted by Israel for alleged activities in Islamic Jihad. Israeli soldiers noticed al-Sadi's son Ibrahim, 17, passing near a house with a gun in his hands. Immediately, they fired at him without warning. He was killed by a live bullet in the chest. According to eyewitnesses, the son passed by the area accidentally and he did not fire at the Israeli soldiers, rather he was trying to get away from them. Ibrahim's brother, Abdulkarim, had been killed by Israeli occupation forces on September 5. (PCHR)
November 15:
Nablus: Imran al-Shila, 15, was killed by a bullet to the chest by Israeli occupation forces who opened fire on a group of children who threw stones at them in the Old City. (LAW)
November 14:
Nablus: Jalal Awijan, 17, was killed by a gunshot wound to the chest, when Israeli occupation forces in tanks and armored vehicles opened fire on a group of school children. (LAW)
November 13:
Rafah, Gaza: Hamed Asad Hassan al-Masri, 2, was killed by a live bullet to the chest. That evening, Israeli occupation forces began shelling Block J in Rafah refugee camp, forcing the little boy's family to flee their home. As they left the house, Hamed was hit by a bullet fired by the occupation firces. His mother, Asmaa, 31, was critically injured by live ammunition and shrapnel to the abdomen, pelvis and limbs. (PCHR)
November 11:
Rafah, Gaza: Nafez Mishal, 2, was shot by Israeli occupation forces who opened fire on civilian homes in the Tel al Sultan neighborhood of the refugee camp. He died two hours later of a gunshot wound to the abdomen. Nafez had been sitting on his father's lap playing with a balloon, when the balloon escaped. The toddler got up to run after it and was then cut down by a volley of bullets from an occupation army watch tower. The occupation army claimed it was "returning fire," although all witnesses said that the soldiers had, as they often do, opened fire without provocation. Two other children, aged 9 and 14 were injured in the same incident (The Independent, PCHR)
November 11:
Rafah, Gaza: Muhammad Rifat Abu al-Naja, 9, died of wounds he sustained the previous month. Abu al-Naja was seriously wounded when Israeli forces at the Egyptian border, south of Rafah, shelled Palestinian houses in Block O in Rafah refugee camp on 17 October 2002. Six Palestinian civilians, including 3 children and 2 women, were killed in that incident, and more than 40 others, including Abu al-Naja, were wounded. (PCHR)
November 5:
Rafah, Gaza: Adham Ibrahim Hamdan, 16, shot by live bullets in the head and Eyad Nafez Abu Taha, 17, shot by a live bullet in the head. The two boys were killed by Israeli occupation forces who had invaded Block L of Rafah refugee camp, demolished three houses, and fired indiscriminately at civilians. 12 Palestinian civilians, including 4 children under the age of 18, were wounded. (PCHR)
Sources:

Wire services: Agence France Presse, Associated Press

Other media as noted