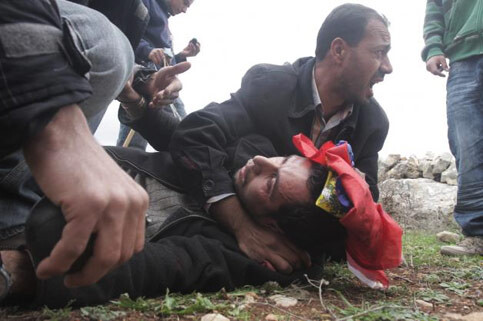 Earlier this year, Khamis Fathi Abu Rahmah, 27, was shot in the head with a high-velocity tear gas canister while participating in a nonviolent demonstration against Israel's wall in the occupied West Bank near the village of Bilin. Israeli soldiers used the same weapon a few months later and killed his cousin, Bassem Abu Rahme. The Electronic Intifada contributor Jody McIntyre spoke to Khamis Fathi Abu Rahmah about his life in Bilin.

Jody McIntyre: Tell me about the time you were injured at the wall.

Khamis Fathi Abu Rahmah: On Friday 23 January 2009, I went to participate in our weekly nonviolent demonstration against the wall. The Israeli soldiers immediately started throwing a huge amount of tear gas, so we were making our way back toward the village. The soldiers followed us in two jeeps, and started to shoot more gas at us. I was standing alone in the field, and my friend Bassem was crouched behind a rock nearby. They shot one tear gas canister at me, so I put my arms in the air to show that I was unarmed and clearly posing no threat. Then the soldiers shot me again — this time, the high-velocity canister hit me directly in the head.

I don't remember anything after that, but later I saw photos and videos of blood pouring from my head, my face in a blank expression … like I was dying, and people rushing to help me. To begin with, only Bassem and his brother Ahmed were there to support me; Ahmed wrapped up a flag and was holding it against my head, desperately trying to stem the flow of blood, and Bassem was holding my hand and calling for more people to help, shouting that someone had been injured and that it was urgent. I only know all this from the video footage. I can't remember anything after I was shot.

There was no ambulance, so some guys from the village carried me to someone's car. The whole time this was happening the Israeli soldiers, including the one who shot me, just stood and watched. One Israeli activist went up to the wall to tell them what happened, but they didn't seem to care. After I was driven away, the soldiers proceeded to shoot live ammunition at the villagers who were still out in the fields.

I was in a coma for 12 days. Afterward, I had to go into hospital every day for a month. I forgot where I came from, what happened, or who anyone was — including myself. The tear gas canister smashed my skull and the blood from the injury had seeped into my brain and clotted, causing paralysis in my left arm. That took four months to heal and still [my arm] isn't fully mobile.

JM: Did the incident change the way you act at the demonstrations? Will you ever stop going?

KA: No, I will never stop participating in our demonstrations at the wall. We are nonviolent, and it is our right to protest against the illegal confiscation of our land.

JM: How have the recent night incursions by the Israeli military into the village affected your family?

KA: They invaded our home around six times, sometimes even during the day, when they claimed that they saw kids coming from our house to damage the wall. They once told my mother that they wanted to destroy our house because it's where all the problems come from — it's just because we live so close to the wall.

Everybody in Bilin hates the night raids because they come and throw sound bombs and tear gas in the village, and we have children in the house who are frightened by these weapons. Once, they came and arrested my younger brother Helme, presumably for participating in the demonstrations, and they kept him in prison for four months. As usual, no explanation was given. Two months ago, they invaded our home and stayed for three hours, without even telling us what they wanted or why they were there! The truth is, they didn't want anything — only to make problems for us. My mother had to go to the hospital afterwards.

JM: What do you think about the international volunteers who come to stay in Bilin?

KA: They are very good people, coming from other countries to help us here in the village. They often stay with me in my house during the night raids, and go to confront the soldiers, often suffering beatings and injuries as a result. We eat and talk together, and often become good friends. Sometimes they are deported from the country, just for helping people!

JM: Tell me about Bassem.

KA: He was my cousin, so [he was] not like a friend but like a brother. When I was in the hospital, he came to see me every single day. Afterwards, when I was stuck in bed at home for three months, he was at my side every single day. He brought medicine for me, and was always asking my mother if she had forgotten to give it to me or if I had forgotten to take it. When I was learning to walk again [after the coma] he came to walk by my side.

He was always telling me that I needed to get married and that I was an old man now, but he was older than me and not married! He said that he wanted to help me finish building my house so he could see my future family, and play with my future kids.

My house is almost finished now, but Bassem will never see it. They killed him at a Friday demonstration on 17 April 2009. He was shot in the chest with a high-velocity tear gas canister, the same weapon that had injured me. That morning, he had come to my house to give me my medicine.

JM: What is your hope for the future?

KA: I want to be normal, like I was before the injury. Now, my head is always aching and I have to take medicine all the time. I often feel dizzy, I'm always forgetting things, and I have to sleep a lot.

JM: If you saw the soldier who shot you, what would you do?

KA: I really don't know. Maybe I'd ask him why he shot me when I had my hands in the air.

JM: Do you think the people of Bilin will ever get their land back?

KA: God willing, we hope we will return to our land one day.

JM: What is your message to the Palestinian political leaders?

KA: I want them to make peace, but I think it is the Israeli leaders who are denying us peace with their occupation of our land …

Jody McIntyre is a journalist from the United Kingdom, currently living in the occupied West Bank village of Bilin. Jody has cerebral palsy, and travels in a wheelchair. He writes a blog for Ctrl.Alt.Shift, entitled "Life on Wheels," which can be found at www.ctrlaltshift.co.uk, where a version of this article was originally published. He can be reached at jody.mcintyre AT gmail DOT com.