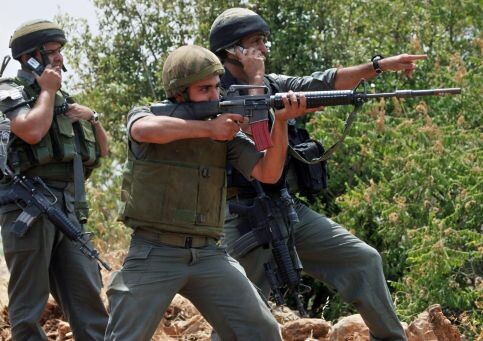 Since 2005, residents of the occupied West Bank village of Beit Ommar have launched nonviolent demonstrations in protest against the increasing theft of their land at the hands of the five surrounding Israeli settlements, and to call for an end to the Israeli occupation of all Palestinian lands. Despite the brutal response of the Israeli forces, resulting in the death, injury and detention of scores of teenagers from the town, the people of Beit Ommar remain steadfast in their resistance. Jody McIntyre interviews Beit Ommar Popular Committee secretary Ahmed Abu Hashem for The Electronic Intifada.

Jody McIntyre: Please introduce yourself.

Ahmed Abu Hashem: I am the secretary of the Beit Ommar Popular Committee, but I feel like the smallest person. None of us should see ourselves as more important than anyone else, because we are all supporting each other. Many people from the Palestinian Authority and from outside the village have tried to break us, but it will never work.

JM: How has the Israeli occupation personally affected you?

AH: I was first arrested in 1984, and held in administrative detention without charge for three months. The next time was together with my older brother at the start of the first intifada in 1988; he was imprisoned for 14 months, and myself for three and a half years. I was arrested again in 1992, and again in 1994 for a period of 14 months. In 1998, me and my younger brother were both imprisoned for six months. And in 2002 I was held for another six months, and then again in 2004, me and my younger brother were both imprisoned for six months. The last time I was in prison, my mother was run over by an Israeli military jeep, and my brother's wife was shot, both on the same day. Three months ago I was arrested again and held for four days, where I was interrogated by Captain Tamir from the Israeli intelligence.

We are who we are, and since the first intifada it has been like this for my family … if it's not me then it's my brother, or my children, or my brother's children, or my wife. Of course, we know why we are singled out in this way; it is because we have always worked as activists against the occupation.

It is clear that they are after me now; if they don't come and invade my home, then they stop me at a checkpoint. In the last fifty days, they have invaded my house 17 times. This morning, I ran into a flying checkpoint at the settlement Gush Etzion, and they gave me a paper ordering me to report to the Israeli intelligence services on Monday morning. The same captain who interrogated me before actually came down to the checkpoint to hand me the paper.

The last time they came to my house they had given me exactly the same paper … I went to the military base as it said I should, and waited from 8:30am until 5:00pm, when I was simply given another paper saying that they would call me again. So I left, and 15 minutes later they called me and said I had to be at Gush Etzion immediately, but I refused to go back.

JM: Why do you think the Israeli military are pursuing you so relentlessly?

AH: They think that they can coerce me with money to become a collaborator, but it couldn't be further from my thoughts.

I might be an old guy, but I hope to continue working against the wall and the settlements for all of my life.

JM: What motivates you to keep struggling against the occupation?

AH: My father was a part of the fedayeen [peasant] rebellion in 1948 against the first settler population of Gush Etzion, and he was injured by a land mine during the battle. He told me about those experiences at a young age, which definitely inspired me. As a child at school I studied a lot about the occupation; I read about the 1948 war and what exactly the creation and continued expansion of Israel meant to the Palestinians. I think it was a combination of these factors which gave me a determination to always struggle for our liberation.

JM: Have your sons also suffered, as you have, at the hands of the Israeli occupation?

AH: The first time my son Yousif was arrested, he was 12 years old. He's currently in prison for the third time, at the age of 17. My oldest son is in jail for the second time. My other son, Emad, was shot by an Israeli soldier, and still has shrapnel in his head from the injury. My brother's two sons were just released after three years in prison; they're 19 and 21 years old now, so they were both arrested during their studies. Of course, the army wants to arrest the clever kids because they want them to work with the army as collaborators in the university. As for those who do choose to work as collaborators, I think their hearts have died.

I'm one of the few farmers who has continued to work on the land despite it being situated right next to the fence of the Karmet Sur settlement. The land actually belongs to my cousin, but I look after it as an act of defiance against the occupation. The settlers are keen to keep Palestinians off their land, because they want to expand, so they will do anything to stop us farming there. On many occasions I would see the settlers shooting at me, and I would hear bullets flying over my head. Once, the settlers' security shot my six-year-old son Qossay in the leg with a live bullet. He stayed in the hospital for three days; the bullet had broken the bone in his leg.

Qossay, now eight years old, has completely changed. He used to be terrified of the soldiers, and he would hide under the bed when they invaded our home. But since he was shot he is at the front of every demonstration! Even if there isn't a demonstration, he'll go out and confront the soldiers anyway.

JM: Do you think the demonstrations can change the future here?

AH: We are struggling to stop the growth of the settlements, to stop the arrests and to stop the shootings. I don't know if it will be in my lifetime, or in a hundred years, but I am sure this occupation will be ended.

Jody McIntyre is a journalist from the United Kingdom. He writes a blog entitled "Life on Wheels" which can be found at jodymcintyre.wordpress.com. He can be reached at jody [dot] mcintyre [at] gmail [dot] com.