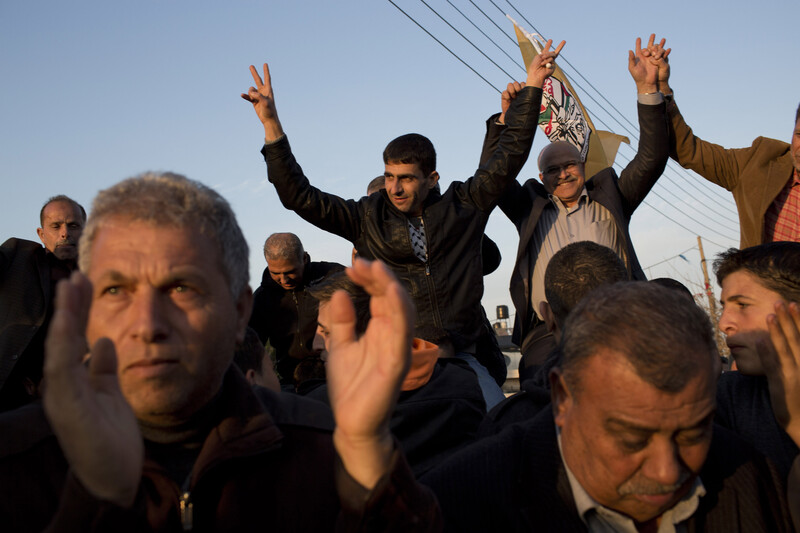 If one thing can still unite and mobilize all Palestinians, regardless of their political affiliations or where they live, it is the struggle of our political prisoners in Israeli jails.
The recent US-brokered deal between Israel and the Palestinian Authority (PA) to release prisoners who were jailed before the Oslo accords were signed in 1993, has left many of us with conflicting emotions.
"Indefensible decision"
True, the release of any prisoner — let alone one who has spent over 20 years behind bars – is always a reason for celebration. Yet the announcement by the Israeli government that 104 prisoners will be released — a number that has now risen to 109 — was part of a deal to start yet another round of futile negotiations between Israel and the PA.
As most Palestinians view these talks with suspicion and a sense of despair, the planned release of the long-serving prisoners was used by the PA to justify its indefensible decision to resume negotiations with Israel.
Furthermore, it was obvious from celebrations that the PA organized in Ramallah that it is seeking to exploit the prisoners' issue to score political points and boost its low credibility among ordinary Palestinians.
Even worse, all three rounds of releases that have taken place so far have been accompanied by announcements from Israel that it will expand its settlements in the occupied West Bank. This underscores once again that Israel is using these negotiations to entrench the occupation.
Joy
Nonetheless, it is important to remember that the releases have brought joy to a number of families. One Palestinian activist who is related to a pre-Oslo political prisoner said: "Look, you might say I am selfish, but I support anything that brings about the release of those prisoners. You are talking about prisoners who have spent more than twenty years in jails, who have been forgotten by most of us and whose families are dying to see them free. And if negotiations are the only way to accomplish their release, then so be it."
The activist, who asked to remain anonymous, added: "The Israelis are building new settlements and grabbing our land with or without negotiations. This is the first time that I support negotiations simply because it means the prisoners are going to be released."
While such a position overlooks the dangerous consequences of the negotiations and is driven by emotions, it is easy to understand where it comes from, particularly when you meet some of the prisoners concerned.
Among the Palestinian prisoners released on 31 December was Said Tamimi from Nabi Saleh, a village near Ramallah renowned for holding regular protests against the Israeli occupation since 2009.
Said was arrested on 9 November 1993, along with Bassem Tamimi, who has played a prominent role in the protests over the past few years. (As well as belonging to the same extended family, both men are close friends).
Torture
While Bassem was later released after enduring severe torture which caused partial paralysis, Said was convicted of killing an Israeli settler and sentenced to life imprisonment.
"The worst torture I suffered happened during the first few months of my arrest, especially in interrogations," Said Tamimi told The Electronic Intifada. "Things got easier as years passed on, but the harassment continued. We were occasionally gassed, beaten or subjected to humiliating and violent searches by prison guards."
Born in Nabi Saleh in March 1972, Said never met his father, who was murdered by the Israeli secret service Mossad in al-Baddawi refugee camp in Lebanon when Said was still an infant.
Said Tamimi's involvement in Palestinian popular resistance began early in the first intifada that erupted in late 1987. Tamimi was studying at an orphanage in Jerusalem at the time.
His first arrest came when he was only 17. He was detained for almost a year.
Hiding
Shortly afterwards, Tamimi was forced to go into hiding as Israeli occupation forces began chasing him. His mother Fatima, now in her late seventies, said. "They ran after him for almost two years before finally capturing him. I was thinking of him all the time, wondering where he was sleeping and if he was eating.
"On one rainy night I was sleeping and imagined hearing his footsteps and him shouting and calling my name. I opened the door and saw no-one outside. Apparently I was dreaming.
"Said's two elder brothers were arrested too during the first intifada and his sister was killed by militants from the Abu Nidal Organization," a defunct armed splinter group that is believed to have been in the pay of several foreign governments.
"Said is the closest to my heart, perhaps because he's the youngest and was deprived of seeing his father, but he is also the one who tormented me the most [through his involvement in resistance]," Fatima said.
For 16 of Said's twenty years in jail, his mother — commonly known as Umm Said — was only allowed to see him through glass during visits. "The first time I was allowed to hug him because of my age, I passed out and lost consciousness," she said.
"I could not believe that I finally hugged and kissed him. The prison guards were surprised at my reaction, and I remember telling them 'You killed his father when he was a toddler and you are now imprisoning him for life.'"
"During one of my visits to Said I was ordered to take off my clothes to be allowed in. I had to do it because I wanted to see Said. There were other women with me who were visiting their imprisoned brothers. They refused to be strip-searched and since then they have been denied visits to their brothers."
Anyone who attends the weekly demonstrations in Nabi Saleh knows Umm Said. She used to throw rocks at Israeli forces before her health deteriorated.
"Proud of my mother"
During one Friday protest, Israeli soldiers stormed into her house screaming that she was hiding one of the demonstrators. She responded by throwing shoes at the soldiers and kicking them out of her house. "I remember seeing her on television and I was incredibly proud of her, proud that she is my mother," Said said.
Umm Said suffered a stroke on 1 June last year. Asked if he was afraid that his mother might die before his release, Said said: "My mother's illness made me feel like I was inside two prisons. I wanted to get out to make up for all the suffering she has gone through during my absence and also wanted her to compensate me for all the tenderness I have been denied. Yes, I was scared but my mother and I had made a pact when I was jailed that she would stay alive until my release."
His mother said: "Perhaps the only thing that gave me power to survive was the hope of seeing Said soon … we knew that he would be released because his name was on the list but we did not know in which round and that affected me greatly. Due to my condition of my health, I could not visit him for the last eight months."
One particularly emotional moment came when the brothers Ahmad and Nizar Tamimi — two life-long friends of Said — were released as part of the prisoner exchange deal reached between Israel and Hamas in 2011.
"Nizar and Ahmad were crying for me because their happiness was not complete as Said was not released with them," Umm Said said. "They bawled and embraced me, but I was happy for them. They were like my sons, they grew up with him. I told Said that now two of my sons have been released and the next is surely on the way."
Said Tamimi, along with some other prisoners from the West Bank, arrived at the PA's Ramallah compound, the Muqataa at 3am on 31 December. But his mother had to wait for two more hours to meet him in Nabi Saleh.
"I only believed that he was free when he entered the house and hugged me," she said. "I actually still cannot believe that he is here. Even when he is sitting next to me, I still fear that this is a dream. I just hope that every mother can experience the feelings I had when I saw Said."
No regrets
Now that he is finally free, his mother has talked to him about getting married. "She has already started looking for a wife for me," Said said with a smile.
"But I think it's still too early. Now I feel like a little child who is rediscovering life and getting to recognize all the new faces and places around him. Of course, I want to have a family and continue my studies but now I want to adapt to life outside prison and spend as much time with my mother as possible."
Said Tamimi has no regrets. "I know that I paid a very heavy cost but I don't regret taking the path of resistance because I believe in the cause and what comforts me is the knowledge that I did all that I could do for Palestine."
Even for those of us who staunchly oppose the PA's negotiations with Israel, it is impossible not to be overwhelmed with happiness for Said Tamimi and all the prisoners who are finally tasting freedom.
Budour Youssef Hassan is a Palestinian anarchist and law graduate based in occupied Jerusalem. She can be followed on Twitter @Budour48.
Tags