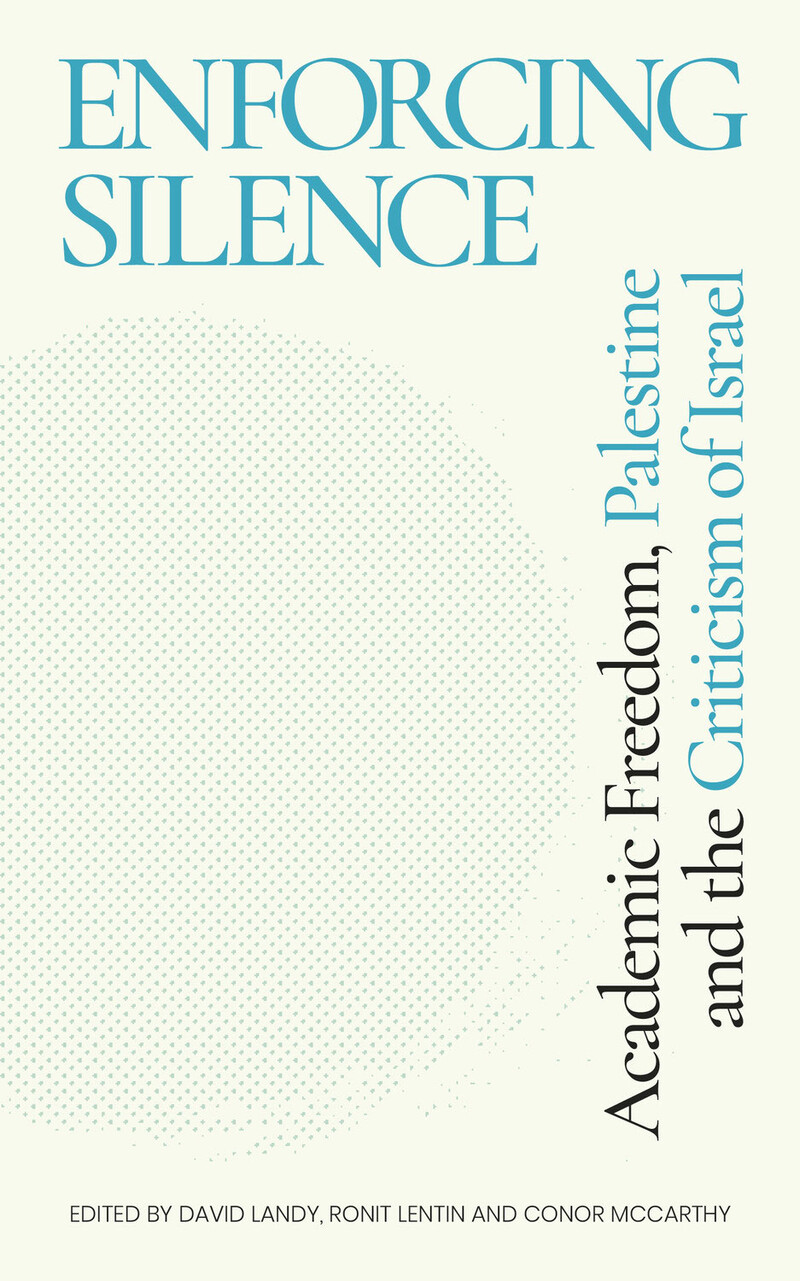 Enforcing Silence: Academic Freedom, Palestine and the Criticism of Israel, edited by David Landy, Ronit Lentin and Conor McCarthy, Zed Books (2020)
Few in academia today are better placed than Rabab Abdulhadi to narrate the administrative tyrannies and legal harassment which are the plight and bane of many professors.
Abdulhadi, an associate professor at San Francisco State University, was the target of three failed lawsuits filed by the pro-Israel Lawfare Project which aimed to silence her advocacy of Palestinian rights.
Her foreword to this collection of essays on the efforts of Israel and its supporters to suppress academic speech is apt: "I did not see my story as my private property or a particular experience; it reflected and represented the collective stories of public intellectuals inside and outside the academy who sought to speak up for justice in and for Palestine."
Her inability to contribute a chapter as she had originally planned is an example of the very phenomenon detailed between the book's covers. Her time to write was consumed by the need to respond to an administrative complaint delivered under threat of disciplinary action over her advocacy.
Elsewhere in the volume, David Landy, an associate professor of sociology at Trinity College Dublin, refers to this tactic as "price tag attacks on critics of Israel – meaning that these critics should be forced to suffer for any criticism of Israel they make."
Landy correctly situates such attacks – the term borrowed from settler assaults on Palestinians and their property in the occupied West Bank – "as an extension of practices of colonial control."
Other contributors to the book similarly view crackdowns against academic speech critical of Israel as a logical outgrowth of settler-colonial policies of domination over the indigenous Palestinian people.
Ronit Lentin, a retired associate professor of sociology, also at Trinity College Dublin, details how Israel has "successfully recruited Israeli academics as active collaborators in the colonization of Palestine." She writes that this model serves as a "resource, or a blueprint, for stymieing academic freedom and free debate on the Israeli colonization of Palestine elsewhere in the world."
Other attempts at exporting Israel's colonial control over the Palestinian people are more subtle, as documented by Hilary Aked in their essay on the mushrooming of Israel studies departments at UK universities.
These departments are well funded by a small coterie of pro-Israel donors concurrent to official "Brand Israel" propaganda that seeks to "'broaden the conversation' about Israel so the country is not only viewed through the lens of state violence," Aked explains.
"Eliminationism"
Well-funded and well-orchestrated attacks upon academic speech critical of Israel are amply and convincingly documented throughout this collection.
The case of Steven Salaita haunts nearly every essay in the book. Salaita was fired from his newly tenured position at the University of Illinois at Urbana-Champaign and hounded out of academia for his "uncivil" tweets responding to Israel's massacre of Palestinian children in Gaza in 2014.
Salaita's firing was an extension of the "punitive machinations of settler colonial eliminationism," C. Heike Schotten, who teaches political science at the University of Massachusetts Boston, writes in the book's most provocative and outstanding contribution.
The logic is to eliminate the Indigenous through total assimilation into the "civilizing mission" of the colonizer or through their extirpation if they refuse.
"Hired to teach in an Indigenous Studies Department, Salaita was fired because he both represented and advocated for the existence and resistance of native peoples (Palestinian or otherwise), and it is precisely this representation and advocacy that is unthinkable," Schotten states (emphasis in original).
Neoliberalization, marketization and commodification of universities also make faculty susceptible to external and internal pressure to toe the line on Israel.
Nick Riemer, lecturer in English and linguistics at the University of Sydney, argues that university administrators utilize Zionist complaints as "a tool of campus-level social control."
These complaints provide "ammunition against staff members who are typically also committed to a range of other activities which regularly bring them into conflict with university authorities" – such as union involvement and outspokenness against university administration.
Sinead Pembroke, who holds a PhD in sociology from University College Dublin, discusses the increasing reliance on adjunct faculty as a cost-saving measure, leaving many academics bereft of collegiality and legal protections should they come under attack for their political views. Many engage in self-censorship as a result.
Counterintuitive
Several of these essays question the utility of invoking academic freedom arguments to protect speech on Palestine.
At first blush, this appears to be counterintuitive as academics could plausibly and persuasively argue their prerogative to research, teach and speak as they see fit without impingement.
However, these same principles may be referenced by Zionists in their opposition to the boycott, divestment and sanctions (BDS) movement in support of Palestinian rights.
The notion of academic freedom "does not offer the political clarity needed to show what is actually at stake in the difference between boycott supporters and opponents," Riemer writes.
Instead, Riemer adds, "the most powerful reason to boycott and to defend boycotters is to end apartheid against Palestinians," urging BDS proponents to favor a values-driven discourse (emphasis in original).
And, as John Reynolds of the law department of the National University of Ireland Maynooth notes, academic freedom increasingly has been deployed by the right to reify racism and supremacies.
"When it comes to the expression of anti-colonial and anti-racist positions, academic freedom remains vulnerable and conditional," he argues.
By contrast, "academic freedom arguments being deployed in the service of colonialism" have found a resurgence "that exudes quite particular right-wing forms and agendas," such as apologism for colonial atrocities.
Students and government
This collection could have paid greater attention to administrative and external crackdowns on students organizing in support of Palestinian rights.
Student activists are subjected perhaps to even fiercer subjugation than faculty through administrative disciplining, professional pro-Israel campus staff policing speech and the noxious doxing by websites such as Canary Mission.
The collection would have also benefited from a deep dive on authoritarian efforts by the US government to conflate criticism of Israel with anti-Jewish bigotry for the purpose of defunding universities deemed too permissive of speech critical of the state.
This troubling governmental intrusion and overreach is embodied by Kenneth Marcus, the recently resigned assistant secretary for civil rights at the US Department of Education.
Marcus pioneered the strategy of lodging complaints with the department falsely alleging that Jewish students suffered harassment and discrimination due to campus speech critical of Israel.
Serving within the Trump administration, Marcus advanced this spurious agenda with potentially long-lasting ramifications. Any discussion of academic silencing on Palestine is incomplete without assessing this governmental pressure.
Josh Ruebner is Adjunct Professor in the Justice and Peace Studies Department at Georgetown University.
Tags