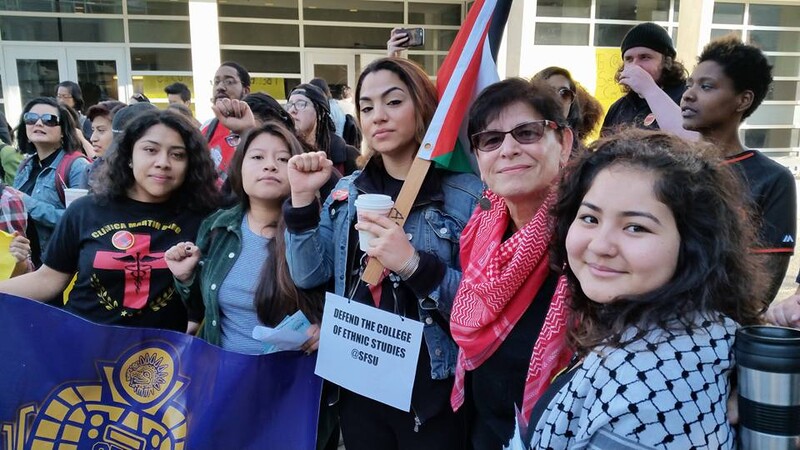 After three attempts at litigation, pro-Israel lawfare strategists have failed to silence a Palestinian American professor at San Francisco State University.

On Monday, a federal judge in San Francisco finally dismissed a frivolous lawsuit against professor Rabab Abdulhadi and the university over her Palestine research and criticisms of Israel, which was filed as part of a years-long targeted bullying campaign intended to censor and threaten professors and students who advocate for Palestinian rights.

Judge William Orrick III "this time dismissed the case with prejudice, meaning the lawsuit cannot be filed again," said Palestine Legal on Tuesday.

The lawsuit, which was initially filed in June 2017 by the Lawfare Project – and then re-filed twice more after each attempt was dismissed – accused Abdulhadi and her employer of fostering a hostile environment for Jewish students which they claimed was due to the growing support for Palestinian rights on campus.

The Lawfare Project is a group that has described itself as "the legal arm of the pro-Israel community."

The plaintiffs accused San Francisco State University of violating Title VI of the 1964 Civil Rights Act, using a legal strategy that claims that universities fail to protect Jewish students by not cracking down on Palestine solidarity activism.

That strategy was pioneered by Kenneth Marcus, a far-right Israel advocate who was confirmed earlier this year as the director of the Office for Civil Rights at the US Department of Education.

This means he is now in charge of investigating alleged violations of the civil rights law.

However, in his decision on Monday, Orrick noted that the plaintiffs "have had ample opportunities to attempt to state their Title VI claims but have not been able to do so."

The judge indicated in August that he was inclined to dismiss the suit during a final court hearing, but had not delivered his decision until this week.

"It's a significant defeat for both lawfare as a legal bullying strategy and the Lawfare Project as an organization," Palestine Legal's Liz Jackson told The Electronic Intifada on Wednesday.

The Lawfare Project "had three different legal complaints and a team of corporate lawyers but they had no facts indicating there was discrimination," Jackson added.

"This is a victory for academic freedom and for the right to teach, research and advocate for justice in/for Palestine, as part of justice for all. Our movement is vindicated today," Abdulhadi wrote on Facebook.

"We made it crystal clear that our commitment to justice in/for Palestine is unambiguously opposed to all forms of racism and racial discrimination including white supremacy and xenophobia, anti-Arab racism, anti-Blackness and anti-Semitism," she added.
"Unfounded and malicious"
The suit was initially dismissed by Orrick in November 2017, but he allowed the plaintiffs to amend and resubmit their case.
The Lawfare Project refiled a version of the suit, but the federal court again threw out all of the claims in March, noting that the complaint was "far too long, repetitive and full of barely relevant material."
Undeterred, the Lawfare Project refiled the suit once more. But it is now permanently closed and the organization cannot refile again.
"The unfounded and malicious nature of this bogus suit against Dr. Abdulhadi is now clear for all to see," explained Mark Kleiman, Abdulhadi's attorney.
"This has disrupted nearly two years of her life and her work for justice in Palestine, which is the purpose of 'lawfare,'" he noted.
The lesson students and scholars can learn from this legal victory, Jackson said, "is that Israel's defenders may harass you with frivolous litigation, but they will not succeed in silencing you because the facts are that advocacy for justice and equality is protected."
"Avowed mission"
The Lawfare Project has "an avowed mission of inflicting massive punishments against critics of Israel and sought to block research and speech supporting Palestinian rights" at San Francisco State, Palestine Legal has stated.
In 2016, The Lawfare Project's director, Brooke Goldstein, was filmed asking Israel lobby leaders in New York, "Why are we using the word Palestinian?"
"There's no such thing as a Palestinian person," Goldstein asserted.
The initial 73-page complaint listed about a dozen incidents, some dating back to the early 1990s – before many of the university's current students would have been born – in an attempt to paint a picture of systematic discrimination.
The complaint invoked the so-called US State Department definition of anti-Semitism, which conflates criticism of Israel and its Zionist state ideology with anti-Jewish bigotry.
A principal incident in the complaint concerns a "Know your rights" fair in February 2017. Muslim, Arab and Latino campus groups organized the event in response to US President Donald Trump's slate of executive orders targeting immigrants, refugees and Muslims.
Hillel, an on-campus Israel advocacy organization, claimed Palestine solidarity groups discriminated against Jewish groups by not inviting them to participate. After a lengthy investigation, San Francisco State University cleared the fair's organizers of religious discrimination, but found them responsible for retaliation and viewpoint discrimination.
The lawsuit also alleged that students who disrupted a 2016 event featuring Nir Barkat, the far-right Israeli mayor of Jerusalem, made "antagonizing and threatening" remarks leading to an atmosphere of "fear and intimidation faced by Jewish students on campus" after the event.
Students representing an array of communities on campus protested Barkat because of his record of rampant Palestinian home demolitions, collective punishments and support of Israeli settler groups.
Hillel, which hosted the Barkat event, "broadcast false allegations that protesters were anti-Semitic and physically threatening towards Jewish students," according to Palestine Legal.
Those accusations resulted in "widespread smearing and cyberbullying" of student protesters, "including death and rape threats," the civil rights group said.
An independent legal investigation determined that Hillel's allegations were unfounded.
Exploiting the Pittsburgh massacre
Meanwhile, in the wake of the massacre of 11 Jewish worshippers at a synagogue in Pittsburgh last weekend, activists and civil rights protectors are worried that Israel advocates may exploit the murders to push harder for a pending federal bill that seeks to blame supporters of Palestinian rights, especially campus campaigners of the boycott, divestment and sanctions (BDS) movement, for anti-Semitism.

"In response, we all have to continue to insist – as professor Abdulhadi puts it – on the indivisibility of justice. None of us are safe or free unless all of us safe and free. The threat is not campus human rights activists, but white supremacists," Palestine Legal's Jackson told The Electronic Intifada.

Lawmakers must be urged to reject the federal legislation "as an unconstitutional and irrelevant response" to white nationalist violence, she added.

"The most important way to prepare for escalated government attacks on our right to criticize Israel's apartheid policies is to continue criticizing Israeli policy."
Tags