WAFA

— In the early morning of a sunny day, the 10-year-old year girl, Raghda al-Assar, left her house heading to school in the southern Gaza Strip city of Khan Yunis. After less than hour, she was receiving medical treatment in emergency room of Nasser Hospital after having been struck by Israeli bullets in her head while she was in her classroom listening to her English teacher. Raghda died Wednesday of the critical wounds she sustained two weeks ago.

On September 7, Raghda was one of hundreds of Palestinian schoolgirls, dressed in crisp striped school uniforms (marking the UNRWA schools students), crowding the streets of Khan Younis refugee camp on their way to school. They were so enthusiastic to begin the new school year, and happy with their new uniforms. Raghda was so happy to be wearing her new jeans for the first time. Chatting with her cousin, Rula, also 10, about their new white clothes and books.

Heavy gunshots silenced the girls' chatting just moments before the lesson began. Israeli soldiers, stationed at the mobile watchtowers of the Neve Dekalim colony west of the Khan Younis refugee camp, opened random fire at houses in the camp. Raghda was hit by a live gunshot in her head as she and her classmates attempted to take cover under their desks.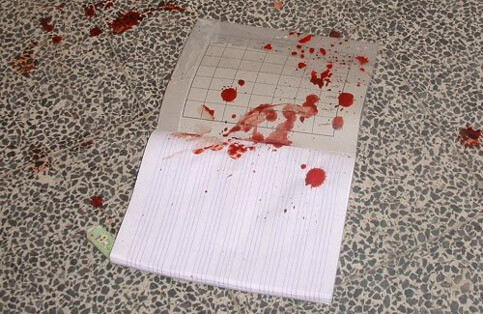 UNRWA

's official statement issued on September 7 said that Raghda was shot by Israeli gunfire. A sea of crying and shouting filled

UNRWA

's Elementary C Girls School when her classmates saw blood stains sprinkled in the class. "It was the first lesson that day, Raghda put her ruler beside mine, we arranged the desk together … I was listening to the English teacher and she was writing. The sound of the gunshot filled the area. We kept silence for a moment, then a bullet struck Raghda in her head, her blood covered her face and neck, her English book and copybook were also tainted with spots of blood," Hanin Assaf, 10, Raghda's classmate, said.

She slumped on the seat … she was so calm while blood was streaming on her cheeks, some classmates dashed out of the class, others hid under the desks, all of them were shouting and crying, Raghda slowly extended her two hands to the teacher who dashed to carry her … she was carried to a hospital". The murder of Raghda left a horrible effect on the students, and a strong sense of avoidance of the school for many, such as Hanin.

"I began to hate my desk because it is without Raghda. It is dangerous also. I do not know why they shot her… Before having been shot, I borrowed an eraser from Raghda, I hope she will com back to school because I want to give it back to her".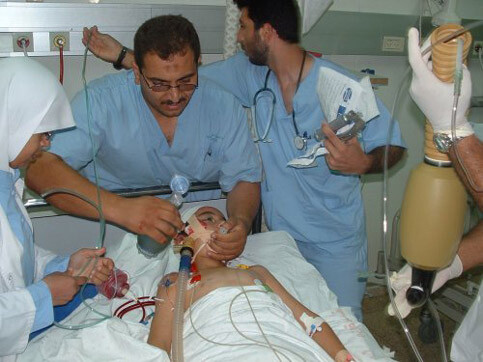 Dr. Fawwaz Abu Ziada, head of the neurosurgical unit at the European Hospital, south of Khan Younis, said that a gunshot pierced the face of Raghda and went out from the back of the head. "Critical damages to the brain and cerebellum put an end to her life after two weeks of treatment at the Intensive Care Unit (

ICU

)," Abu Ziada said. At the door of

ICU

, Salwa al-Assar 40, the mother, spent long hours filled with hope to hear Raghda's voice again. But on Wednesday overnight, the hopes have "gone with the wind".

"It was around 8 o'clock in the morning. I was helping my son in organizing his books, the telephone rang, minutes after, my husband stormed the room and told me that Raghda was shot. I felt my heart leap up and an earthquake trembled inside me," the mother said.

"She woke me up early that morning, she dressed in her school clothes. I combed her hair and tied a white ribbon over her head. She was so happy with her new dark blue jeans and black sandals, it was the first time she wore them. She was so proud with the red badge around her neck. I gave her an apple she put it in her bag, said [good bye mum] and left home, it was the last day I talked to her," Salwa added while sighing.

"Mum, you see, the teacher awarded this badge to me, she asked me to participate in imposing order in the school, she asked me because I am a good girl," the mother recalled her daughter as saying.

The father, Adnan al-Assar 42, was so astonished while recalling his sweet daughter. The father, who works as a governmental employee, said that every year Raghda and her brothers had one school uniform each. "This year I bought two uniforms for her, she said that she is older than before and should enjoy two uniforms, she also insisted to have much more pocket money than before.

"Believe me, she was so skillful and so enthusiastic to be the best in her class. A day before her shooting, she asked me to buy an advanced book of sciences, I gave her money, but she was so upset as the new edition has not been available yet," the father said while wiping his tears and asking why the Israeli soldiers target children at schools?

Two 10-year old children were hit, last June, by Israeli bullets and ricochets in UNRWA's elementary schools in Rafah. In March 2003, an Israeli bullet penetrated the head of 12-year old Huda Darwish, in Khan Yunis, and left her blind, according to UNRWA's statement.

Related Links

10-year old girl hit in

UNRWA

classroom by Israeli gunfire,

UNRWA

(7 September 2004)
Child rights group notes sharp increase violations of children's rights,

DCI

/

PS

(24 September 2004)