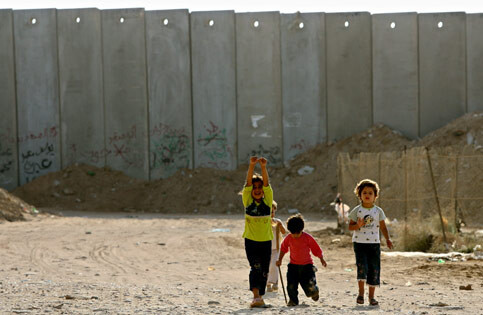 Experience of terror and trauma is the norm for children in the Occupied Palestinian Territories, especially those living in the Gaza Strip. As the Israeli siege creates a humanitarian crisis in Gaza, an entire generation of traumatized children suffers an absence of psychological care. While the current ceasefire is a welcome respite, it does not relieve children of their fears and nightmares.

Sahar Owaidat, six years old, still suffers from what appear to be symptoms of post-traumatic stress disorder, ever since Israeli soldiers stormed her home in the Johr al-Dik area of the central Gaza Strip in the summer of 2008. The soldiers brutally beat her father and siblings while she, and the rest of her poor Bedouin family, helplessly watched.

Sahar explained that. "I asked my mom to hug me and keep me safe. I was scared when I heard the voice of my Dad moaning and screaming. I saw the blood covering our house and many ghosts tried to snatch me. In the corner of the room, three soldiers were beating my younger brother, Emad. I cry and cry and cry until my mom wakes me up. I am afraid to sleep because [the ghosts] keep coming back."

The night that the Israeli soldiers invaded her home, Sahar's five brothers were beaten in front of the family, which includes five brothers and four sisters. Her brothers were all arrested and released except her eldest brother, Samer, who was eventually tried by an Israeli military court and was sentenced to five years for engaging in "military actions." Later in the summer of 2008, the Israeli army bulldozed the family's agricultural land and the olive trees that sustained the family were uprooted.

Sahar's mother, Fraiha, explained, "Sahar changed that day she witnessed the savage storming into our home. She became introverted and she now suffers from involuntary urination and nightmares. Her two young siblings also have the same symptoms."

Another incident created fresh nightmares for Sahar. After three grueling hours of military operations, Israeli soldiers burst into some nearby houses. She explained that, "I wanted to go to my kindergarten and I prepared my pens and papers. I went to sleep but I could not, I heard a sound of close shootings. Then the tanks came over and I heard the voice and hurried to my mum. I saw all my siblings and dad beside her. She hugged me and I cried a lot."

Sahar pleaded with me "I want to go to my kindergarten and I don't want to see those ghosts again. Please, if you see them tell them I'm afraid. Don't let them come again."

Sameh A. Habeeb is a photojournalist, humanitarian and peace
activist based in Gaza, Palestine. He writes for several news websites on a freelance basis.