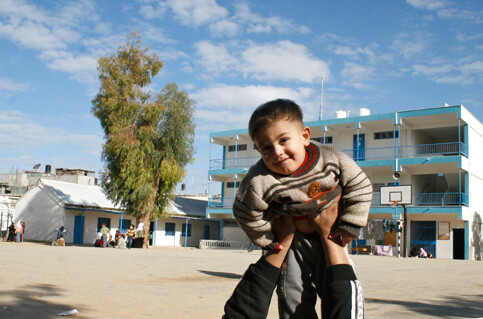 "They have made us gather, they have made us recall past days, they have let us feel a warmth that we have long missed amidst life's troubles which have become so great. So we say simply and ironically, thanks to the Israelis." Sahar Ali Shaath of Rafah, southern Gaza Strip, voiced her reaction after she and more than 20 other family members were forced to flee their house near the Gaza-Egypt border.

The Shaath family is one of thousands that have been forced to flee their houses near the Gaza-Egypt border as Israeli warplanes have bombed the area for seven days straight. Israel has attempted to destroy tunnels used by Palestinians to bring in essential supplies include food, livestock and medicine to circumvent a tight 19-month long Israeli siege that has made these necessities scarce.

While reports say that most of the newly displaced families are staying with relatives, at least 200 are being housed in one school run by UNRWA, the UN agency for Palestine refugees.

"I really can't describe what I felt the moment we decided to leave our house, to leave my office," Sahar said from her brother's cramped apartment in the nearby New Bader refugee camp where the family sought refuge. "But if we didn't leave, we would have been targeted too, as the Israeli warplanes never stopped hitting my town," added Sahar, who works as a project manager for Catholic Relief Services.

Sahar, who brought her laptop computer with her, said, "besides following up on my work, I went to a nearby grocery to buy some cookies and chocolates for my beautiful nieces and nephews. Every night, despite the blackout, we gather, talk and tell the children stories from our Palestinian history — stories of the intifada, and of our own repeated displacements to various refuges, up to now, the latest such refuge."

Sahar's brother Marwan, a civil servant, lives in a two-room apartment. Crowded into it now are more than 15 children including three of his own, his parents, his three married sisters and a brother. While he is offering refuge to members of his family now, he knows their situation only too well: his own house was demolished by the Israelis in 2002.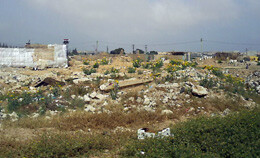 "However abnormal this situation is, I am really happy I can offer a place to sleep for my relatives," said Marwan. "Many people around us have been forced to stay with neighbors, or even at nearby schools for fear of Israeli air raids."

During the day, Marwan and other family members returned to the evacuated family home in the Sheout area near the border with Egypt to bring back flour, blankets and Sahar's desktop computer.

"We could not bring anything else that would require a van," explained Marwan, "because the Israeli drones buzzing overhead fire at vans, suspecting they are carrying weapons."

Outside in the yard, Marwan's 72-year-old father Ali was playing with his granddaughter. "What can I say, my son?" he said. "Throughout my life I have lived many displacements. This is the latest." Before Israel was created in 1948 and he and other residents were forced out, Ali lived in the town of Bir al-Saba (now called Beersheeva by Israel).

"They think they are targeting Hamas," Ali said, "but they are not. They are targeting the entire Palestinian people. I know them very well from Bir al-Saba." From there Ali was been displaced to Gaza's Khan Younis refugee camp, then to Rafah, and now to Bader refugee camp.

"Do they think we will surrender?" Ali asks. "No, we won't! If we all die, Palestinians who are outside Palestine will continue the struggle. Almost every Palestinian family has one or two sons abroad."

On 27 December, Israel began an all-out aerial and naval bombing campaign against the Gaza Strip, home to 1.5 million Palestinians, 80 percent of whom are refugees from towns and villages that are now inside Israel, according to UNRWA.

After one week of bombing, the death toll stood at more than 437 persons, and more than 2,250 injured. While claiming that it is bombing "Hamas targets," Israel has in fact struck hundreds of private homes, mosques, charities, police stations, university and school buildings, ministries, the Palestinian Legislative Council building, and cars driving along roads. At least a quarter of the dead are women and children, not counting other male civilians including dozens of civil police officers responsible for traffic management and other routine duties.

Israel claims that this attack is aimed at stopping Palestinians from firing crude, homemade rockets at Israel. This firing resumed after Israel unilaterally broke a five-month long ceasefire with a series of attacks on the Gaza Strip beginning on 4 November. Over the past week three Israeli civilians and one army officer have been killed by Palestinian rockets.

On New Year's Day, Israeli foreign minister Tzipi Livni rejected a French proposal for a ceasefire to allow relief supplies to reach Gaza's population. Livni denied outright that there was a humanitarian crisis in Gaza, contradicting UN reports of a very dire situation. The Israeli government has begun to make preparations for a possible ground invasion of the Gaza Strip.

"Every night we all gather in Marwan's house. Who knows? Maybe an Israeli warplane will hit us, so we are much closer to each other than ever," said Sahar with an smile on her face. "Thank God for everything."

Rami Almeghari is contributor to The Electronic Intifada, IMEMC.org and Free Speech Radio News and is a part-time lecturer on media and political translation at the Islamic University of Gaza. Rami is also a former senior English translator at and editor-in-chief of the international press center of the Gaza-based Palestinian Information Service. He can be contacted at rami_almeghari A T hotmail D O T com.

Related Links