GAZA

, October 5, 2005, (

WAFA

) — Lanterns and old-fashioned lamps dangled from the wood ceiling over hundreds of citizens gathered on the eve of Ramadan (the month of fasting for Muslims) to attend night of poetry recitation by young poets.

The four young poets were in a semi-competition to win the most applause from the officials and ordinary citizens who were enthusiastic to spend this unique time far from politics.

The night of poetry recitation, "There is a Room for Happiness", was organized by the Rahala Association.

The low sounds of flute and guitar, from two young players, added a kind of spiritual warmth to the voice of female poet Somayya Al-Sossi, who read two poems, An Ikhtifa' Al-Zil ("The Disappearance of the Shadow") and Qisas Mu'allaqa ("Unsettled Tales").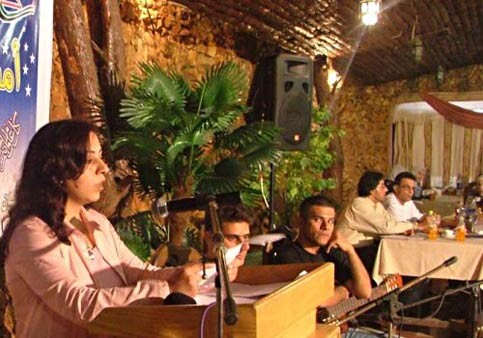 Poet Khaled Jum'a, began his reading with a poem titled Eman, the name of an infant girl killed by the Israeli Army in Khan Younis City, in May 2001.

Through his free-verse poem, Jum'a recalled the murder of Eman by focusing on the innocence of the infant and her wonder about losing her childhood and the afterlife to which she was sent forcibly.

He ended his reading with An Sijara fi Minfadha ("About a Cigarette in an Ashtray"), which threw the audiences into welcome laughter after the grief of the poem Eman.

Using body language when reading his two poems, Sayyed La Ya'rifoho Ahad ("A Master Who Nobody Knows About") and Rahalat ("She Has Gone"), Mohammed Abu Sharkh, 31, was totally distinguished from the other poets.

The murmur of the waterfall on the artificial rocks in the hall was in a complete harmony with the bold and brave poems of Fatina Al-Ghurra, Opera and Hona Atajalla ("Here I Do Transfigure").

At the end of the readings, Al-Ghurra said that she was so happy to participate in literary activities "with a special taste" after the Israeli evacuation.

"The people of Gaza lost a lot of literary activities and enjoyable occasions because of the Israeli occupation and instability. After the Israeli evacuation, I hopefully expect that Gaza will increase its art activities," she added.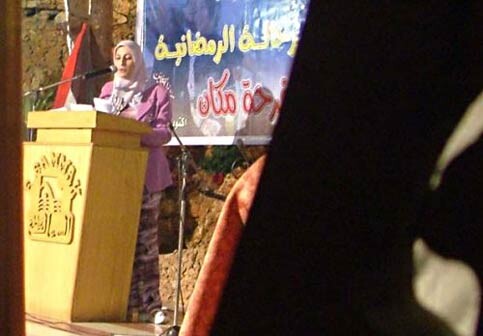 Al-Ghurra explained that giving people moments of happiness and seeing the smiles on their faces "charge" her with more courage and creativity.

Yahya Rabah, an outstanding intellectual, said that this event marked one of the most beautiful days in Gaza.

"With their glimpse of hope, the poets revived our secret power, and tossed us into a forest of unlimited determination for living and enjoying life".

Siham Khillah, one of the audience, said that she enjoyed the night and expressed hope that she would attend more art activities.

At the door of the hall, a group of concerned men gathered discussing and arguing "who was the best reader?" One of them, Khaled Al-Mashi 39, said that he was so excited to attend the event that it didn't matter "who was the best".

Sami Abu Salem lives in Jabalia Refugee Camp and works as an English news and features writer at the Palestine News Agency (WAFA). He has also worked at the International Press Center of the Palestinian Authority State Information Service, and works as a freelance writer for local newspapers, focusing on literature and arts.

Related Links