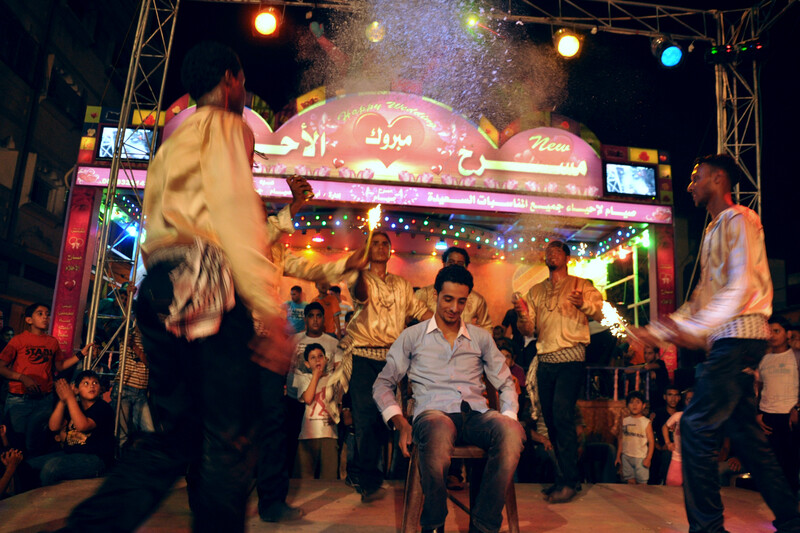 Iyad Zumlot looked cheerful as he welcomed male spectators in the street next to his home in the al Falluja neighborhood of Jabaliya refugee camp in the northern Gaza Strip.
The next day was the 23-year-old pianist's wedding; and he was receiving people for the traditional party Gazan grooms hold on the eve of their marriage.
More than twenty other musicians and singers — Zumlot's colleagues — were attending too, but not only as guests and spectators. Each was to perform in honor of the groom.
Against the background of loud music in the street, Iyad shared his feelings with The Electronic Intifada.
"When I've performed at grooms' parties, I didn't realized that the groom endures such a fatigue," Zumlot said, covered in perspiration from dancing on the stage with friends, "But I can say that I am happy, for today I am the groom."
A musical career in Gaza
Zumlot began his work as a musician as a teenager. "My father had encouraged me a lot," Zumlot said. "Here in Gaza I had a training course back in 1999. I began working with Gaza musical bands nine years ago. It has been a big responsibility."
But Zumlot does not see Gaza's own music heritage flourishing. "In the past few years, Syrian and Egyptian music styles have rapidly ripped through the streets of Gaza. However, as a musician, I can tell you that the audience enjoys these styles and we musicians are asked to play this kind of music all the time. As for our Palestinian musical heritage, it is fine; but unfortunately the people's tastes nowadays have encouraged the spread of Egyptian or Syrian styles."
In almost every wedding party, musicians will perform a few folkloric Palestinian debkes (line dances) as dancers amuse the audience for about half an hour. But in general Palestinian songs — whether new, traditional or patriotic, are few and far between.
It was almost 9pm when the all-male guests at Zumlot's party began to flow in, while performers sat around in chairs and awaited their turns on stage to congratulate him musically.
Among them was Akram Hassan, 36, a well-known Gaza musician and singer who has been performing for over two decades. He shared his views about the music scene in Gaza.
"Prior to the Israeli siege of Gaza four years ago, I managed to participate in a series of music festivals in the Arab world including in Morocco and Cairo. But since 2006 I have been stuck in Gaza due to the Israeli closure," Hassan told The Electronic Intifada.
Hassan also sees a decline in music culture in Gaza and blames it in part on a lack of interest on the part of the authorities in promoting music — a reference to Hamas which has ruled Gaza since it won elections in 2006.
"The rulers of Gaza are unlike the ones before them," Hassan observed, "I myself used to work as chief of the singing department of the former Palestine TV of the Palestinian Authority. I recall that I performed a number of songs that were broadcast on TV — some of these songs addressed national causes like the siege by Israel on late Palestinian President Yasser Arafat."
Restrictions on performances and a lack of support
Given the current conditions and the dearth of cultural bodies invested in music development, Hassan and other musicians now perform mainly at wedding parties.
"As Palestinian singers, we try hard to be creative despite the current conditions of the siege," Hassan said. "Our suffering lies in the lack of studios or producers, who support music performances. Our mission as artists is to please our people. Sometimes, we perform a wedding party for a resident whose brother, for example, happened to be killed by the Israeli occupation a few months earlier."
Another factor weighing on the musicians' work is Hamas, which has confined music mostly to wedding parties held — like Zumlot's — in the street.
According to Hassan, Hamas' own Islamist doctrine does not encourage music, but the party has not sought to ban all performances.
"They [Hamas] have some beliefs and values that disagree with music, but they have not prevented the people from having pleasure," Hassan said. "However, they have imposed some restrictions."
Those who wish to hold a pre-wedding party for males in the street must first get permission from the local authorities. And, according to Hassan, performances can only begin after the evening prayer — at about 9:30pm — and must finish by midnight.
"So the groom whose party might cost him a few thousand shekels [more than a thousand dollars] cannot enjoy such a special night properly," Hassan said.
An outlet for stressed residents
"This is a unique wedding party because there are a dozen singers. I attend such parties to listen to music, have fun, relax and forget about the situation here," Muhammad al Haw, a smiling young man studying to be a medical secretary, told The Electronic Intifada as he attended Zumlot's party.
As he spoke, an Egyptian song was performed by Gaza singer Ahmad al Bayrouti, who is renowned for bringing the popular Egyptian singing style to Gaza in the 1990s.
Al Haw is a resident of Jabaliya's al Falluja neighborhood which came under intense Israeli attack during Israel's winter 2008-09 invasion.
But whatever joy and distraction such live musical performances provide is not shared by all Gazans. Women never attend the street parties. They have their own separate party the following day in a closed wedding hall rented by the groom. Such parties lack a live band and taped music is played over the sound system.
In most parts of the world, people can enjoy music whenever and wherever possible — in theaters, public halls, in night clubs and in the streets. But because of their current circumstance under Israel's siege, and under an increasingly conservative Islamist regime, wedding parties are becoming one of the only ways for Gazans to enjoy music.
Rami Almeghari is a journalist and university lecturer based in the Gaza Strip.
Tags