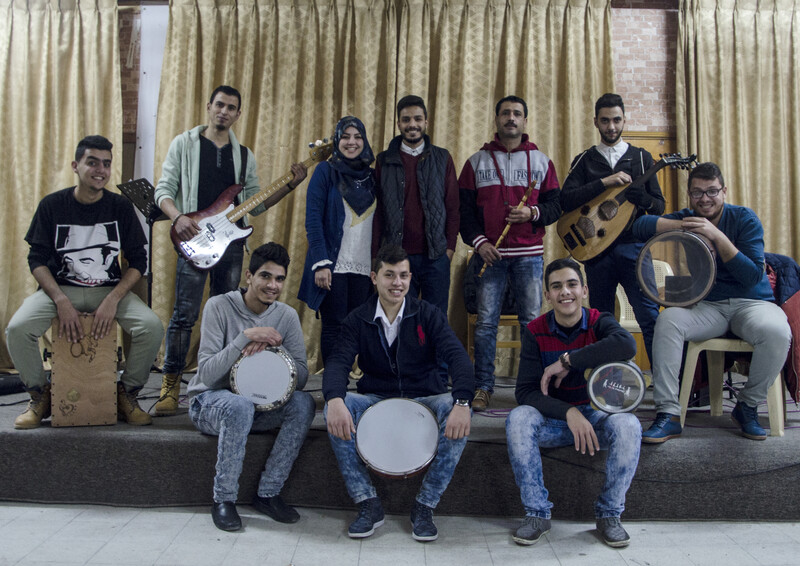 They come from different backgrounds and have vastly different musical experience. But the 13 members of Dawaween, a newly formed band set for only its fourth concert in Gaza on 10 March, are united around one aim: the preservation and popularization of traditional Palestinian music.
"Our music is pretty lively," said Abdelraouf al-Bilbeisi, the band's 30-year-old oud player, who spent the previous nine years performing with a wedding band around the Gaza Strip. "It deserves to be played on stage."
The oud, the fretless Middle Eastern cousin of the European lute, is one inseparable component of this effort, and al-Bilbeisi is rediscovering his love for the instrument after so long on the wedding circuit.
"I stopped enjoying playing," he said, while practicing the traditional tune "Ya Mahairati" — My Beloved Horse — on stage at the Mishal Cultural Centre in Gaza City. "Then I joined Dawaween. Those traditional tunes bring out some beautiful sounds from my oud."
Woman on stage
Al-Bilbeisi is also one of the band's three main singers. Another is Riwan Okasha, 24, a financial management graduate and daughter of locally renowned musician, Atef Okasha. Okasha has sung since the age of three — she had little choice, she said, in a musical family — but never contemplated performing in public.
"I was reluctant to join [Dawaween] at first. Gaza is a conservative society, and it is not common for women to perform on stage," she said.
With her father's and two musician brothers' encouragement, however, she overcame her reluctance. Still, she conceded, her first time on stage was nerve-wracking.
"At first, the audience seemed confused," she recalled. "Then they cheered and encouraged me, clapping loudly. It was really amazing and that's why I am continuing."
But Okasha has also found herself inspired by the the traditional songs the band is playing. Before her interview with The Electronic Intifada, she had been practicing "Ya Raitak Min Nasibi" — I Wish You Were My Destiny — a traditional romantic song. But whether romantic or revolutionary — much folkloric Palestinian music was written during the Mandate period and concerns resistance against the British — it must be told, Okasha said.
"We have a powerful message in our musical heritage about our culture, identity and history."
Rhythms of the past
Along with the oud, traditional music is characterized by its rhythm. The drums here do not simply set a beat or hold the time like in modern music, said Said Shaheen, 22, one of the band's percussionists: rather, "the drum impresses the listener."
Like al-Bilbeisi, Shaheen has come to reconnect with his instrument after joining Dawaween. Having played since he was five, he is now thinking more and more about how traditional rhythms can appeal to modern tastes.
"Today's music has been largely influenced by western music," said Shaheen. "It's a challenge for us to take the traditional music and make it appeal to modern audiences."
Indeed, like the others in the band, Shaheen is keen to reach as large an audience as possible, an idea that was foremost in the mind of band founder, Adel Abdelrahman.
The 35-year-old Egyptian-Palestinian is also a leading member of the Egyptian community in Gaza and the very idea of Dawaween was inspired by the renowned Cairene cultural center, Saqiyat al-Sawi, which hosts everything from poetry readings to puppet theater. The word dawaween translates roughly as "volumes" or "collections" and is used to refer to bodies of literature, poetry or prose.
"When I had the idea for a band," Abdelrahman told The Electronic Intifada, "I wanted to convey the notion that our Palestinian cultural life is a collection of many things, including music. And, as music is the language of peace, I also wanted to send a message of love and peace from Gaza."
The band, which started in early 2015, rapidly grew from four initial members to 13. They rehearse 20 hours a week. Practice takes place at the Mishal center, the same venue Dawaween now performs at every month. The band has to rely on the center to offer rehearsal space free of charge, as well as the Office of the Egyptian Community, a nongovernmental organization, for donations to publicize concerts. Such donations also enabled the band to secure the necessary instruments at the outset.
A little light in a dark place
Band members make little money. Their concerts are ticketed, but prices are minimal.
"We have been offered sponsorship by local bodies in Gaza, including political organizations," said Abdelrahman. "But we've declined. Our mission is only a message of peace and love, a message that shows the world that we Palestinians have a musical cultural identity."
But their concerts also offer a little escape from a dire situation. Consecutive Israeli wars on the occupied coastal territory and a draconian siege approaching its tenth year that blocks all but the minimum of necessities from reaching Palestinians in Gaza have left material and economic devastation and is causing widespread psychological distress.
Unemployment in Gaza is believed the world's highest at 45 percent, according to a 2015 World Bank estimate, with youth unemployment running as high as 60 percent. In this climate, there has been a rise in rates of depression and accompanying drug abuse, as well as an increase in the number of suicides, some of them of a highly public nature, like the recent of case of a man who burnt himself to death on the streets of Khan Younis.
Jamal Abu Al Qumsan is therefore looking forward to the performance. But it represents so much more than simply an evening out.
"We are eager to see something that can inject some joy into our souls. We have been torn apart by consecutive Israeli wars and economic hardships," the Gaza City theater director said.
"I believe that such concerts can help the people of Gaza have some hope amidst the despair."
Rami Almeghari is a journalist and university lecturer based in the Gaza Strip.
Tags