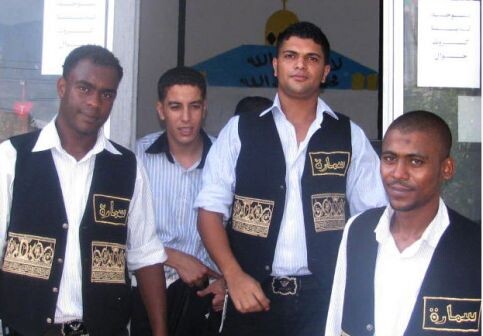 Samara is the name of a new Palestinian-Egyptian dance troupe in the Gaza Strip. The word samara is also the equivalent of "black" in English, and the troupe members chose it because the majority of them are black, and were born, raised and perform in nearby Egypt.

For the past four months, Samara has playing at weddings across the Gaza Strip — their performances characterized by Egyptian-style songs, dances, flutes and drums which differ markedly from the more familiar Palestinian dabke folkloric dance.

The Egyptian folk songs Samara perform often have a simple rhythm and amusing lyrics that are a novelty for Palestinians in Gaza. Typically, Samara performs fadous at parties for bridegrooms in the alleys of Gaza's refugee camps.

Fadous is a style of music performed before a bridegroom joins his bride at the wedding hall. According to legend, it was named after a young man who first took to the streets in Gaza City some 18 years ago, carrying a drum to accompany a bridegroom.

In Egypt, Samara's style of wedding music is an old tradition. Some of the songs, performed at the bridegroom parties, include tracks by well-known Egyptian singers, like Ahmad Adawiya, Methqal Hejazi, Ramadan Albrens, Mahmoud Hussein and others.

"I have been working as a musician for 18 years," explained Samara's leader, Yasir al-Ged, "mainly in the Ein Shams area of Cairo." A few years ago, al-Ged said, "I began forming my own band in Gaza, spreading this style of music in the area." Al-Ged spoke at the band's office in al-Zawayda village in the central Gaza Strip as he prepared to set out for a wedding in Jabalya refugee camp in northern Gaza.

Al-Ged noted some marked differences between Egypt and Gaza. "In Egypt, a band of thirty accompany the bride and the bridegroom on their way to the wedding hall. In an Egyptian wedding party we keep playing for a few hours as the weddings are attended by men and women and they have no problem having us among them."

But in Gaza, the band typically only plays for the newly-married couple for about twenty minutes in wedding halls that include women. "We are not allowed to stay longer due to the conservative nature of Gaza society," al-Ged explained.

And while a band is typically made up of thirty members in Egypt, in Gaza there are only two such fadous bands, each with eight members. Even with these differences, al-Ged says that people in Gaza have welcomed his band to their weddings.

Samara is also a testament to the close proximity between Gaza and Egypt despite the severe restrictions on movement as a result of the international blockade.

Some members of Samara are local Palestinians who have liked what they heard and decided to join. Hassan Abu Mghasib has been with the band for a year and a half. "I like the idea of the band's singing and dance so I wanted to join them," he said. "In the beginning we combined Palestinian folkloric dabke and Egyptian dance styles. I can say that there is a great connection between the two peoples — Gazans and Egyptians — so the people here have welcomed this style."

In one of the male wedding parties in the Nuseirat refugee camp in the central Gaza Strip, al-Ged, Abu Mghassib and their colleagues surprised the audience with their dance style. Whispers could be heard among the guests: "This is really amazing and interesting, it really makes the party very spicy. What an amazing dance!"

Rami Almeghari is a journalist and university lecturer based in the Gaza Strip.