Dozens of Palestinian farmers and fishermen rallied in the Gaza seaport this week, launching several days of actions across the Strip to support boycotts of Israeli agricultural corporations.
Upcoming events will include a march by farmers, ending with the planting of olive trees, near the "buffer zone" around Gaza's boundary with Israel on Saturday.
The protests, organized locally by the Union of Agricultural Work Committees (UAWC), are part of a day of action coordinated globally by UAWC, other Palestinian agricultural organizations, and the Palestinian Boycott, Divestment and Sanctions National Committee.
The effort follows the 28 January announcement that South African fruit importer Karsten Farms had severed its ties with Israeli agricultural exporter and settlement producer Hadiklaim. The precedent-setting victory came after a year of successful campaigning by South Africa's Palestine Solidarity Alliance and BDS South Africa.
It also follows a 30 September day of action coordinated with UAWC by Canadian activists.
"We must boycott Israeli agriculture because these products support settlements and the siege, while we can't even export outside the Gaza Strip," Mourad Qidah, a farmer in Khuzaa, said after the port gathering. "We need to support our own products."
"I'm in danger"
Israel tightly restricts the Gaza Strip's imports and exports, flooding local markets with agricultural and other goods while preventing nearly all Palestinian products from leaving. In 2012, 131,997 truckloads of food and agricultural products entered the Gaza Strip through checkpoints controlled by Israel. Palestinians were only able to export 731, according to data compiled by the UN Office for the Coordination of Humanitarian Affairs.
"Seven years ago, I was able to sail everywhere," said Wajih Ahmed Hammad, a fisherman. "Since the siege, my income has decreased dramatically. Now the situation is very bad for my family. We have a lot of debts, and I'm in danger every time I go to work."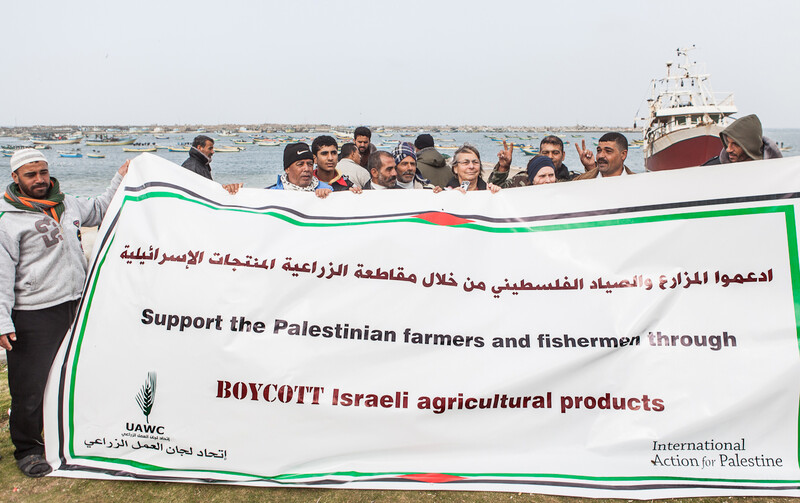 Following its 21 November ceasefire agreement with Palestinian resistance groups, Israel partially eased its restrictions on land and sea, allowing fishing up to six nautical miles from shore and unmechanized farming by small groups as close as 50 meters to the separation barrier.
Previously anyone venturing further than three nautical miles from Gaza's shore, or closer than 300 meters to its boundary with Israel, faced lethal violence from Israeli forces.
But Israeli military attacks on farmers and fishermen have continued despite the agreement.
"Farmers and fishermen suffer a lot from Israel's siege and its incursions at sea and along the separation barrier," Qudih said. "None of us can work freely."
In January 2013 alone, Gaza's Palestinian Centre for Human Rights (PCHR) documented twelve attacks on fishermen by Israeli gunships. Two civilians were killed, and ten wounded, by Israeli gunfire near the separation barrier. These included a two-year-old girl wounded on 19 January, when Israeli troops fired on agricultural lands east of Wadi al-Salqa ("Weekly report on Israeli human rights violations in the occupied Palestinian territory," 23 January 2013).
Attacks "without a pause"
"The ongoing attacks continue, despite all efforts to enforce the ceasefire," said Khalil Shaheen, director of PCHR's economic and social rights unit. "Israel's massive violations of Palestinian human rights have continued without a pause."
"Boycotting Israeli agriculture is important for us because the Israeli occupation forces have aimed, for a long time, to destroy Palestinian agriculture in the Gaza Strip," Sa'd Eddin Sha'ban Ziada of UAWC said.
As coordinator of UAWC's Gaza Strip field agricultural committees, Ziada works with local groups of farmers and fishermen throughout the territory.
"The Israelis aim to make the Palestinian market dependent on Israeli products, especially in the agricultural sector," he said. "This is why they insist on the destruction of Palestinian lands."
Referring to this week's events, he added, "We aim to send a call and an appeal to the free people in the rest of the world to demand that the Israeli occupation end its policies against Palestinians, and also to make their governments, in their countries, change the way they behave regarding the Israeli occupation of Palestinian lands. We want to force Israel to respect the human rights of Palestinians."
Joe Catron is a US activist in Gaza, Palestine. He works with the Union of Agricultural Work Committees and other Palestinian groups and international solidarity networks, particularly in support of the boycott, divestment and sanctions and prisoners' movements. He blogs at joecatron.wordpress.com and can be followed on Twitter @jncatron.
Tags