Activists are gearing up for a day of action on 9 February that will target Israeli agricultural export companies such as Mehadrin and Hadakalim over their role in Israeli settlements and the dispossession of Palestinian farmers.
In a statement titled "Farming Injustice" released earlier this month, all major Palestinian agricultural organizations called for "the launching of worldwide campaigns on 9 February against Israeli agricultural export corporations in light of their deep complicity in Israel's ongoing violations of international law and Palestinian human rights."
Campaigners, trade unionists and non-governmental organizations across Europe are planning demonstrations for the day of action, many of which will aim to pressure more retailers to join the UK Co-operative supermarket chain in pledging not to trade with any company operating in settlements.
Agrexco, formerly Israel's largest agricultural export company, went into liquidation in 2011 following a financial crisis which was partly caused by the campaign against the company that took place across more than a dozen European countries. The Agrexco brand is now being used by the Bickel Group, although export volumes seem to remain fairly low. 
Research unveils settlement links
Researchers from Corporate Watch are currently in Palestine conducting research into corporate complicity with Israeli apartheid. The group is publishing its findings at its website CorporateOccupation.org.
The Israeli company that has taken over most of Agrexco's share of the agriculture export market is Mehadrin, which is known to operate and export from a number of settlements in the Jordan Valley. New Corporate Watch research shows that Mehadrin continues to operate in an illegal settlement called Beqa'ot in the Jordan Valley.
Researchers found a warehouse (pictured below) full of Mehadrin packaging marked "Produce of Israel," suggesting that Mehadrin routinely misleads the European supermarkets that it supplies about the origin of its settlement produce.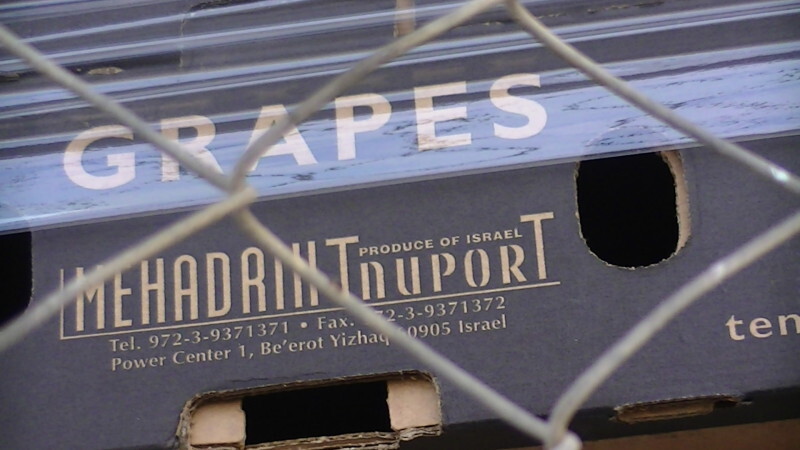 Earlier Corporate Watch research had shown that Palestinians forced to work in packing houses controlled by Mehadrin are paid as little as 56 shekels ($15) per day. With annual revenue of more than 1 billion shekels ($269 million), Mehadrin is a leading distributor of the Jaffa brand of citrus fruit, and operates subsidiaries and warehouses in the UK, Netherlands, Switzerland, Sweden and the US.
One other company that has expanded its business in the wake of Agrexco's collapse is Hishtil, a plant nurseries and fresh produce company with partner projects in Italy, Turkey, South Africa, France and elsewhere. Corporate Watch have published photos showing Hishtil operations in the illegal settlements of Almog and Mehola in the Jordan Valley. 
Corporate Watch has also obtained proof that EDOM, a partly British-owned agricultural export company, is still exporting fresh produce from the illegal settlement of Tomer. EDOM, which supplies UK supermarkets including Waitrose and Sainsbury's, had previously pledged that the company would no longer export from settlements. New photographic evidence proves this was an empty promise.
Settlements destroy lives
In its new report "Feasting on Hunger", Palestinian human rights organization Al Haq calls on states "to comply with their customary international obligations, by banning produce originating from Israeli settlements." The report focuses on exports from the Jordan Valley and showed that a large proportion of total Israeli exports of fresh produce are grown in settlements and that as many as 60 percent of the illegal settlements in the Jordan Valley are financially dependent on the agricultural produce exports.
Starting on 9 February, campaigns aimed at ending trade with such companies can hopefully become an effective form of solidarity with Palestinian farmers resisting occupation and colonization. 
Companies such as Mehadrin, EDOM and Hishtil that are operating in and exporting from illegal settlements play a key role in sustaining illegal settlements and encouraging their expansion. In their call for action, Palestinian farming unions explain that Israeli agricultural companies also play a key role in the destruction of Palestinian agriculture:
Agriculture is a vital part of the Palestinian economy and national heritage, yet Palestinian farmers are being displaced from their lands and prevented from accessing it. Israel systematically exploits Palestinian natural resources in violation of international law and implements a range of restrictions on Palestinian agriculture in the occupied West Bank and Gaza Strip, while allowing Israeli agricultural corporations to profit from Israel's illegal settlement enterprise …

… Israeli agricultural export companies are at the heart of Israel's system of domination over the Palestinian people. They are an integral component of the ongoing process of colonisation and environmental destruction of Palestinian land, the destruction of Palestinian agriculture, the theft of water, and the abuse of Palestinian workers' rights, including child laborers.
Tags