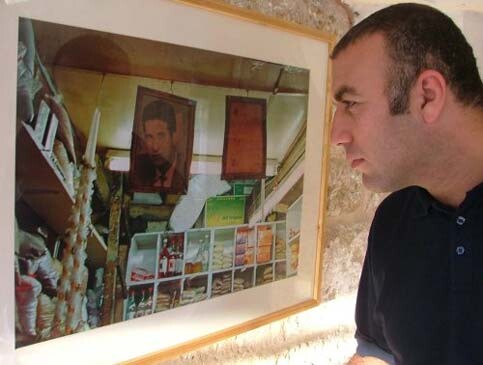 Mr. Alain Rémy, the French Consul General in Jerusalem, and Moein Sadeq, the deputy general of the Ministry of Tourism and Antiquity (

MTA

) joined many people, including children, to gather under fluttering Palestinian and French flags at the door of the little museum of Qasr Albasha in the old city of Gaza.

They gathered not for politics, but to celebrate the new exhibition, "Fathers," by the Gazan artist Taysir Batniji, hosted at the museum under the patronage of the French Cultural Centre (CCF) and the MTA.

The exhibition consists of 32 photographs of portraits of fathers that Batniji found hanging in various offices, stores, workshops, restaurants, cafes, and supermarkets in Gaza.

Batniji said that he admired the portraits of fathers hung by their sons in many stores in Gaza. He said that the act of hanging pictures is a part of the Palestinian and Arab culture in which sons reflect their faith and pride in their fathers.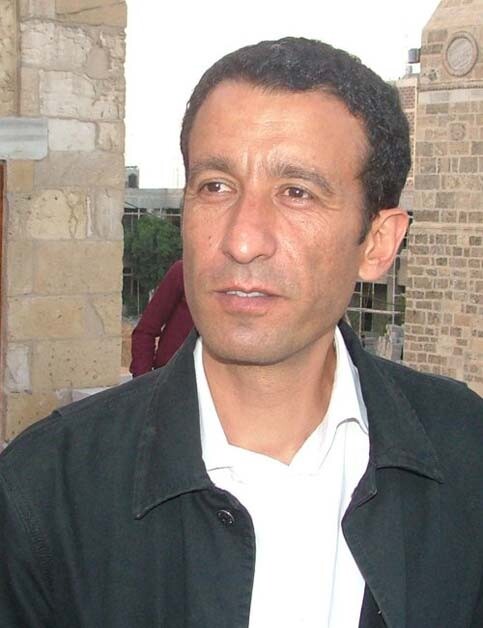 Batniji's photographs highlighted the contradictions and harmony projected by the photographs within the stores, in compositions that were notable both for their variety and for their similarity to one another.

For example, contradiction was obvious in the old pictures of fathers hanging in modern offices and stores. There was variety in Batniji's compositions, as he highlighted the portraits of the fathers from different angles and perspectives.

The portraits of fathers were themselves quite different from picture to picture - some were black and white, some color photographs, while others were hand-drawn and colored. In addition, some fathers wore modern suits and ties while others dressed in traditional Palestinian clothes.

The harmony in the pieces was spontaneously formed by the "unconscious compositions" between the pictures themselves and the goods and other things around, said Batniji. These "unconscious compositions" appear in the vertical and horizontal lines which were formed by shelves, ceramics, goods and antiquities.

The unconscious compositions were also obvious in several pictures in which fathers' portraits are surrounded by licenses and official certificates of permission to operate. Other portraits were hung close to pictures of historical leaders such as Yasser Arafat, Gamal Abdul Nasser and Sheikh Ahmed Yassin.

Batniji told WAFA that his exhibition carries several messages and meanings. "It is a kind of relation between the existence and the absence, the past and present, and the special relation between the private nature of the father and the public nature of stores."

He added that he admires the "unconscious compositions" in the work of US artist Walker Evans, in which beauty and meaning is created outside of formal protocol.

Batniji said that he deliberately focused on the beauty of the compositions inside old stores in Gaza. "We live in these days, a distorted and wounded life. My nostalgia and my admiration for originality are points that inspired me to take these pictures."

The French Consul General in Jerusalem praised the people who attended the exhibition and mentioned that the presence of Palestinian families is a sign of the future of French-Palestinian cooperation with new generations.

Mr. Rémy told WAFA that the CCF supports cultural and artistic activities. He asserted that as long as the works are creative and skillful, of literary and artistic value, the CCF will continue its support of Palestinian cultural activities despite the recent attacks on aid.

The director general of MAT, Moein Sadeq, praised French support for the Palestinian artistic works and the tourism and antiquities sector ten years ago.

One of the visitors, Samah Sheikhdeeb, said she liked the idea of the exhibition. But, she added that she noticed that the portraits of the fathers in the show reflected that they only are from the bourgeois class.

"These pictures are of portraits inside stores and offices, and among goods. For owners of capital. What about pictures inside houses, and of ordinary people?" she wondered. She added that there are some compositions she had not yet seen.

Talat Assad, one of the visitors, said that Batniji drew his eye to an everyday subject in a different way. "Every day I used to see the portraits of the fathers, but it was something normal, but Batniji showed them in a different light, from a different angle, which is great," he said.

Assad added that the organizing of the exhibition at this time is important, as people in Gaza live in an environment of anxiety and tension. "We need something to change the atmosphere of tension, and to reactivate our humanity and our feelings of beauty," he said.

Sami Abu Salem lives in Jabalia Refugee Camp and works as an English news and features writer at the Palestine News Agency (WAFA). This article is reprinted by permission from WAFA. He has also worked at the International Press Center of the Palestinian Authority State Information Service, and works as a freelance writer for local newspapers, focusing on literature and arts.

Related Links