This article originally appeared in the Pulse of the Twin Cities, a Minnesotan metro weekly newspaper with a readership of 100,000, on 31 October 2001. The article has been slightly re-edited for clarity. Captions under the colour photos have been rewritten for this version of the article.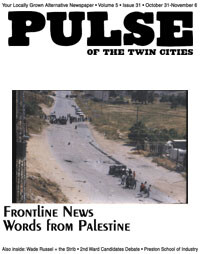 Assassination history
On Wed., Oct. 17, gunmen from the Popular Front for the Liberation of Palestine (PFLP) assassinated far-right Israeli cabinet member Rehavam Ze'evi.
Although his official post was minister of tourism, Ze'evi was better known for his belief that Palestinians should be removed from the West Bank and Gaza, and for his founding of the Israeli Moledet party in 1988, which advocates transfering the Palestinian population to Jordan. Ze'evi was most recently infamous last July when he publically described Palestinians as 'lice' and 'cancer.' According to the text of more than one affidavit in the extensive files of local human rights organizations, the groups of Israeli settlers that regularly rampage through Palestinian villages in the West Bank often echo Ze'evi's ideology�chanting, while setting Palestinian property on fire, 'Tomorrow you will be dead or in Jordan.'
The PFLP claimed responsibility for killing Ze'evi, as a response to the assassination of their party secretary general, Abu Ali Mustafa, on Aug. 27. Of course, the decision to assassinate Abu Ali would have been made by the cabinet to which Ze'evi belonged.
Abu Ali Mustafa advocated a 'commitment to the creation of a democratic, pluralist state where the basic rights of all people regardless of race, gender or religion are affirmed and protected.' The first step to attaining this goal, he said, was an to end the 34-year-old Israeli military occupation of Palestinian land.
Traditionally, the PFLP's vision for peace was firmly based on U.N. Security Council Resolution 194 (affirming the right of refugees to return) and Resolution 181 (affirming the right of Palestinians to an independent state).
Abu Ali was killed when U.S.-made Israeli combat helicopters rocketed his office, located in a residential building, an attack which injured four employees and a female resident of the building. The number of Palestinians killed by Israel's ongoing policy of assassination has reached 58, a figure that includes 39 civilians, 2 policemen, and 17 bystanders. Another 24 Palestinian activists have been killed in mysterious explosions.
Following Ze'evi's assassination on Oct. 17, Israel invaded multiple areas under Palestinian control. More than 50 Palestinians were killed and hundreds were injured in the first 11 days. The death toll doesn't really capture the wider horrors that take place out of sight at the ubiquitous checkpoints.
Rihab Nawfal, 30, a woman in labor, was held at the Al-Khader checkpoint en route to the hospital in nearby Bethlehem�both she and her child died. Since the beginning of the Intifada just over a year ago, more than 25 Palestinians have died after being denied access to medical treatment�in blatant violation of the Fourth Geneva Convention. Israel's usual response to questions about these events is to either deny they happened or, in the case of better-documented examples, cite unverifiable 'security reasons' and express regret.
One of the first acts of escalation following Ze'evi's assassination took place the next day, in the northern West Bank city of Jenin. According to the Palestinian Center for Human Rights, Israeli troops entered the city at approximately 07:00. In the course of the invasion, troops shelled a primary school for girls in the Al-Almania neighborhood, killing Riham Nabil Ibrahim Abu El-Ward, 10, with a medium caliber bullet in the head, and seriously wounding Samar Yousef Suleit, 11, with shrapnel from a heavy caliber bullet in the neck.
Despite growing condemnation by the European Union and the United Nations and repeated requests by the United States that Israeli forces pull out of the areas they re-occupied, Israel intensified its seige on Palestinian controlled areas and the body count of Palestinian civilians mounted.
In Bethlehem alone, as of Oct. 29, at least 22 Palestinians had been killed and another 100 injured. The invasion left the little town of Bethlehem trashed. For the first time in history, the Church of the Nativity was damaged in an attack.
In a series of telephone conversations, Pulse interviewed Palestinian civilians in the wake of the trauma.
As a refugee in Azza
We spoke with Ahmed, a teacher living in Azza Refugee Camp, which had seen some of the most intense attacks.
'The morning after Ze'evi's assassination, Israeli tanks started to shell the camps and the snipers occupied many buildings surrounding the camp. The soldiers began shooting everywhere, toward the houses, towards the people.'
'Of the 1,500 people in the camp, 25 were injured, 10 seriously. Three people are dead. An ambulance driver and two doctors were shot and injured as they tried to assist the wounded.'
The Israeli attack had the entire camp population crouching on the floors of their homes in terror while Israeli troops shelled the camp for ten straight days. Ahmed told us that his family was moved to his cousin's house to a room where bullets were not regularly entering the windows and walls. Fifteen people share this room.
'We have no electricity and no water. My mother and my father were trapped for four days inside a room by a sniper, unable to move, with just one botttle of water to drink.'
'Sharon told the media that 'We killed 17 terrorists in Bethlehem.' Fuck him. The people here in the camp are terrorists? My mother and father crouching on the floor for four days were terrorists? The five women killed in Beit Jala, Ayda refugee camp, and Al-Khader were all terrorists? And the deaf person shot dead because he couldn't hear what was going on was a terrorist? Sharon is the terrorist.'
Ahmed said of his students, 'I can see the anger in their faces, I can see the fear.'
International Observations
Since the beginning of the Al-Aqsa Intifada, the Palestinian Authority has consistently called for international protection for the Palestinian people. Despite similar calls from Amnesty International, Human Rights Watch, and even U.N. human rights rapporteur Mary Robinson, Israel has stubbornly refused to allow an international observer force and the United States has vetoed any moves toward this in the United Nations.
During the past year, both official and unofficial international delegations have visited the occupied Palestinian territories on fact finding missions. French citizens Julienne Salangue and his father, Pierre-Ives, are two such individuals. Last Fri., Oct. 19, in the early hours of the morning, they witnessed the Israeli raid that followed Ze'evi's assassination.
'When my father and I arrived in Ayda refugee camp, the situation was very, very difficult. Nobody could get in from outside but we decided to try. We were inside a friend's house. Suddenly, one shot�only one shot�rang out, from an Israeli sniper stationed on top of an observation point on a building. When I heard this shooting I knew it was aimed at us. My father was near me and I shouted, 'Is it you?' and he told me, 'Yes, it's me.'
'He was lying on the ground, with his hands clasped to his abdomen. There were some children with us in that room. They tried to escape and two were shot, one in the leg, one in the shoulder. The kids were 10 and 14 years old. We couldn't get back down the stairs as they were outside the house, where the sniper was shooting at everything that moved.
'Worried about my father, I tried to run down. A young man was running up and we faced each other on the stairs for a moment. Suddenly, he was shot in the head in front of me. He had no gun, no weapon, nothing. He was just coming because the two children were from his family.
'We managed to get the children out, I don't know how, but we did. But we couldn't move my father and he couldn't walk. It was impossible to take him down the stairs. We had to wait until an ambulance came but even they had to take him very quickly because the Israelis didn't stop shooting.
'I have not been able to sleep since last Friday. I can't stop thinking about what has happened and how the young man was killed. Scenes like that were the same for many, many people in the camp.'
Human Shields
Since Israel's rampage in the wake of Ze'evi's death, scenes like those witnessed in the Bethlehem area have been witnessed across the West Bank and Gaza. The majority of those killed and injured were not Palestinian gunmen, but women and children.
Bethlehem University was hit with 52 missiles. The French Hospital maternity ward was severely shelled, necessitating an emergency transfer of newborns to another area. In the Bab Al-Zizaq area, Israeli special forces entered a civilian building and held residents as human shields while firing on Palestinians.
This is not the first time that Palestinian civilians were used by the Israeli miltary as human shields. Israeli troops in both this increased occupation and the current Intifada have been known to tie Palestinians to the hoods of their jeeps to discourage stone throwers.
On Aug. 28, the day after Abu Ali Mustafa's assassination, Israeli forces entered Beit Jala and installed snipers on the rooftop of a Lutheran church, home to 45 orphans aged 6�17 years old.
The pastor of the church recalls, 'I saw an Israeli soldier peeking through the window and banging it. When I approached him, he demanded that I give him the key to the guest house. I told the soldier that this is a church and that he had no right to come in. The soldier quickly replied that this issue was irrelevant and that I should not argue with him. I then told him that there are children here. To that he said, 'I know'.'
In stark contrast to the forcible use of civilians as human shields, this past year has seen hundreds of international pacifists traveling to the occupied Palestinian territories to voluntarily act as human shields in the hope of stopping Israel's war against Palestinian civilians.
International human shields have moved into Palestinians residential areas and civilian homes such as in the village of Beit Jala during intense Israeli shooting and shelling of these areas with tanks and Apache helicopters.
Brian Wood, an American citizen, came to Bethlehem one year ago. 'Beit Jala,' he says, 'has been shelled countless times this past year from the Israeli settlement of Gilo that towers over it.'
Funeral to Funeral
Brian told us the story of a friend of his, who could not tell her own story because she was exhausted with grief.
On Sat., Oct. 20, her 18-year-old cousin Johnny was shot dead while standing outside the Church of the Nativity in Manger Square.
Brian explains that it it was additionally difficult for his friend to tell her story as she had lost her father in 1988, during the first Intifada. He had been attending a funeral and, after paying his respects to the family, stopped on his way home to pick up some groceries. There was a demonstration on the street outside which he joined on his way, groceries in hand. Suddenly, he was shot.
The Israeli soldiers took her father's body, not to a hospital, but to an Israeli military headquarters where he was held for several hours.
Then he was taken to an Israeli hospital, where he died. His family was later sent the medical bill.
None of the family was allowed to attend the funeral. Only her father's killers, the Israeli army, were in attendance.
Under siege this last week in their homes, Johnny's family was again unable to attend the funeral of a family member, for her, a terrible flashback to the circumstances of her father's killing.
Massacre in Beit Reema
Israeli 'retaliation' for Ze'evi's killing in Beit Reema, a Palestinian-controlled village north of Ramallah, was no less severe. In a town of 1,000 people, guarded by only eight Palestinian policemen, massive Israeli forces conducted a surprise attack in the early morning hours of Oct. 25.
The invasion began at 1:15 a.m. with Apache helicopters, according to Mustafa Barghouti, president of the Union of Palestinian Medical Relief Committees.
'The eight policemen ran for their lives, trying to hide under the olive trees, with the helicopters hunting them down,' he said.
'Meanwhile, the remainder of the Israeli invading force, in the region of 900 soldiers, moved in on the town. In all, 32 vehicles were involved in the assualt, including 20 tanks,' Barghouti said.
Israeli forces ordered a curfew on the village and sealed off access to the town.
'We heard about the situation,' said Barghouti. 'We sent ambulances, which arrived at the entrance of the village at 3:30 a.m.'
The ambulances were not allowed to pass.
'The soldiers would look at the injured people from time to time,' said Barghouti, 'but would do nothing for them,' he said.
One injured man was handcuffed after being shot in the chest.
'They tied his legs,' said Barghouti. 'No medical aid was given to him until 9:15 in the morning, eight hours later,' he said.
Only at 8 a.m. did the Israeli army allow one Israeli ambulance to pick up the wounded from the olive grove.
According to a Palestinian NGO, LAW, 10 were killed, dozens were arrested, some are missing and others are still detained.
Digging for rationale
The invasion took place under the pretense of ferreting out the assassins of Ze'evi. Israel claims that three of the homes destroyed during the invasion were owned by wanted fugitives.
'None of these houses were owned by the people they were looking for,' laughs Barghouti. 'They belonged to their grandfather, or other relatives.'
'Even when they found a house that belonged to a person they were looking for, soldiers demolished the homes of the relatives in some cases, which was much larger and recently built.'
'Such a punitive, destructive act '[is] a crime,' said Barghouti, 'an unacceptable act of collective punishment. In Beit Reema, the Israeli army acted as judge, jury, and executioner.'
As the invasion began and continued, journalists were also prevented from entering the village. One journalist attempted to bypass the closure, was discovered by the Israeli soldiers, and severely beaten.
In bondage
Faten Elwan is a 21-year-old Palestinian university journalism graduate with an all-star resume. This year she has worked for ABC, Nile TV and currently works as a producer at the Yemeni satellite channel.
In times of harsh closure, said Faten, it can take hours for journalists to pass through all the successive checkpoints, if they are allowed. By the time we arrive, the incident can be over and there are no opportunities to take photos, there is no documentation.
'The checkpoints, the closure, all the Israeli measures really affect our lives. Now it's so much worse. With the winter, it is freezing and it is so painful to see all the people lined up, standing at the checkpoints, waiting to see if the soldier will let them pass in order that they can go to school or to work.'
'My mother has to cross to work, my brother to school. My family's home has been shelled and shot up so many times�we live near the Israeli settlement�that we have moved downstairs from the upper floors in order to get away from the danger. And everyone is always so afraid at the checkpoints. 'Maybe they will open fire suddenly, for no reason,' people think. You never know if you or your family will return home alive or not at the end of the day.
Reflecting on the current situation, Faten sighs and tells us, 'It's really painful to see a kid, a six-year-old, dreaming of becoming a martyr or skipping out of school to go throw rocks at tanks. This is meaningful, but it's not going to make any difference. People are putting their life on the edge, just to try make people around the world understand what is going on.'
A struggle for voice
German-Palestinian Yasmin Khayal, who came to study in the international student program at Birzeit University last year, has had to abandon her studies in the wake of the Intifada and accompanying Israeli siege.
'People say the Intifada is an uprising when in fact it is a resistance to the oppression of the Palestinian people, which has gone on for over 53 years now. It is a struggle against an apartheid regime maintained by the Israeli governement.
'It is a struggle for basic human rights such as the freedom of movement, the freedom to go to school or to work.
'This last week has been hell. I am losing hope. The violence robs all your energy. The world isn't paying attention. It's all about anthrax! What is happening to human beings in Palestine is not considered to be an issue.
'It's not because I am a Palestinian that I care. It's because I am a human being,' Yasmin said.
Conclusion
For Palestinians living at their own Israeli-occupied ground zero, the kind of collective experience of national suffering that Americans were introduced to on September 11th is nothing new.
The difference is that those responsible for manmade Palestinian suffering are not allegedly hiding in caves in an unknown location in Afghanistan. Rather, they are sitting at their own table in the United Nations, shaking hands with U.S. government officials and receiving billions of dollars of aid.
This aid is not used to end hunger, or improve educational opportunities and thus sow hope in a hopeless situation. It is used to maintain a brutal military occupation and enable the further colonization of the land.
In fact, as the horrific events described in this article were taking place, the United States renewed its annual aid to Israel — more than $3 billion — even while Israel ignored U.S. requests to pull out of the invaded areas.
For years, Palestinian civilians have been picking up missile fragments from their backyards that say MADE IN AMERICA on them.
Being ignorant of this ongoing war that we are helping Israel to carry out is not merely a matter of our neglect. With weapons we supply, Israel kills in our name.
Now that we are understanding to new levels the meaning of collective national suffering, it is finally time that we address those instances where we have not just permitted, but actually aided and abetted that same suffering around the world.
It is time that we paid attention.
Tzaporah Ryter is a Minneapolis-based American-Jewish activist who lived in the occupied Palestinian territories during the current Intifada. Nigel Parry is a St. Paul-based photojournalist who worked at the Palestinian university of Birzeit from 1994-1998, and currently coordinates The Electronic Intifada, a Palestinian media project. Jef Stout is Managing Editor of Pulse.