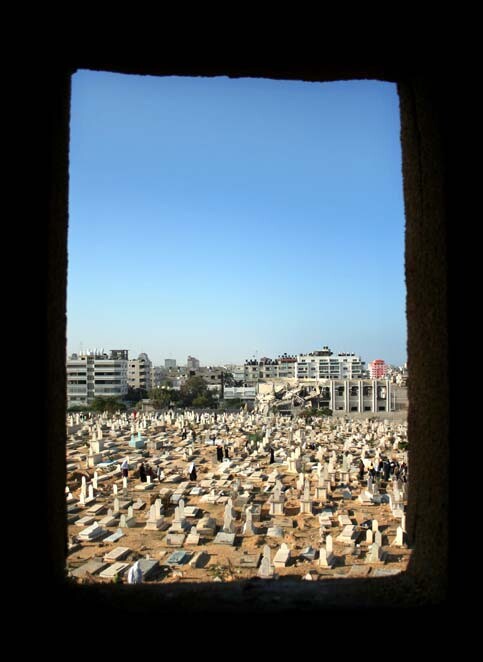 8 April 2006—Last Saturday, crowds estimated at tens of thousands marched in the funeral procession of Eyad Abulineen, a Palestinian resistance fighter of Rafah, his 7-year old son Belal and four other people, who were all killed by Israeli missiles on Friday.
Prior to heading to the Rafah cemetery east of the city, the crowd said a last farewell to their martyrs in a local mosque. The mosque did not have the capacity for so many mourners, forcing hundreds of them to perform the funeral rituals at a nearby UNRWA school.
Chanting angry slogans, with resistance fighters firing into the air, the crowd marched toward the cemetery, where the martyrs were laid to rest.
In the city today, the sadness is overwhelming in the city streets; bystanders appear to be angry, shopkeepers stand in front of their stores and women speak in hushed voices full of the loss of these friends and countrymen.

Despite relatively hot weather and the crowded streets, the marchers kept walking to the cemetery, where some thoughtful locals provided water. In the cemetery itself, other mourners waiting at different spots around the cemetery to bury the six martyrs joined the marchers.
One of these spots is the joint tombstone for Eyad and his son Belal, as many of their relatives and friends, looked on sadly as their coffins were laid to rest.
Sighing twice before speaking, Eyad's uncle, Mohammad Abdelqader Abulineen, 48, said: "Eyad was an extraordinary man; he was very kind, very gentle and helpful. He used to be loved by everybody who knows him. He was really more than a human. But he had to meet his destiny and that's Allah's (God) will which we should accept."
Abulineen told the grieving crowd: "After 6:00pm on Friday, Eyad went with his family, his wife and mother, and two kids, to visit a relative. On their way back home from that visit, Eyad dropped his wife and mother, while his two kids Mohammad, 14, and Belal, 7, stayed in the car.
"While driving along the road, someone on the street shouted at Eyad that Israeli warplanes were hovering in the sky. Abruptly, an Israeli missile hit the car, and as 14-year old Mohammad rushed to escape, the car burst into flames, killing Eyad and his 7-year old son."
A close friend of Eyad's, calling himself "KHK", voiced great appreciation of Eyad's traits, describing him as a lovely person, non-extremist and good-hearted.
"Everybody in the neighborhood loved Eyad. We all lost him", KH.K said.
Eyad's brother-in-law, who accompanied the group to the house and service of Eyad and Belal, expressed the same sentiments. He says that "Eyad had no foes at all, everybody respected him".
Eyad's brother-in-law expected Eyad's other son, Mohammad, who was injured due to the Israeli air shelling of Eyad's car, to be at home within a few hours of the funeral, after he was brought from hospital.
A long row of locals offered condolences to the family of Abulineen, who was forced out by the Israeli occupation forces from the Palestinian town of Bashit in 'historical Palestine' [now Israel] in 1948; Mohammad, the wounded child, sat in the front, receiving the condolences, as he was the eldest of Eyad's three children.
"We led our father to his destiny; Belal and myself insisted that we turn to the site to have a look, after we joined our father, mother and grandmother for a family visit," Mohammad, holding a stick beside his injured right leg, says bitterly.
"After we spent about 15 minutes drinking some tea, I got out of the car, waiting for my father to take me, while Belal was sticking to my father's arms, moving the steering wheel. Suddenly, I saw the car on fire and felt as if my leg was destroyed. My brother Belal's little body was torn apart; it's a horrible scene I could not stand."
"My father is a martyr of freedom, I feel I didn't lose him actually, and one like me should follow in the footsteps of his (or) her father, until freedom is attained and Palestine is returned."
With these words Mohammad ended his witness's testimonial to the latest Israeli extrajudicial assassination of six Palestinians including a child, and which wounded about 16 others in the southern Gaza Strip city of Rafah.
According to the Israeli Center for Human Rights in the Occupied Palestinian Territories (B'tselem), the principle of proportionality constitutes one of the central pillars of international humanitarian law.
This principle stipulates that such an extrajudicial attack is forbidden, even when directed against a legitimate military target, if it is known that the attack is liable to result in injury to civilians disproportionate to the military benefit anticipated from the attack.
Rami Almeghari is currently a Senior Translator at the Translation Department of the Gaza-based State Information Service (SIS) and former Editor in Chief of the SIS-linked International Press Center's English site.
Related Links