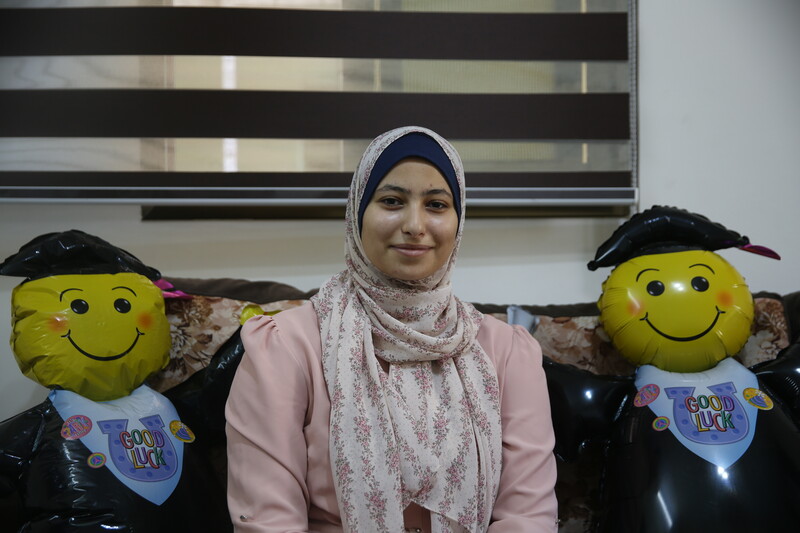 This year more than 80,000 students in the occupied Gaza Strip and West Bank took the tawjihi secondary school exams in July.
Alone, these exams are tough enough. There is huge pressure to perform well and get a score high enough to secure whatever desired further education course a student wishes to pursue.
Add in military occupation, a global pandemic, and then, just for teenagers in Gaza, nearly 15 years of Israeli siege and a recent Israeli military assault that terrorized them (and two million others), and the scale of the challenge students in Gaza faced this year is clear.
Sama Subeih, 18, from Gaza City received an outstanding score of 99.1 percent. Hoping to study medicine, she needed to score over 95.
But her success belies the struggles she overcame to prepare herself. Last year, during the fall semester, she contracted COVID-19. It hit her hard, and for a while she was unable to study.
Isolating from her family also took its toll.
But the real blow came when her home was bombed in an Israeli attack on 12 May during one of the worst nights of Israel's assault on Gaza that month.
"It was a fierce and difficult war," she told the Electronic Intifada. "No one was excluded."
Why her building was targeted she did not know.
"I live in a building with just ordinary citizens. We don't have political ties. But that night, there was a constant drum of missile explosions that made the house shake constantly," she recalled.
"I was trying to study, but it was incredibly difficult. And then we got a call telling us to evacuate the building because it will be destroyed."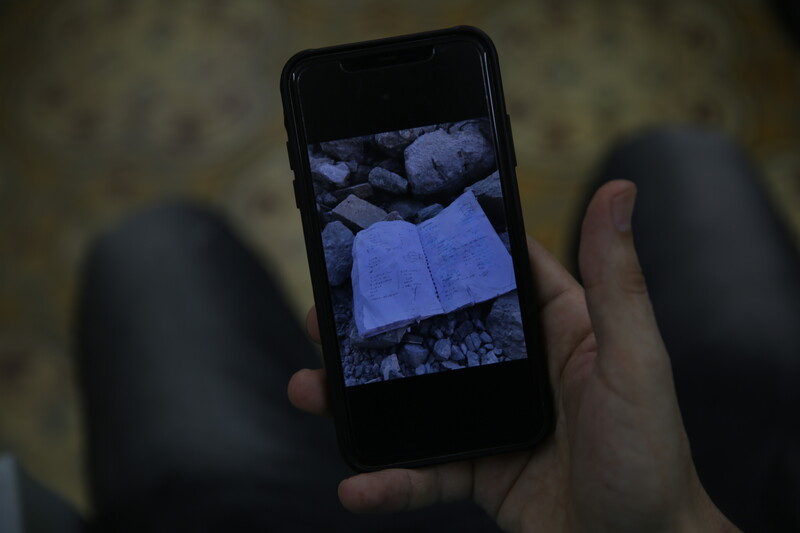 Knowing that her apartment could be destroyed at any moment, Sama knew she had to be prepared. She grabbed a bag with as many of her notes and books as she could.
"I did not think of taking anything except for my books. I tried to fill a bag with everything I needed, but I had to leave behind many of my notes and some books because I couldn't carry them all."
Dhaher, Sama's father and a government employee, said his daughter had been uppermost in his mind throughout an assault that completely disrupted her ability to study. When the building in which the family had an apartment was bombed, the women of the family moved in with his father-in-law elsewhere in Gaza City.
Not until after Israel's 11-day assault ended did he look for a new place for the family to live, and not until then could Sama get back to her studies. But she misses home, she told the Electronic Intifada, and the many happy memories she had there.
"The biggest shock was to lose our home."
A close call
Thousands of students were displaced during the May assault and more than 50 educational facilities were bombed or damaged.
Tasnim Ahel, 18, still suffers vivid flashbacks to the assault.
On the same night that Sama saw her building destroyed, Tasnim almost lost her home too.
She almost lost her life.
"It was a hot night. We could hear the sounds of missiles everywhere around us," Tasnim remembered. On her Facebook page, she told The Electronic Intifada, she had asked her friends to pray for her.
"My father was trying to assure us that we were not in danger, but suddenly the entrance to our apartment building was bombed – the windows shattered and I hit my head."
The dust billowing out from the explosion left the apartment in darkness and as she fumbled around in confusion to find her family, she feared the worst.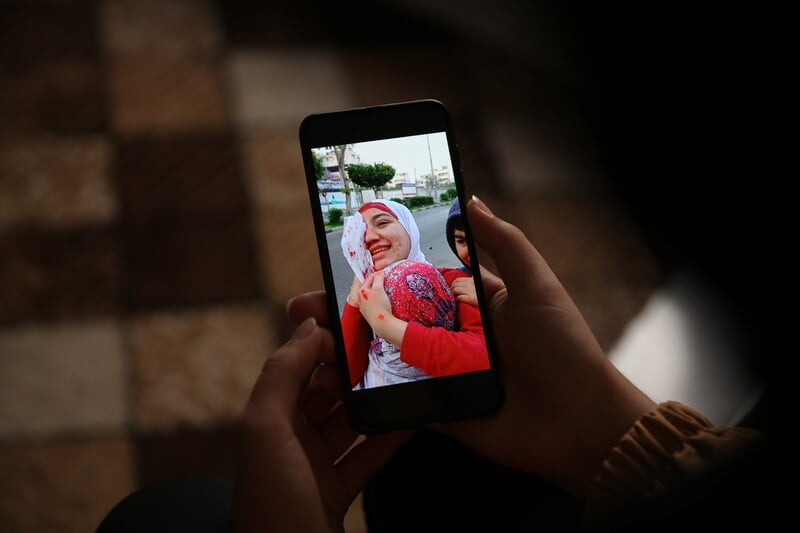 "I saw my father lying on the ground and I thought he was dead. I saw my mother too."
Fortunately, her parents and siblings were not seriously hurt. In fact, only Tasnim herself needed to go to hospital for the shrapnel wounds on her face and head.
It took time. "I was in a lot of pain. I was fatigued," she said about her recovery.
But she also made a decision to study extra hard. She had already lost time. When the COVID pandemic first struck, her building had been quarantined for weeks, as a number of neighbors contracted the virus.
Then she was reduced to studying by what she called a "digital hybrid," taking lessons online whenever there was power. In the aftermath of the Israeli assault, she endured the lingering pain of war as she made final preparations for the exams.
And her determination paid off. Earlier this month she got her results: 94 percent.
Six times the success
The pressure of exams is hard enough with one child in the family. In the Bureij refugee camp in the central Gaza Strip, one family had to endure six times that stress.
The al-Khatib sextuplets all sat their exams this extraordinarily difficult year. They did so through quarantine and war.
They did so in spite of power cuts that saw them enjoy a maximum of 12 hours of electricity a day.
They did so when Gaza's authorities cut Bureij off from the rest of Gaza because of an outbreak of COVID-19 in the camp last October.
One of the three boys, Muhammad, said the quarantine really damaged the siblings psychologically and made them much more anxious about their studies.
But they also had each other, unlike many others. They studied together, taught each other, and divided up tasks according to their strengths, in order to make better use of time limited by the power outages.
It paid off. They all passed. Muhammad scored 95 percent. His sister, Aya, did almost as well, at 92.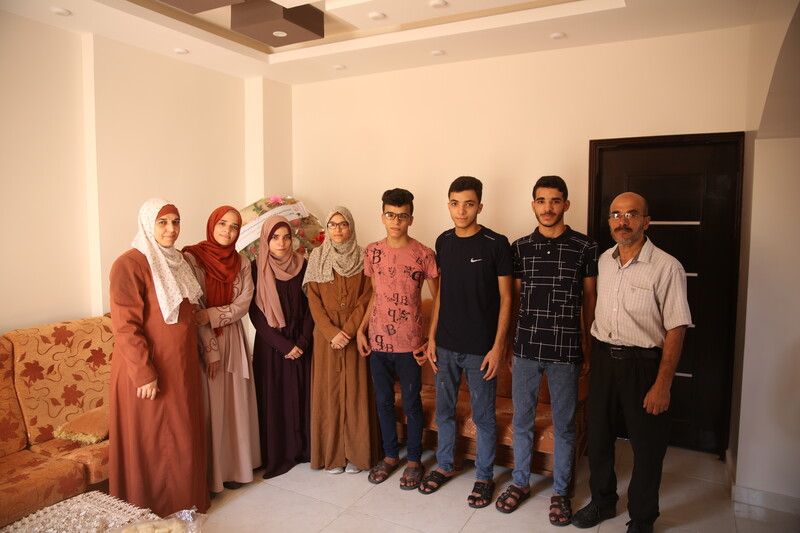 "The best time to study is at night because it is quiet," Aya told The Electronic Intifada. But that was a luxury that power outages did not allow her.
"We were forced to study during daylight hours. There was no alternative. We can use small battery-powered lights [at night], but they are rather dim."
The competition between the siblings was quite strong, spurring them on. And the community was also behind them. Neighbors and elderly folk walking through the street often shared words of encouragement, wishing them success, said Aya. This support increased their determination, even during Israel's assault in May.
"During the war, I stayed busy with my books," said Maryam, who ended up with an 82 percent score. "I didn't go anywhere without them."
But studying during Israel's onslaught was hard. There was so much fear and anxiety, Maryam said.
"We were barely able to review our lessons. We waited for the war to end and be reassured that everyone was fine so that we could go back to our studies again."
Their father, Majdi, a civil servant, said he had been keen for them to focus on their studies during the attack, but was powerless to prevent their attention from wavering.
"They were preoccupied, first with events in Sheikh Jarrah and then the Jerusalem protests," he told The Electronic Intifada. "I couldn't bother them about tawjihi because the political situation was so bad…and then the war on Gaza began."
The mother of the sextuplets, Nahla, now worries about the economic situation going forward. Six successful tawjihi students will mean six potential university students.
"We are very happy with the success of our kids, but also worry about the costs of their studies. Some of them want to study medicine, which is rather expensive."
The family is now applying for scholarships for the sextuplets to ease some of the financial burden.
Ruwaida Amer is a journalist based in Gaza.
Tags