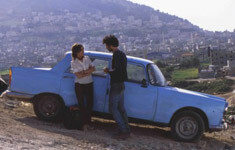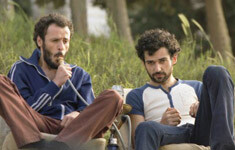 Hani Abu Assad's Paradise Now won the AGICOA's Blue Angel Award for the best European film at the Berlinale last week. The film has been acquired by Warner Independent Pictures in a North American and U.K. rights deal.
Paradise Now is the story of two Palestinian childhood friends who have been recruited for a major operation in Tel Aviv. It centers on what is presumably their final day on earth. They cannot utter a word of their plans to their families. The following day, the two are sent to the border. The bombs have been attached to their bodies in such a way as to make them completely hidden from view. However, the operation does not go according to plan and the two friends lose sight of each other, leaving each one up to their own fate, while struggling with their convictions.
In the tag team of two young Palestinian men, Said and Khaled, Dutch-based Palestinian director Hani Abu-Assad brings an intensely gripping tale of suicide bombing to the Berlin Film Festival. Paradise Now was written by Abu-Assad, Bero Beyer and Pierre Hodgson, and produced by Palestinian, Dutch, French, German and Israeli producers. The story was shot almost entirely in Nablus. The crew had to interrupt work because of shooting or missile attacks.
The last 24 hours of the two childhood friends, played by actors Kais Nashif and Ali Suliman, who are recruited for "a major operation" in Tel Aviv, brings to the fore many of core issues in the Palestinian-Israeli conflict. The film gives voice to the Palestinian condemnation of violence while offering insight into the individuals behind such acts.
The film shows the seeming deception that goes into recruiting a suicide bomber and the emotional trauma that goes with it. The movie also includes the filming of the traditional video in which the would-be "martyrs" explain why they are sacrificing themselves in the armed struggle against occupation, and a scene in which the men are wired up as human bombs. It portrays confused recruits struggling with the justification of armed resistance, and the difference between an Israeli and a Palestinian city.
The operation does not go according to plan and the two friends are forced to reconsider their stances after a woman comes into the picture. She provides the voice of reason about the futility of armed resistance. It is at the point of operation in Israel that Khaled, all along the more enthusiastic of the two, backs down. Said, who had earlier refrained from detonating a bomb inside a bus because a baby girl was inside, is left to go the whole hog. His new target has more soldiers on board.
The film has already taken the first step towards screening in Israel. In Berlin, the Israeli Film Fund announced that it would offer the controversial film the same distribution support typically given to other domestically-produced product when it debuts in Israel.
Related Links
Film review: Ford Transit, Maureen Clare Murphy (30 May 2004)
Film review: Rana's Wedding, Maureen Clare Murphy (29 April 2003)