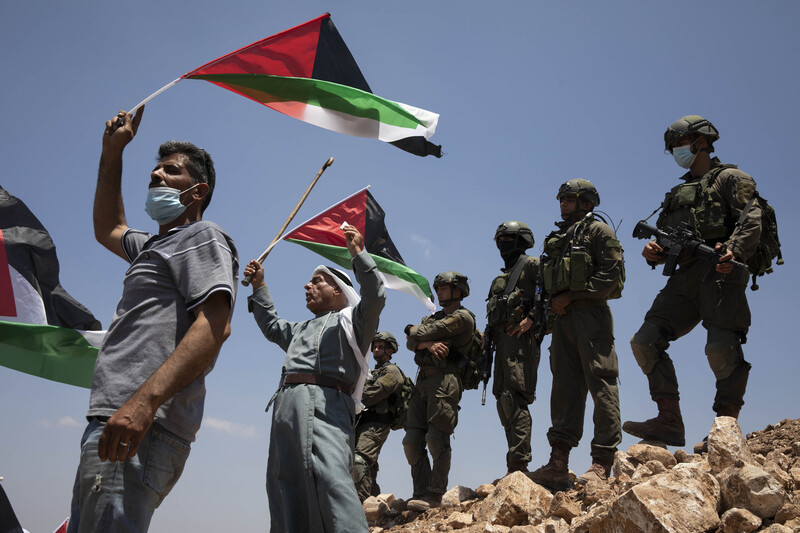 Abdullah Hassan and his father Dahoud wanted to spend a quiet day on their farm. They had not even made it to work by the time their hopes were destroyed.
"We were driving our tractor on the way to our land when a group of armed Israeli settlers with dogs confronted us," Abdullah said.
Dahoud, 67, stepped off the tractor so that he could speak with the settlers. He tried to explain that he was on his way to the family's farm a short distance away.
Sensing the tension in the air, Abdullah started the tractor's engine again. He was going to bring his father back home.
A moment later he heard the sound of gunshots ringing through his ears.
"I turned around and saw my father lying on the floor, covered in blood," Abdullah said. "They shot him in his shoulder at point-blank range."
When Abdullah tried to approach his father, the settlers pointed their guns at both men, yelling at Abdullah that he must not come any closer. After a few minutes, the settlers retreated and Abdullah was able to drive his father to a clinic in Biddya, their hometown in the occupied West Bank.
"My dad is old, he was unarmed," said Abdullah. "There were six or seven settlers versus just two of us. We tried to remain calm and not escalate the situation but they still shot him just because they could."
The attack on the Hassan family occurred on 5 July.
It was by no means an isolated event for the residents of Biddya. A few days earlier, a group of Palestinians was assaulted as they tried to prevent settlers from taking over their land on the outskirts of the town.
"Emboldened"
Indeed, there have been many instances recently during which Israeli settlers have been aggressive toward Palestinians. The violence has taken place at a time when the Israeli government is discussing plans to annex a large part of the occupied West Bank, thereby formalizing settlement activities that violate international law.
A formal announcement on annexation was expected at the beginning of July. Yet the announcement has been postponed by the Israeli government.
"This was the first time my family had such an experience," Abdullah Hassan remarked. "But settlers attacking Palestinians is nothing new. They've been doing it for decades. And there's no doubt that they have become more emboldened recently. They have been given the green light to do whatever they want."
Abdullah intends to file a complaint with the Israeli authorities about the attack on his father. But Abdullah said "I am not holding my breath" for any accountability.
"We don't even know if they'll open an investigation, let alone convict or charge the settler who shot my father," he said. "Israel will never hold the settlers accountable or punish them."
Asira al-Shamaliya can be found to the northeast of Biddya and a short distance from Nablus city. Its residents learned recently that armed settlers were seeking to set up an "outpost."
In Israeli parlance, an outpost is usually an extension of an existing settlement.
All Israeli settlements in the West Bank violate international law. The establishment of outposts breaks Israeli law, too – though in practice they are often subsequently approved by the Israeli state.
The outpost in Asira al-Shamaliya consisted of some caravans placed by two settlers on a hilltop a few hundred meters from an Israeli military station.
The land where the outpost was set up is in Area C, part of the West Bank under full Israeli military and civilian control. However, the land itself is privately owned by Palestinians, according to Hazem Yaseen, mayor of Asira al-Shamaliya.
Yaseen was among dozens of local people who confronted the settlers. When the locals tried to take back their land, a number of Israeli soldiers promptly arrived on the scene.
"The soldiers called in backup, and there ended up being hundreds of soldiers – all to protect these two settlers," Yaseen told The Electronic Intifada.
The soldiers fired tear gas, sound grenades and rubber-coated steel bullets at the villagers. At least three people were shot and wounded, according to Yaseen.
Over the following days, the local people held further protests, trying to prevent the settlers from expanding the outpost.
The Israeli military responded on 4 July by sealing off the surrounding area with boulders.
"New law"
Yaseen recalled how he informed a captain in the Israeli military that the outpost has been established on privately owned land. The captain replied, according to Yaseen: "There's a new law in place now. All of you are not allowed to be here anymore."
The mayor interpreted the phrase "new law" as code for the annexation plan being prepared by the Israeli government.
"It's no coincidence that all of this happened right around the time that Israel was supposed to begin annexing parts of the West Bank," Yaseen said. "The settlers have been let loose on our lands."
By Yaseen's estimates, the closure of the area around the outpost means 1,500 local people cannot access their olive groves.
"Asira al-Shamaliya is famous for its olives and olive oil," he said. "If people can't access their land, how are they supposed to make a living?"
The United Nations monitoring group OCHA has identified 12 attacks against Palestinians by Israeli settlers during the second half of June alone.
OCHA has calculated that at least 63 Palestinians, including 13 children, were injured in attacks attributed to settlers during the first five months of this year.
"Let's be real"
Another Israeli outpost has been set up recently in Asira al-Qibliya, a small town also close to Nablus.

Hakmeh Hassan is head of the local women's council. She lives in a valley below the Israeli settlement known as Yitzhar.

Over the past few weeks, settlers have installed caravans outside Yitzhar's boundaries. Hassan can see the caravans from the balcony of her home.

Within a matter of days, the Israeli authorities connected the caravans to the electricity network, Hassan noted. Lights were turned on in the caravans each night.

Since the encampment was set up, Yitzhar's security guards have prevented locals from accessing their land.

"When we contact our local leaders about filing a complaint, they tell us don't bother, that nothing will happen in our favor," said Hassan.

Last month settlers threw stones at Palestinian houses in Asira al-Qibliya. When local residents tried to defend their property, Israeli soldiers began firing tear gas, stun grenades and live bullets.

Settlers have also burned olive and almond trees in neighboring Burin lately.

Earlier this year, a nephew of Hakmeh Hassan was beaten up by settlers and required hospital treatment for his injuries.

"Of course, annexation is playing a role in the current wave of attacks we are seeing," Hassan said.

"But let's be real. Annexation has been going on for decades. They have been restricting our movement, taking our land, burning our crops, killing us and arresting our children. We have no rights on our land but the settlers have every right to do whatever they want," she added.

"If that is not annexation, then what is it?"

Akram al-Wa'ara is a journalist based in Bethlehem.
Tags