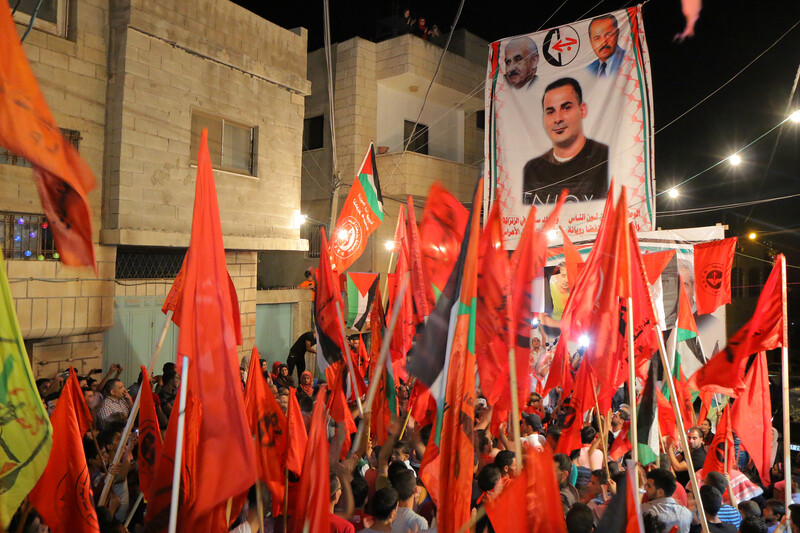 Bilal Kayed has now been on hunger strike for 50 days.
In mid-June, he was supposed to return to his home in the West Bank village of Asira al-Shamaliya after serving nearly 15 years in an Israeli prison.
But when Israeli authorities reneged and placed him under administrative detention instead, he began refusing food.
His protest has drawn strong support: around 100 Palestinian prisoners have joined a hunger strike in solidarity with him.
Among those who have begun refusing food are Ahmad Saadat, the secretary-general of the Popular Front for the Liberation of Palestine who is currently serving a 30-year sentence.
The Palestinian circus performer Mohammed Abu Sakha, placed under under administrative detention last December, and jailed activist Hassan Karajah are also on hunger strike.
This week, Kayed issued a letter from his hospital bed addressed to the Palestinian people.
Kayed writes that he has begun refusing all medical examinations.
He also demands to return to prison so that he can stand "side by side" with all prisoners who are resisting Israel's occupation from behind bars.
"I am here, today, finishing my first stage in my battle with this brutal occupier," he writes. "And I have declared my second stage, which is one of unity with all prisoners from all backgrounds and political parties so that we can all, collectively, stand at the point of the arrow of the national struggle, inside and outside the prisons."
The head of the Palestinian Authority's health ministry, Kamal al-Shakhra, visited Kayed on Tuesday.
Al-Shakhra reported that doctors have warned that Kayed, who is in his mid-30s, could die suddenly as his health is deteriorating.
The ministry called on international health organizations to pressure the Israeli government to release Kayed.
Kayed is being held in Barzilai hospital in Ashkelon, a city in present-day Israel.
Last week, an Israeli military court rejected Kayed's appeal for release, saying that secret evidence showed he posed a security risk if released.
On 15 June, Kayed was given a six-month administrative detention order that could be renewed indefinitely. Administrative detention is the term used by Israel for imprisonment without charge or trial.
Abusive
Kayed has refused to be represented by lawyers from the Palestinian Authority, who have in the past negotiated deals with Israeli authorities for hunger strikers.
He is relying solely on legal aid provided by the prisoners' rights group Addameer.
Kayed has cited the severe and abusive conditions in which he is being held in hospital.
He is shackled to a hospital bed by his right hand and left foot throughout the day and night.
He is under constant watch by three Israeli guards, or a surveillance camera when his lawyer visits. His room is monitored by a motion detection device that blasts a loud noise every 20 minutes or whenever there is movement in the room.
Other Palestinians involved in the hunger strike in various prisons have reported cell raids, confiscation of personal property and revocation of other privileges.
A spokesperson for the Israel Prison Service told Al Jazeera that prison authorities have punished a "few hunger strikers" in the same way they would punish "any other prisoners' disciplinary violation" – by depriving them of "privileges."
Campaigners around the world have called for Kayed's release.
Amnesty International has denounced Israel's widespread and arbitrary use of administrative detention against thousands of people.
In June, Amnesty observed that Israel's use of administrative detention had "sharply increased" during the past year.
According to Palestinian human rights groups, Israel issued 127 administrative detention orders during the month of July.
Latest figures indicate that the total number of Palestinians in administrative detention stands at around 750.
Tags