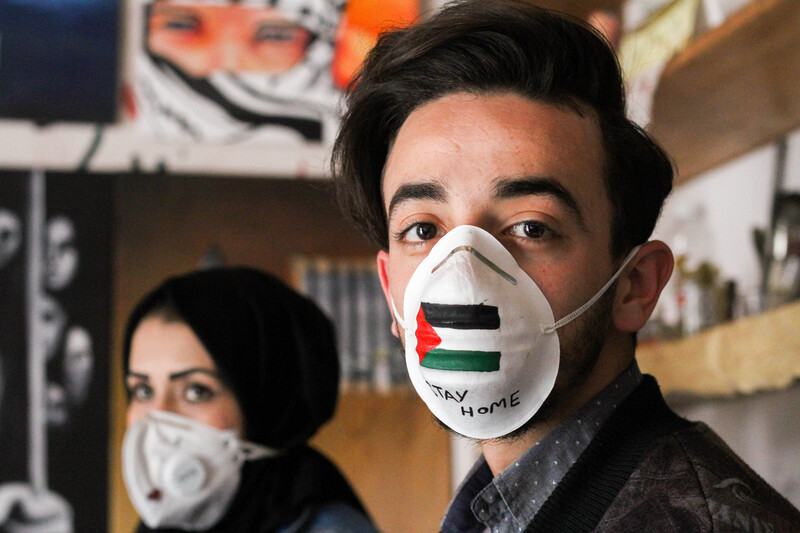 I'm writing this article in the second week of isolation.

Coronavirus arrived in Gaza on 22 March when news broke that it had been detected in two people who were returning from Pakistan.

Since then, and at time of writing, ten more cases have been reported – all so far among people in quarantine.

The Gaza Strip is one of the most densely populated parts of the world.

Its health care system has been fatally undermined by more than a decade of Israeli-imposed sanctions and blockade.

Human rights activists and health experts fear a humanitarian disaster should the pandemic take hold here.

We began taking isolation measures even before we had confirmed cases. But then, long before anyone had ever heard of this coronavirus, we, in Gaza, had already been forced to practice "social" – or as we are bid to call it now – "physical distancing." In our case, from the rest of the world.

Israel's blockade of Gaza is nearly 13 years old. More than half a million of Gaza's two million people – ours is a very young population – will have known nothing else but the hardship and isolation foisted on them by an overwhelming and preening military force that bombs and kills at will.

As such, we are all used to spending time indoors, unable to go out for fear of deadly consequences.

During the last major Israeli aggression in 2014, I stayed home for 51 days as the bombs and missiles hailed down over us wreaking death and destruction.

On day 42, I couldn't handle it anymore. I asked my father – I was living with my parents then – to take me on a walk even if just for a few minutes. At first, he refused, fearing for our safety. But when he noticed my urgency and insistence, he reluctantly agreed.

We walked around our neighborhood, eastern Gaza City, for maybe 15 minutes. I wanted fresh air but found it mixed with the smell of gunpowder. The sky wasn't clear of military aircraft. But I savored every moment.

This time, the isolation is different. This time it's silent.
Welcome to Gaza
This time, I don't feel that I have a choice to break my isolation. I am a mother of two now. My responsibility is to stay home no matter what.
And I cannot help but feel that the lockdown that the coronavirus has visited upon large parts of the world is showing everyone a little of what life is like in Gaza.
Unable to visit foreign countries or travel by plane? Welcome to Gaza. I am almost 29 and I've never flown.
Not allowed to move more than a few kilometers from your home at risk of the wrath of the authorities? Welcome to tiny Gaza, where boundaries on land and sea are enforced by a military – militaries, Egypt's is also involved – that has no compunction in using deadly force to prevent such movement.
Unable to go to any hospital because the health system is overwhelmed with emergencies. Welcome to Gaza, 2008-09, 2012, 2014. Now.
Worried about the supply of medicines, clean water, food and the power supply? Welcome to Gaza, where half of all vital medicines are simply not available, according to the ministry of health here, and half are at less than a month's stock, according to the UN.
Welcome to Gaza, where most tap water is unfit for human consumption, where some 70 percent of the population is food insecure, and where electricity is available intermittently.
If the world's most advanced health care systems can't deal with the pandemic, imagine what it is like for the majority of the world, where health systems are not so developed.
Then add in military occupation.
Welcome to Gaza.
For me, there is one big difference between the coronavirus lockdown and that imposed by the Israeli occupation, however: The virus is invisible. But the consequences of Israel's blockade are plain for all to see.
See, mind you. Not feel. It is felt just by us in Gaza. Until now. Perhaps.
Preparations
The authorities here have tried to prepare as best they can. Those few who could enter Gaza from outside were placed in quarantine as far back as 15 March. Those who have tested positive have been isolated. The rest of us are on lockdown.
But the health ministry is painfully aware of the shortfalls.
The real fear, Ashraf al-Qedra, a ministry spokesperson, told The Electronic Intifada "is the lack of resources: medicine, protective equipment, respiratory devices, laboratory supplies and sterilization tools."
According to the UN, the capacity of the Palestinian health system generally to deal with the "expected" spread of the pandemic is "severely limited," particularly in Gaza.
The ministry in Gaza has launched an international appeal for $23 million in emergency support. The UN has calculated the moving target of Palestinian needs generally, as of 26 March, at $34 million.
In the meantime, with educational facilities closed, the ministry has sequestered school buildings to use as quarantine centers. According to al-Qedra, more than 1,700 people are currently in quarantine of which nearly 1,000 need medical care.
Three percent of Gaza's population is over 65 and among those most vulnerable. Nearly eight percent suffer hypertension and diabetes, al-Qedra said.
Perhaps almost as problematic as the health sector is the general economic situation in Gaza.
Nearly 50 percent of Gaza's population was already unemployed, while over 50 percent fell below official poverty levels.
Now, Gaza's many casual laborers, who barely had enough to start with, have seen their income drop to zero almost overnight.
Former Palestinian Authority employees are also struggling. In 2017, the PA cut salaries of these people in half. Now, like a friend who did not want to give his name, they are hardly able to afford food.
"What remains of my salary doesn't begin to cover the needs of my family for a month."
I might be among the lucky people in Gaza. I have so far been able to buy food, non-food items, and sterilizing alcohol and soap.
And of course, there is no safeguarding against a lack of consideration or education. While I and everyone I know are self-isolating, some are not.
One look at social media and I see many who continue to gather with friends or family, even arranging weddings at home – it has to be at home, the wedding halls are all closed.
I look out my window and I see boys playing in the street like they were on holiday.
Such negligence – some caused by a need to work, some, perhaps, just a result of not taking this invisible enemy seriously in a place where deadly threats have an all-too familiar and visible face – worries me. I feel we may have to suffer isolation for a long time yet.
As far back as 2012, the UN warned that Gaza could become unlivable by 2020.
It seems 2020 has its own plans, not just for Gaza, but for the whole world.
Sarah Algherbawi is a freelance writer and translator from Gaza.
Tags