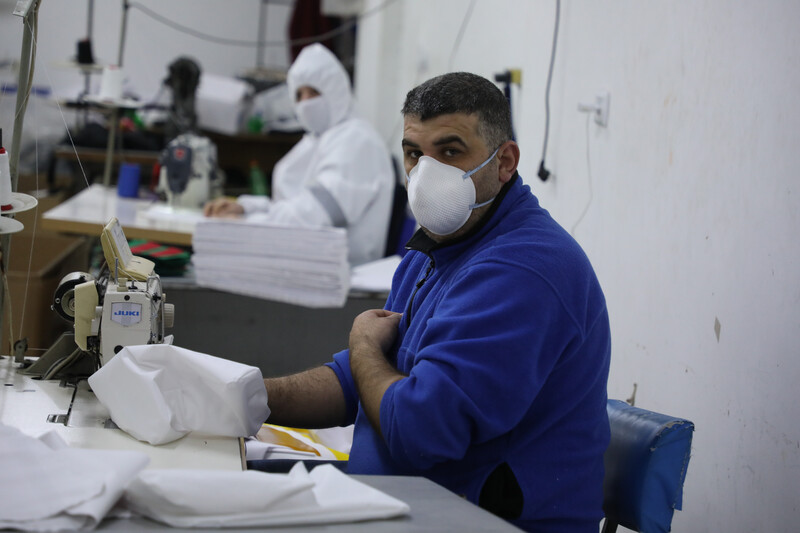 A woman in her 60s became the first Palestinian to die from COVID-19, the respiratory illness caused by the new coronavirus.

She was from the village of Biddu, near Ramallah in the occupied West Bank, the Palestinian Authority announced on Wednesday.

The woman's son and his wife, both in their 40s, have also tested positive for the virus, bringing the total number of cases in the occupied West Bank to more than 60, most concentrated around Bethlehem and Ramallah.

Meanwhile, the number of cases in Gaza has risen to nine.

On Sunday, the Palestinian Authority declared a 14-day lockdown in the West Bank in an attempt to contain the spread of the virus.

Israel has not eased up on its abuses of Palestinians despite the pandemic. In one shocking incident on Monday, a Palestinian laborer with flu-like symptoms and a fever was dumped at a West Bank checkpoint by Israeli police.

"Witnesses said the man, identified as Malek, went through the Maccabim checkpoint then collapsed onto the ground," the Tel Aviv newspaper Haaretz reported.

A video shows the man lying immobile on the ground, before a Palestinian ambulance comes to his aid:

The man told Haaretz that after he felt ill, his employer took him to Ichilov hospital in Tel Aviv, where he was provided first aid.

"He said a hospital guard reported him to the police and a van came to pick him up. Officers handcuffed him and took him to Maccabim checkpoint where he said they 'threw him out,' before his coronavirus test results came back," Haaretz reported.

Tens of thousands of Palestinian laborers work in Israel with virtually no rights and protections.

Amid the pandemic, Israel has said that thousands of Palestinians can work in Israel, but must remain there for two months without going home, often with no proper place to sleep and separated from their families in the West Bank.

As Israel faces a major upsurge in COVID-19 cases, Prime Minister Benjamin Netanyahu is warning that he may impose a full lockdown on the population within days.

As of Wednesday, there were almost 2,400 confirmed cases and five deaths, according to the Israeli health ministry.
Gaza struggles to prepare
Meanwhile, Gaza's health ministry announced seven new cases of COVID-19 in the Strip on Wednesday evening.
This brings to nine the total number of coronavirus cases in Gaza.
All seven new cases appear to have contracted the virus from the first two coronavirus cases announced on Saturday.
The first two patients, who were already in quarantine after returning to the territory from a conference in Pakistan, had not seen any change in their condition, the Gaza health ministry said Wednesday.
None of the nine cases have left quarantine or mixed with the general public. The health ministry assured the public that no cases of COVID-19 have been recorded outside quarantine centers in Gaza.
Authorities in Gaza are stepping up testing of residents returning to the territory, health ministry spokesperson Dr. Ashraf al-Qedra told media.
The ministry was doing its best to prepare for additional cases, despite chronic shortages of medications, testing kits and other supplies caused by Israel's 13-year siege on the territory, al-Qedra added.
"The Israeli occupation practices systematic racism against our people and is placing the lives of two million people at risk in the face of the new coronavirus pandemic," al-Qedra added.
Al-Qedra called on United Nations agencies and other international bodies to urgently help Gaza obtain respirators, COVID-19 testing kits, medications and protective equipment.
Gaza's economy and health system have been devastated by three major Israeli military assaults since 2008 and the prolonged Israeli blockade.
At least one factory in the northern Gaza town of Beit Lahiya is responding to the shortages by making medical gowns with assistance from partners in China:
Call to lift sanctions
In light of the first coronavirus infections confirmed in Gaza, Congressman Mark Pocan reiterated a call by US lawmakers on the Trump administration to act.

"The US must restore humanitarian aid to Gaza and have Israel end its blockade immediately," Pocan tweeted.

That is unlikely, however. The US has so far ignored pleas to ease brutal sanctions on Iran, which have severely hampered that country's ability to fight a devastating coronavirus epidemic that has killed more than 2,000 people. The Trump administration has even tightened the sanctions in spite of the epidemic.

On Wednesday, more than a dozen major American faith organizations, including the Episcopal Church, the Presbyterian Church and the American Friends Service Committee, wrote to President Donald Trump urging him to lift sanctions on Iran, Syria and Gaza because of the pandemic.

"We urge you to lift sanctions that negatively impact civilian populations and other restrictions that impair governments' abilities to respond to the health crisis," the letter states.

"This includes financial sanctions that impact the ability of countries to import much-needed medical supplies and equipment."
Palestinian prisoners quarantined
Meanwhile, several Palestinians detained by Israel are being held in unsuitable quarantine conditions, the prisoners rights group Addameer said Tuesday.
The Palestinians were transferred from Petah Tikva prison on 19 March to Ramle prison clinic without being told why.
Only when they got to Ramle were they informed that they had been in contact with an Israeli prison worker who had tested positive for the new coronavirus.
An Addameer lawyer was able to speak by telephone to the men – Ahmad Nassar, Qais Daraghmeh, and Ibrahim Awad.
According to the lawyer, each is being detained in a separate room which they are not allowed to leave. They are provided meals but are only able to drink tap water. They have not been tested for the coronavirus, but their temperatures are taken twice per day.
Another Palestinian prisoner was isolated after his interrogator tested positive for COVID-19.
The Palestinian Human Rights Organizations Council is urging the International Committee of the Red Cross and international organizations to demand the release of at-risk detainees.
Palestinian prisoners in several Israel jails are set to begin refusing meals on Wednesday to protest measures by prison authorities that may expose them to the virus.
Addameer has continued to raise concerns over the threat from COVID-19 to some 5,000 Palestinians held in Israeli prisons in dismal conditions.
They include 180 children and 700 sick or injured detainees.
Tags