IMPORTANT: See update before taking action.
The Electronic Intifada calls on its readers to protest an advertisement for the San Francisco Examiner and Washington Examiner newspapers demonizing Palestinian children. The advertisment appeared in the 24 January 2005 of Media Week, a trade publication.
THE PROBLEM
The advertisement aims to attract advertisers to the Examiner newspapers. It includes a picture of a girl playing a violin on the left-hand side of the page, and another picture of a girl carrying an assault rifle on the right-hand side of the page. Superimposed over the two pictures is the legend "PTA to PLO," with PTA over the girl with the violin and PLO over the girl with the rifle.
The pictures are undated and unsourced, however the implication is clear: the girl with the rifle is supposed to represent a Palestinian girl and embody what the PLO stands for.
Such anti-Palestinian stereotypes obscure the reality that over the past four years Palestinian children have been the principal victims of violence and other human rights abuses in the Israel-Palestine conflict.
625 Palestinian children were killed by the Israeli army and settlers in the occupied West Bank and Gaza Strip between 29 September 2000 and 31 December 2004 according to the Palestine Red Crescent Society. Over 100 Israeli children have been killed by Palestinians during the same period.
Amnesty International has frequently condemned violence against Palestinian and Israeli children. In a 20 November 2004 statement, the organization said:

"Many killings of Palestinian children by Israeli armed forces have been unlawful, as wilful, killings resulting from acts including reckless shooting, tank and aircraft shelling and bombardments and house destruction. As such these killings are grave breaches of the Fourth Geneva Convention and therefore war crimes. Such killings have been part of widespread, as well as systematic, acts against Palestinian civilians. They have been carried out by Israeli armed forces pursuant to government policy, evidenced by the knowledge and approval of government authorities who are fully aware that for over four years such practices have consistently resulted in the killing or injury of civilians and who have declined to take effective steps to prevent such killings of civilians. They, therefore, meet the definition of crimes against humanity under international law."
Amnesty also highlighted that:

"In their daily lives, Palestinian children throughout the Occupied Territories have also been exposed to an increasingly high level of violence and violations of many of their rights including the right to education, to an adequate standard of living, to the highest attainable standard of health, to safe and secure housing, and to freedom of movement. For four years many have been confronted with Israeli army aircraft circling the sky or launching missiles, and with Israeli army tanks outside their homes and schools. Their villages and neighbourhoods have been kept under siege and they have often been confined to their homes for days and weeks at a time by curfews and closures. They have been forced to go through military checkpoints to get to school or to take long detours and to climb over blockades or in and out of ditches in order to visit relatives or to go to the doctor."
The vast majority of killings are never investigated and rarely are the killers punished by Israeli authorities.
While these human rights abuses continue unabated, some pro-Israel groups have aggressively used unrepresentative images similar to the one in The Examiner advertisement in campaigns designed to demonize Palestinian children and portray them as violent and Israel-hating and thereby justify or explain away violence against them.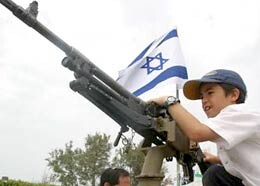 At the same time, equally disturbing images of Israeli children are readily available but have not been used by advocates for Palestinian rights to try to depict Israeli children in a similar manner. While many news organizations have taken seriously debunked claims that Palestinian children are routinely taught anti-Israel "hatred" and "incitement" in their schools, they have largely ignored evidence that Israeli children, particularly in West Bank settlements are indoctrinated with anti-Arab hatred. A lengthy report by Ada Upshiz in Israel's Ha'aretz newspaper on 21 January, for example, revealed how some Israeli children routinely terrorize Palestinians and call for the killing of all Palestinians if they do not leave their homeland.

These phenomena are deeply disturbing and can be documented on both sides of the conflict. They are the product of a long and bitter conflict and should never be used to demonize children.

News organizations have a responsibility to investigate the reality behind hate-motivated campaigns against Palestinian children and should certainly not draw on the same stereotypes to sell advertising.

EI asked its readers to contact Mark Wurzer, Vice-President of Advertising, and Jim Pimentel, Managing Editor at The Examiner, to politely request that The Examiner:

immediately withdraw the adverstisement;
apologize for stereotyping and demonizing Palestinian children

On 27 January 2004, The Examiner responded positively. Scott McKibben, publisher, replied to concerned enquirers in a letter that stated:

"It has been brought to out attention that a recent advertisement published in Media Week promoting The Examiner has caused concern and offence to readers. On behalf of Clarity Media Group and The Examiner in Washington and San Francisco, we sincerely apologise. Clarity Media will immediately remove this advertisement from their campaign and new artwork will be used for the remaining duration of the marketing program."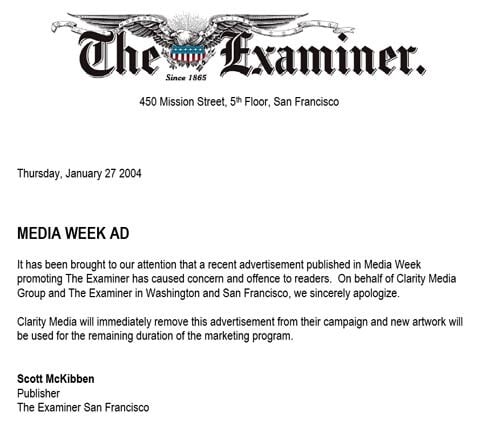 Please consider sending a note of thanks for The Examiner's quick and encouraging response to this issue to: letters@examiner.com
Related Links