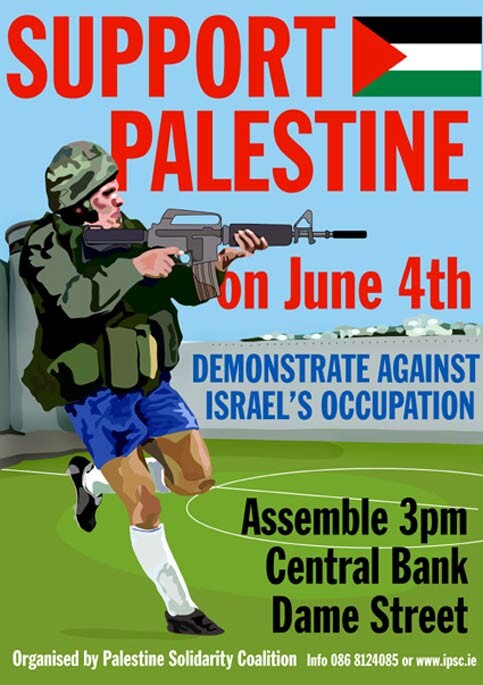 On 4th June, the day of the Ireland-Israel qualifying match for the 2006 World Cup, the Ireland-Palestine Solidarity Campaign (

IPSC

) and Movement against Israeli Apartheid organized protests against the Israeli occupation, which began its 39th year this week.

The poster announcing the demonstration depicted a figure on a soccer pitch whose lower half was dressed in the football strip of Israel's national team and whose upper half was dressed as an Israeli soldier, bearing a rifle. An IPSC release noted the imagery referred to "the fact that the Jewish members of the team are liable for reserve duty in the Israeli Army of Occupation in the West Bank (including Jerusalem), Gaza and Golan."

The demonstration started with speakers outside the Central Bank on Dame Street, including Caoimhe Butterly, an Irish human rights activist shot in the thigh by Israeli troops in Jenin on 22 November 2002, the same day as they killed UNRWA's Jenin project manager, British citizen Iain Hook.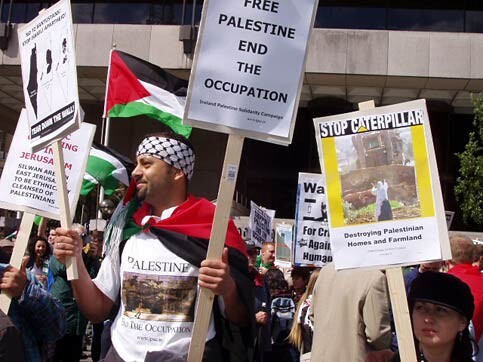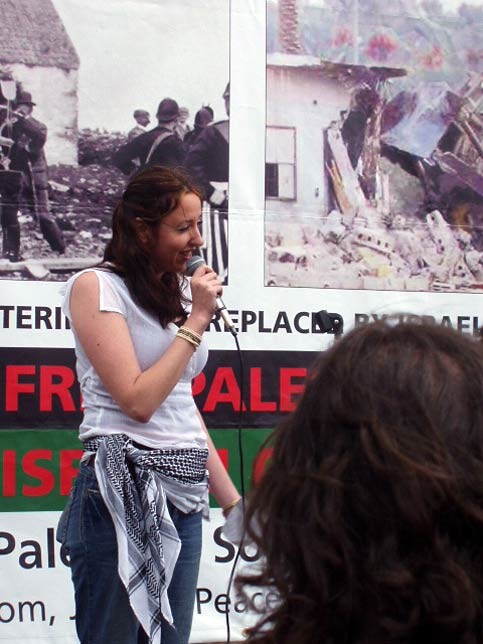 During the day, informational stalls were located throughout the city.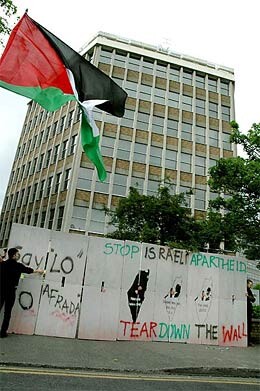 The speeches were followed by a march to the Israeli Embassy along Dame Street, Nassau Street, Kildare Street, St. Stephen's Green and Baggott Street, where activists erected a replica of the Apartheid Wall and other speakers encouraged continued action against the Israeli occupation.

While political protest and boycott calls in the sports world have sometimes received mixed reactions from fans, IPSC literature being distributed has been careful to note just how big the disparity is between the way Israel treats Israeli and Palestinian sports professionals.

"Israeli sportsmen and women travel freely around the world," noted IPSC, "the Palestinian team has to surmount a labyrinth of checkpoints and border crossings just to play their 'home' matches overseas. With no decent pitches on which to train and a suspended national league, their success in getting to the preliminary qualifiers cannot be overstated. Furthermore, Israeli authorities regularly prevent Palestinian players from attending international games. In September 2004, five players were prevented from travelling to the World Cup qualifier against Uzbekistan. Unable to play in Palestine, the team travels to Doha, Qatar, for 'home' games and trains in Ismailia, Egypt, more than 100 miles from the local Gaza players' homes."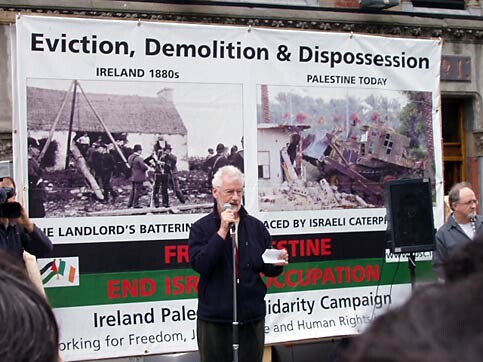 Fans entering the soccer match on Saturday were given

A3

-sized (twice

US

letter size) Palestinian flag posters, The Sunday Times reporting that at the start of the match, the Israeli team "suffered the indignity of seeing their national anthem greeted with a flurry of Palestinian flags."

The match was ultimately tied, 2 - 2.

The World Cup protests represent just part of the recent activities of IPSC, which include a move to make Limerick a Caterpillar-free city and calls to support commercial and academic boycott campaigns.

Nigel Parry is one of the founders of the Electronic Intifada.

Related Links