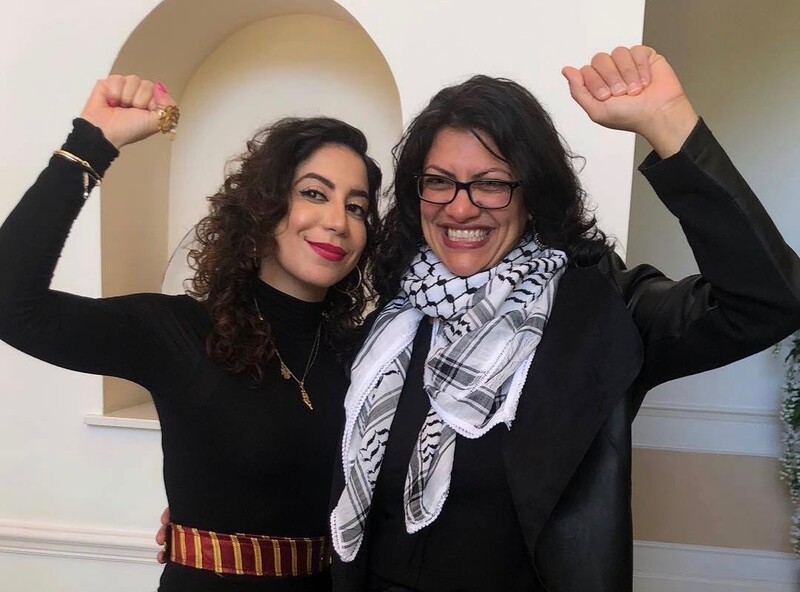 Florida activists say the Democratic Party in the crucial swing state nixed a Muslim voter mobilization event this month because it included Palestinian American speaker Rasha Mubarak.

Some see this episode as fallout from the actions taken two years ago by Emgage – the controversial Muslim American group facing a growing backlash over its Israel lobby ties and support for hardline pro-Israel candidates.

Some view it as a stark example of the pitfalls of putting visibility and proximity to politicians above building up grassroots leverage that can then be used to hold the powerful to account and advance community demands.

The activists say that in 2018, Emgage undermined a collective effort in which Mubarak was to play a leadership role to push Florida's Democratic gubernatorial candidate to take a less hostile stance towards Palestinian rights.

Mubarak tweeted on Sunday that the Florida Democratic Party "canceled" the recent event because "they refused to include me, a Muslim Palestinian woman, in the speaker lineup."

She added that this "extends the establishment's violence against Palestinians."

Mubarak is a longtime political activist in Florida. She serves as national committeewoman – a leadership position – for the Florida Young Democrats.

The event organized by the Muslim Delegates and Allies Coalition did in fact go ahead as planned on 17 October, but without the sponsorship of the Florida Democratic Party.

It was supported instead by the American Muslim Democratic Caucus of Florida and the Democratic Party of Seminole County.
"Lousy excuse"
Nadia B. Ahmad, one of the organizers, shared with The Electronic Intifada a series of emails between her and Matt Jones, the Florida Democratic Party's "deputy municipal victory director."
"I wanted to follow up regarding the Day of Action on the 17th," Jones wrote to Ahmad on 5 October.
"Do you have a list of suggested/potential speakers? Let me know what else you need from me," he added.
Ahmad responded the next day with a list of 11 speakers, noting that several still needed to confirm.
"Okay great I will follow up with our team to create a Mobilize event and share the Zoom link with you," Jones responded. Mobilize is an app the party uses to organize volunteers.
On 7 October, Ahmad sent Jones a confirmed list of 10 speakers.
Jones also brought Lisa Peth, the party's "municipal victory director," into the email thread.
"I am excited to work with you and your team for the Day of Action next weekend," Peth wrote to Ahmad, suggesting they also set up a phone call.
Ahmad told The Electronic Intifada that she did not notice until days later – when Mubarak brought it to her attention – that the Florida Democratic Party's event description on Mobilize listed only nine of the ten speakers whom Ahmad had confirmed.
Mubarak's name was missing.
Ahmad wrote to Jones on 12 October asking, "I wanted to know if I can update the speaker list as follows."
She again sent Jones the names of 10 speakers along with their photos, so the party could advertise the event.
Peth responded, "Hi Nadia, We can discuss the list of speakers on our call at 3pm today."
When they spoke, Ahmad said she asked Peth why Mubarak had been left out.
Peth said she was "sorry this had happened," according to Ahmad, but provided no explanation.
Later that afternoon, Ahmad wrote to Peth and Jones, "Please let me know what you decide about the event. It seems like you all are not that interested."
Jones responded to Ahmad the next day, inviting her to talk by phone.
When the two spoke on 13 October, Ahmad said she asked whether Mubarak had been left off intentionally.
Jones' first "lousy excuse" was that he didn't know how to use the Mobilize app very well, Ahmad recalled.
She told him that it was easy to update the event – unless Mubarak was left off deliberately, in which case she wanted to know why.
"He never gave me a reason," Ahmad said. "His exact words were 'then maybe we need to eighty-six this' " – meaning cancel the event.
Reached by phone on Monday, Jones said he was not authorized to speak directly to the media and would have the party's spokesperson reach out to The Electronic Intifada later that day.
The Electronic Intifada never heard back.
Though the party refuses to explain its actions, it is notable that Rasha Mubarak has been smeared by pro-Israel extremists for her Palestinian rights advocacy.
In August, she was targeted by FrontPage Magazine, the publication of racist agitator David Horowitz who is notorious for harassment and intimidation campaigns against activists and educators.
In June last year, Mubarak also reported being harassed and photographed by the consul-general of Israel while at a convention for Democratic grassroots activists.
Mubarak did not respond to a message requesting comment.
United front
The Florida Democratic Party's shunning of Mubarak may be connected to the state's gubernatorial campaign two years ago, longtime Florida activists told The Electronic Intifada.
Media reports in September 2018 cited an unreleased campaign document indicating that the Democratic candidate Andrew Gillum was going to take a very pro-Israel line.
The reports claimed Gillum would support legislation against BDS – the boycott, divestment and sanctions movement for Palestinian rights.
According to the activists, this caused concern among politically engaged members of the Palestinian and Muslim communities who were considering throwing their weight behind Gillum in the close race.
They formed a group to approach Gillum, a progressive who garnered the endorsement of Bernie Sanders.
They hoped that at the very least, Gillum could be persuaded to oppose anti-BDS legislation because it would violate the First Amendment.
"A lot of us felt maybe he just doesn't know, or doesn't understand BDS," Manal Fakhoury, one of the activists involved in the effort, said.
"We agreed to have the Palestinian voices take center stage and appointed Rasha to be the contact rather than having multiple people calling the campaign."
"We were also very clear that we did not want Emgage to interfere," Fakhoury added.
Hatem Fariz, who directs an Islamic center in Tampa, was also involved in the effort to show a united front.
"Our issue with Emgage was the normalization and the trip with Khurrum Wahid," Fariz explained.
Wahid, a Miami attorney, is Emgage's national co-chair.
Cozy with Israel
In 2015, Wahid went on a junket to Israel with the Muslim Leadership Initiative – the trip Fariz referred to.
MLI is an Israel lobby project to co-opt up-and-coming Muslim "leaders" in the US under the guise of interfaith dialogue.
It is run by the Jerusalem-based Shalom Hartman Institute, an organization with close ties to the Israeli army. MLI shares a major funder with some of the most Islamophobic agitators in the US.
Electronic communications seen by The Electronic Intifada corroborate the accounts of Fakhoury and Fariz about the unified strategy in which Rasha Mubarak was to take the lead in addressing the Gillum campaign over its anti-Palestinian stance.
The communications show that Emgage's Wahid also agreed to the strategy and to letting Mubarak take the lead.
The Electronic Intifada has also learned that well-known figures from outside Florida, including activists Linda Sarsour and Noura Erakat, were involved in and endorsed the strategy.
Effort undermined
According to Fakhoury, there were discussions among the activists about what would be their "minimum ask" on BDS that would allow them to help mobilize support for Gillum.
Yet according to both Fakhoury and Fariz, Emgage leaders undermined the strategy Wahid had endorsed.
"Later we found out that Khurrum [Wahid] was still speaking with the campaign on his own, making sure he is pulling, or controlling or being involved in that conversation," Fakhoury said.
Mubarak found herself frozen out of a meeting with Gillum campaign staff, which an Emgage leader attended without disclosing their Emgage affiliation to Mubarak and other organizers.
Fakhoury and Fariz cited the role of Afifa Khaliq, an official with the Florida branch of the public employees union SEIU.
Khaliq, according to Fakhoury and Fariz, delivered the message to Mubarak that she could not be involved in meetings with the Gillum campaign, citing a "technicality."
Fakhoury and Fariz told The Electronic Intifada that they did not know at the time that Khaliq was also involved with Emgage. They and other activists only learned of Khaliq's affiliation with Emgage later.
"We would have had a problem with that if we'd known it at the time," Fakhoury said.
Emgage's own website is opaque about who is involved with the organization. However, Khaliq was recently identified by another group whose event she took part in as board chair of Emgage Florida.
Because of her SEIU position, Khaliq would likely have had relatively easy access to the Gillum campaign. The activists say she used this affiliation to gain their trust while leveraging access to the Gillum campaign for the benefit of Emgage.
Khaliq did not respond to a request for comment.
Fakhoury and Fariz say that Emgage undermined the collective leverage that the activists hoped to gain through a unified stance.
"It basically diluted that whole issue, because now you have two different people trying to speak," Fakhoury said. "If I imagine myself being the [Gillum] campaign director, if I've already met with Khurrum, I'm not as interested in meeting another person."
"Emgage was not an honest player," Fakhoury added. "It was them trying to do perhaps what I've seen they've done a lot – self-enhancement, always opportunistic, looking for inclusion at a higher level at the cost of the community."
"I believe that the blacklisting of Rasha Mubarak in 2020 goes back to some of that work," Fakhoury added.
"Basically, Emgage lied to us and played us," Hatem Fariz said.
Losing campaign
What is clear is that Gillum came out with a strongly pro-Israel position.

Gillum affirmed, "I do not support BDS," though he also claimed, "I'll always support the right to free speech and peaceful protest."

He then directly undermined that position: Gillum's campaign confirmed he would not move to repeal or undercut Florida's 2016 law forcing the state to divest from companies that support a boycott of Israel.

When that law was passed, the American Civil Liberties Union of Florida urged Governor Rick Scott to veto it for violating the First Amendment and "imposing retribution for the content of speech."

Yet a campaign spokesperson affirmed that if elected governor, Gillum "wouldn't support any changes and would enforce that law."

Gillum nonetheless secured the enthusiastic backing of Emgage, which had endorsed him during the primaries.

On 28 October 2018, Gillum and his running mate Chris King spoke at a campaign event sponsored by Emgage.

That happened to be the day after a neo-Nazi gunman massacred 11 people at the Tree of Life synagogue in Pittsburgh.

While warming up the crowd, King publicly thanked both Emgage and "Afifa from SEIU" – the kind of accolades that allow Emgage leaders to claim they have the ears of those in power.

The Republican candidate Ron DeSantis wasted no time attacking Gillum for speaking "at an event hosted by an anti-Israel organization the day after the deadliest attack on Jews in American history."

Citing an article from the right-wing website Daily Caller, DeSantis also claimed that Emgage co-chair Khurrum Wahid "has an extensive history of defending individuals that the United States government has tied to Islamic terrorism."

It was an outrageous smear even by DeSantis' standards: Wahid has acted as a defense lawyer in terrorism cases, an essential and appropriate role in the US legal system where everyone has a right to counsel.

It demonstrated however that Gillum's pandering to the Israel lobby and Emgage's willingness to offer its support in exchange for mere token acknowledgement of Muslims did nothing to spare the Democrat or Emgage from the most vicious smears.

Gillum lost to DeSantis by less than half a point and Palestinian and Muslim organizers lost an opportunity to push the Democratic Party towards a less anti-Palestinian position and to show that their support could not be taken for granted.

Wahid did not respond to a request for comment from The Electronic Intifada.

Instead, Emgage sent a statement from its CEO Wa'el Alzayat refusing to respond to any inquiries before next month's US election.

"You're spending an inordinate amount of time undermining work that needs to be done to win," Alzayat said.

He did however offer these excuses about the 2018 debacle: "Disunity, a circular firing squad, and a better ground game on the other side lost Democrats a governor's race they could have won in Florida."

Alzayat insisted that until election day, his focus was "removing Donald Trump from office."

But at the grassroots, it is the mistreatment of activists like Rasha Mubarak that hampers those efforts.

The party's attempt to exclude her from last week's online event "made it seem like they think our votes don't matter," organizer Nadia Ahmad said.

"They don't want us to be part of this process for a Biden victory in Florida," she added.

"It's hurtful for me as someone who was born and raised in Florida, that the Florida Democratic Party wants to silence people within our own community."

Ali Abunimah is executive director of The Electronic Intifada.
Tags