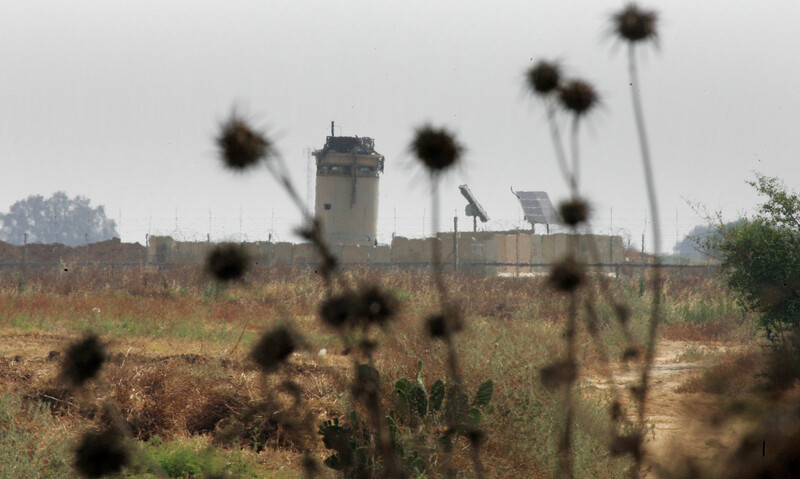 The boundary between the occupied Gaza Strip and Israel is clearly perilous.
In March, Yousif Abu Athra, 15, was killed by Israeli artillery fire near Gaza's southern boundary with Israel.
Two more Palestinian youths, both 19, were nearly killed that same month when they lost their way near the boundary and were fired upon by the Israeli military.
Yet despite such injuries and deaths – and the shoot-to-kill policy Israeli soldiers appear to be operating under in Gaza's boundary areas – some youngsters are undeterred.
Muhammad Ukasha, 24, is one.
Ukasha is determined to cross the boundary to find work. And his is not an uncommon attitude in Gaza, where after five decades of Israeli military occupation, 10 years of economic blockade and repeated military offensives, unemployment has reached 42 percent – 58 percent among young people – and nearly 80 percent of the population receive humanitarian aid.
No airport, no seaport, and with Gaza's southern border crossing closed by Egypt since October 2014 and opened with only rare exception, young people in the territory have few alternatives to the dismal situation.
According to Israel, there was a 25 percent increase in the number of Palestinians apprehended each month trying to cross over from Gaza in the months after the most recent military offensive in the summer of 2014. In total, 170 people were caught in similar attempts during the year. Most of those incidents occurred between September and December.
A Palestinian internal security source based in Gaza, who spoke on condition of anonymity, told The Electronic Intifada those numbers have stayed high. The source noted that authorities in Gaza counted 280 attempts – mostly by those under the age of 30 – to cross the boundary in the last three months of 2016. Seventy percent of those attempting to cross, according to the source, were apprehended on the Palestinian side by Palestinian security forces.
Ukasha's calculation is simple: his needs to overcome any hesitation he might have about risking his life. He lives in the Jabaliya refugee camp in a tin-roofed, two-room house with nine relatives. The family lives in severe poverty, with his diabetic father unable to work. They survive through the charity of neighbors and occasional food parcels distributed by relief institutions.
Gaza's slow death
Ukasha is confident he'll find a way to get to Israel; he did it once before. He was arrested then, nearly three years ago, and imprisoned for nine months. But he considered it a success since he was not classified as a security prisoner and worked as a painter inside prison, managing to save some money.
"I'm totally exhausted and I see no real hope in Gaza. Here there is only war and siege. I just want to improve my economic situation to help my family. They are slowly dying. And nobody cares. So I'll keep trying to get into Israel, even if it costs me my life."
He is already rehearsing the route in his mind. It is dangerous, he said, counting the obstacles out loud: electric fence; dirt road that is regularly inspected for footprints; huge barbed wire fence and then often hidden military positions.
He is confident he would find a job if he manages to cross, even if only in prison. "Either way, I am happy. And if I am killed?" The young man smiled. "Dying in these circumstances is better than the slow death of life in Gaza."
In the last few months, according to the same internal security official, there has been an ongoing willingness of youths to risk their lives by attempting to cross the boundary. According to internal security, 41 youths were stopped by Palestinian forces trying to infiltrate across in the last two weeks of March alone.
Samir Zaqout, a field researcher with Al Mezan, a human rights group in Gaza, said his research suggests the numbers are increasing, with his organization documenting dozens of cases of children below the age of 18 trying to get across.
The increase, he said, "comes due to siege, poverty, unemployment. Sometimes it's for personal reasons."
By hook or by sea
Routes into Israel do not just go overland.
Ahmad Mousa tried to swim across the boundary. The 22-year-old was spotted by soldiers at a military position near an Israeli naval base 800 meters from the boundary. They shot him in both legs.
He was taken to an Israeli hospital and then, he told The Electronic Intifada, intensely interrogated: "Where are you from, why did you come, whom are you working with, what is your [political] party, where are your weapons, what is your mission?"
The questions kept coming, Mousa said, but in the end, satisfied that he came only to seek work, they imprisoned him for two months before sending him back to Gaza.
Mousa suggested there were dozens of others like himself that he knew of personally. Mostly, he said, they were caught trying to cross and sent back. Sometimes they were apprehended in the towns and villages within 20 or 25 kilometers of Gaza where many of them sought work.
And sometimes, they succeeded, at least for a while.
Ghassan Abed, 32, smuggled himself across the boundary just after the 2008-2009 military offensive on Gaza. He evaded capture for a long time, working first in construction in Tel Aviv for three years and then as a fisherman in Jaffa for a Palestinian family for another 15 months.
He was only arrested after someone informed on him. After a spell in prison, he was sent back to Gaza in late 2013.
He has no regrets. With the money he saved, he managed to build a decent life in Gaza. He is now married with two children.
"If I hadn't done it, I may never have had the opportunity to build a family here."
Official concerns
The authorities in Gaza are aware of the phenomenon and say they are working to protect youth from the danger of being shot or captured and coerced into becoming spies. Eyad al-Buzom, spokesperson for the ministry of interior, said the ministry had noted an increase in the number of attempts at sneaking across the boundary.
"The number is increasing and most [of those trying to cross] are between the ages of 17 to 28," he said. He rejected, however, that the issue had become a major concern, describing those who try to cross as "poorly educated youths" who "dream of a better life."
The ministry has set up a special security unit to increase control of the boundary area and prevent youths from trying to cross into Israel. But this is not only for their own safety. In addition to exposing themselves to harm, their actions also pose a national security problem, the spokesperson said.
"Israel is using those people to collect information about everything in Gaza, especially members of the resistance, tunnels, weapons and every possible bit of information they might find."
The task of securing the boundary is not an easy one, however. The boundary unit receives special training, al-Buzom said, but the job sometimes makes it a target for Israeli soldiers.
"Everybody must take seriously the responsibility to prevent this from happening, starting with the person himself, his family, and ending with the government, which must help these people find jobs and live with reasonable standards."
Sinai route
The most dangerous route is via the Sinai. This route is usually only undertaken by more experienced people familiar with the Sinai desert. Generally, these people are between 30 and 40 years of age, according to one smuggler who spoke to The Electronic Intifada on condition of anonymity.
This journey starts in the commercial tunnels – some still operate under the Gaza-Egypt border despite an Egyptian clampdown – and runs through the Sinai desert. There, in the sandy wilderness, those who are desperate enough then cross the border into Israel and head for an area called al-Dhahrieh, a small town in the Naqab desert.
Hazem, who did not want to give his full name, is from the northern Gaza Strip. He undertook this journey in 2012. But the 23-year-old wound up spending 16 months in an Israeli prison after he was tracked down by soldiers in an army jeep just before reaching al-Dhahrieh.
Hazem walked for two straight days through the desert with a local guide, who abandoned him on the third day.
"I paid $1,000 to make this journey. I had business in Israel, but was not allowed to enter through Erez," he said, referring to the checkpoint on Gaza's northern boundary.
Today, he suggested, the journey is rare: both Israeli and Egyptian authorities have ramped up security in the area.
Hamza Abu Eltarabesh is a journalist and writer from Gaza.
Tags