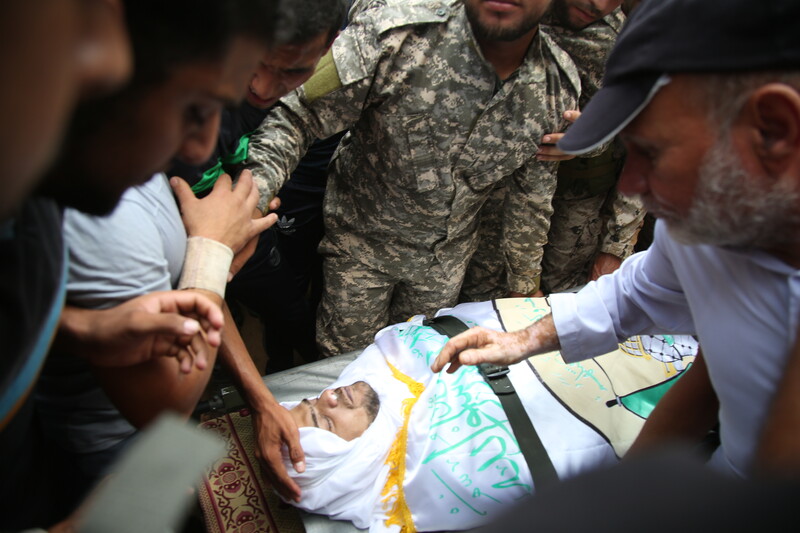 The posters outside the home of Nidal al-Jaafari in Rafah, southern Gaza, tell their own story.
Most bear messages of congratulations for the 29-year-old's nuptials. But they are now a little faded. The marriage was nearly a year ago. Instead a fresh one, a little apart, stands out, bearing Nidal's picture in full uniform. Smiling and posing with his gun, it carries the announcement of his death.
Nidal, a member of the Qassam Brigades, Hamas' military wing, was killed on 17 August in a suicide bombing near Gaza's boundary with Egypt.
The bombing was attributed to the Islamic State group. It was the latest instance of a deadly rivalry between the Islamist party overseeing Gaza's internal affairs and Salafi militants in the coastal enclave and beyond that has erupted into several episodes of violence over the past decade.
It also suggested that an agreement between Hamas and Egypt to improve relations in order to ease the Egyptian blockade on the coastal strip is being implemented. The agreement stipulates measures by Hamas to prevent infiltration to and from the Sinai – where discontent with Cairo's rule has developed into a full-blown insurgency over the past four years – and has been bolstered by the Egyptian-mediated preliminary unity agreement between Fatah and Hamas announced on 12 October.
Nidal and his team, which included his nephew, Salem al-Jaafari, 26, were responding to exactly such an infiltration when the bombing occurred. Salem was wounded when one of two men carrying light arms was caught at the mouth of a small tunnel near the boundary. The man detonated a bomb belt, killing himself and Nidal.
The other infiltrator had been apprehended and disarmed moments earlier, according to the version of events Salem relayed to Riziq al-Jaafari, 36, Nidal's oldest brother and an administrator at Dar al-Nahdah College in Rafah.
"I hope [Hamas] strikes hard at these extremists and uproots them from Gaza," Riziq, visibly angry, told The Electronic Intifada.
Crackdown
The Hamas response was swift. The day after the incident, Hamas security forces, aided by the Qassam Brigades, launched a crackdown on Salafi groups in Gaza, focusing on the southern cities of Rafah and Khan Younis.
Offices for two Salafi groups operating in Gaza – the Islamic State of Gaza, which is seen as loyal to the Islamic State, and the Army of Islam, seen as close to al-Qaida – were shut and several people were arrested.
Ahmad Abu Naji, an officer with Gaza's internal security service, confirmed that the crackdown also included raids on houses and training camps affiliated with Salafi militants. He said dozens were arrested, especially in the Tal al-Sultan neighborhood in Rafah, where the suicide bomber, Mustafa Kullab, lived.
"Anyone close to him or who used to visit him at home was arrested," Abu Naji told The Electronic Intifada.
Eyad al-Buzom, spokesperson for Gaza's interior ministry, said authorities would not tolerate security threats from any groups in Gaza.
"We will not allow anyone to destabilize security in the Gaza Strip or near the border [with Egypt]."
The crackdown has continued into October. Earlier this month, as Hamas was preparing to send a delegation to the reconciliation talks in Cairo, Hamas arrested Nour Issa and three others in Rafah. Issa is reportedly a senior commander in a Salafi militia affiliated with Islamic State. According to Gaza's interior ministry, he had fought in Libya and was wanted for more than a year.
Deadly tensions
The August bombing has in effect pitted Hamas' Qassam Brigades against the Islamic State in Gaza, a continuation of a confrontation between Hamas and Salafi groups that first exploded back in August 2009.
At that time, more than 20 people were killed in clashes between the Qassam Brigades and armed members of a Salafi group after its head, Abd al-Latif Musa, proclaimed an Islamic caliphate in Gaza and criticized Hamas for not applying Islamic law.
Tensions between Hamas and Gaza's Salafis – thought to number in the hundreds – have continued since with occasional conflagrations. In 2011, after the abduction and murder of an Italian activist, Hamas rounded up Salafi militants suspected of involvement, killing two and apprehending four.
All four were found guilty of involvement in the death of Vittorio Arrigoni. Two were sentenced to life in prison, a punishment that was then commuted to 15 years. One of those, Mahmoud al-Salfiti, later escaped from Gaza before reportedly being killed in Iraq while fighting with Islamic State. The other two received sentences of 10 years and one year.
In 2015, a series of bomb attacks in Gaza sparked another crackdown.
These conflicts look likely to continue, even sharpen, as Hamas tries to improve relations with Cairo in order to secure the opening of Rafah crossing. Gaza-Egypt relations suffered dramatically after Abdulfattah al-Sisi in 2013 ousted the democratically elected Muslim Brotherhood president, Muhammad Morsi, banned his party and declared Hamas a terrorist group.
The coup sparked a spike in tensions in the Sinai, where a low-level conflict between government and local tribes turned into a full-blown insurgency and saw Salafi groups there declare loyalty to Islamic State in 2014.
Cairo has accused Hamas of harboring Salafi fugitives from the Sinai in the past. Hamas has always denied the accusation, but, in the context of seeking better relations – an Egyptian court in 2015 overturned the previous ruling which designated Hamas a terrorist group – Hamas has undertaken to clamp down on infiltration and weapons smuggling in and out of Gaza. In June, Hamas also began clearing a buffer zone along its boundary with Egypt.
The August incident is seen very much in light of this context.
Thabit al-Amour, a political analyst and pundit on Palestine Today TV, said the bombing shows that the understandings between Hamas and Cairo have entered a "serious phase."
"This operation is a result of Hamas' seriousness in blocking movement from Gaza to Sinai and vice versa," al-Amour said. "There is more effort paid to control entrance and departure from Gaza to Sinai as well as closing in on Islamic State in Sinai which limited their movement and maybe weakened it. Consequently, Islamic State had to activate one of its sleeper cells in Gaza."
Despair drives extremism
Some also see an Israeli hand in the area.
Akram Attalla, a political analyst and columnist for al-Ayyam newspaper, speculated that Islamic State in Gaza and the Sinai is funded by Israel in order to undermine Hamas.
"Israel is aware that the Palestinians have adapted to the division among them and the siege," he told The Electronic Intifada. "Hence, Israel is trying to create groups that can wear Hamas down."
Omar Jaara, an Israel affairs expert and lecturer at An-Najah National University in the West Bank, echoed this theory. Islamic State, he said, is a "tool controlled by Israel to maintain instability" at the boundary with Egypt. As the group's threat to Egypt grows, he added, it becomes a "wild card" that Israel can wield against Hamas.
Ahmed Yousef, previously a senior adviser to Ismail Haniyeh, the former prime minister in Gaza, urged Cairo to understand that the isolation and despair in Gaza contribute to the turn to extremism. Easing the closure on Gaza remains paramount in any attempt to stabilize the situation and would serve both Palestinians and Egyptians.
And Mahmoud al-Ajrami, a security specialist and lecturer at Gaza's University of Palestine, said the bombing was an attempt at preventing closer Hamas-Egypt relations.
"Whoever did this wants to obstruct the opening of Rafah crossing," he said.
Salafi militants in Gaza are difficult to interview. Those who are imprisoned are often prevented from speaking by their Hamas jailers. And though this reporter did gain permission to speak to some in prison, they refused to answer any questions.
This writer did manage to speak to one self-proclaimed Salafi militant who has declared loyalty to Islamic State. Calling himself Abu Abdallah al-Maqdisi – it was impossible to independently verify his identity – he was reached by phone. He said he had relocated to the Sinai from Gaza in 2014 after Israel's deadly onslaught that summer.
He accused Hamas of having abandoned Islamic law and explained Salafi opposition to the group as a result of Hamas "getting close to the Shiites" – a reference to relations with Iran. While he stressed that Salafis did not want to take their fight to Gaza, he warned: "If anyone stands in our way, we will do to them what Mustafa [Kullab] did to Hamas."
A tale of two neighborhoods
In a statement after the bombing, the Kullab family denounced their son's actions and refused to hold a funeral for him. They also called on the authorities to clamp down with "an iron fist" on extremists who threaten internal security.
The family has refused to talk to media since, and a visit to the Tal al-Sultan neighborhood proved fruitless. Some neighbors, mostly speaking off the record, remembered Mustafa Kullab – 20 when he died – as an introvert; others as fun and outgoing. Most men in a group discussing the August incident argued that Hamas should find and eliminate all extremists. One urged caution and sympathy. He suggested that young men like Kullab were victims of brainwashing.
Another, Muhammed Abu Salem, who fixes electronics in a local shop, described Kullab as a "simple guy with a kind heart."
"His only errands were from the mosque to his house and vice versa. We never expected he could do such a thing, but, obviously, someone brainwashed him."
It is only a 10-minute walk from the Kullab family home to the that of the al-Jaafari family in the Shaburah neighborhood. There, Nidal is remembered as the "colored-eye boy" due to his green eyes. His wife, Suzan – pregnant then, but who has since given birth to the couple's son – was too upset to talk to reporters. However her father, Abd al-Rahman Abu Habib, told The Electronic Intifada about their last meeting, on the day of his killing.
"Nidal had called to say he was coming for dessert. But he had only one piece before he was called away. He asked us to save some for his return."
Abu Habib's grandson was to have been called Firas. The baby is instead named Nidal, after his father.
Hamza Abu Eltarabesh is a freelance journalist and writer from Gaza.
Tags