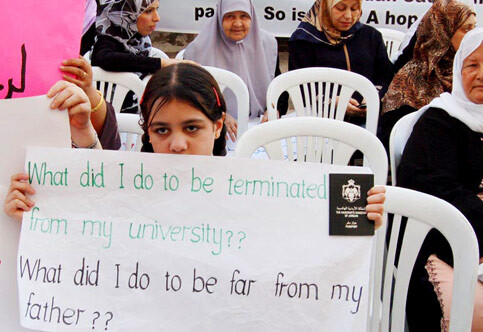 Nine-year-old Najla Rajab, with her two brothers and mother, was among tens of Palestinians demonstrating today in Gaza City, calling for permission to leave Gaza.
Najla said that she wants to travel to Saudi Arabia to see her father and to re-enroll in her school in Jeddah, but she has not been able to since Israel has closed Gaza's borders for months.
"We came to Gaza to spend the summer vacation. Now we are stranded here; I cannot go back to my school in Saudi Arabia," said Najla.
The mother of Najla, Umm Atta, said that her husband, who works as an engineer, cannot return to Gaza as he has not held a Palestinian ID since the 1967 War (when Israeli occupied Gaza).
In 1967 Israel prevented the re-entry of many Palestinians who left Gaza before the six-day war. Most of them lost their right to come back to Gaza as anything more than visitors.
"If the closure continues for more than two months, my kids and I will lose our right to enter Saudi Arabia again because our visa will have expired," Umm Atta explained.
The Rajab children have not been enrolled in Gaza schools as every day the family has heard in the news that Israel will open the borders next week or in a couple of days, but always their hopes are dashed.
The mother, who carries an Egyptian travel document, asserted that if she knew this was to be her fate, she wouldn't have visited her family in Gaza.
"I want to go to my father; I hate Gaza," exclaimed seven-year-old Atta Rajab, displaying his Jordanian passport.
Rasha Tolba, 23, a postgraduate student of information technology at the University of Jordan in Amman, said that her first semester began on 16 September but she could not be present because of the closure.
Tolba said that she won a scholarship from the German association DAAD for her master's studies. But she is stuck in Gaza and may lose this opportunity.
Tolba expressed her disappointment as students, patients, and ordinary people have been sucked into Gaza's political crisis.
"We should not pay the price of such a crisis … we need to live our life and to take care of our future," she said.
Twenty-four-year-old architect Osama Abu Ward is about to lose his job in the United Arab Emirates because he has used up his vacation days and the company he works at is still awaiting his return.
"I came to Gaza in June for a one-month vacation. It is over and the company will not wait for me for ever; I will lose my work," he said.
"We are not living in the Gaza Strip, it is the Gaza prison," Abu Ward said. "Human suffering is more important than any political principles; we must leave by any means as soon as possible."
Since Hamas forcibly took over Gaza, Israel has isolated the Strip from the outside world, preventing the movement of Palestinians in or out of the Gaza Strip.
At least 7,000 Palestinians, including medical patients, are stranded in Gaza, not knowing what the future will bring.
Sami Abu Salem lives in Jabalia Refugee Camp and works as an English news and features writer at the Palestine News Agency (WAFA). He has also worked at the International Press Center of the Palestinian Authority State Information Service, and works as a freelance writer for local newspapers, focusing on literature and arts. This article was originally published by Ramattan News Agency and is republished with the author's permission.
Related Links